The hurling revolution in Kildare continues apace tomorrow night when Naas take on Dicksboro in the Kilkenny Honda Centre Minor 'A' hurling league final at Nowlan Park.
Naas hurling chairman Austin Bergin gives the background.
"Basically, six years ago, the Kildare board recognised that there was an issue in certain age groups in that the two best teams in the county were the Naas first and second teams," he says.
"They took the brave decision that we should play some games in nearby counties. At that stage, the options were Dublin and Kilkenny for that age group and for the past six years, at under 17 and minor level, we are in Kilkenny.
"Our under 15s are there now too. It was a brave and visionary decision by the Kildare board, and they are being rewarded now by the progress of the county minor and U-20 teams this year.
"Other clubs in Kildare are working extremely hard too to raise the bar. And Kilkenny have bent over backwards to facilitate us. Willie Dempsey (Kilkenny county board officer) has been a constant helping hand there.
"Whenever there are fixture clashes in both counties, Willie and the Kilkenny clubs have re-fixed and rearranged for us to make sure games are played. There are no walkovers. They want to play Naas and beat Naas and that's the way we want it. They are simply great neighbours to us."
National Hurling Development Manager Martin Fogarty hails the structures and the relationship between the two counties.
"This is a template that needs savage co-operation," Fogarty says. "But these two counties are showing it can be done. One county needs a door open and the other shows a way in.
"Practically, in emerging hurling counties there can sometimes be just a few clubs. If you draw a line from Louth across to Mayo and go upwards that tends to be the case where you have the same two and three teams. There is little development in that.
"Down at the other end of the country, for counties like Kerry, Carlow and Kildare, they need to be able to pop into stronger hurling counties and experience a different level of hurling that they won't get in their own county. You see it with Carlow clubs going to Kilkenny also and the likes of Toureen (Mayo) and Four Roads (Roscommon) going to Galway.
"You get a different level of hurling, simple as that."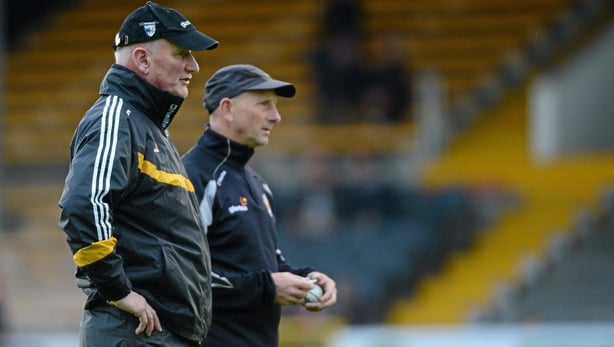 Bergin believes the physical challenge is the biggest difference when taking on teams from the host county.
"The refereeing is quite different, but the physicality of Kilkenny is the main thing our players notice," he says.
"But we are learning all the time. Six years ago, we played Ballyhale in a shield final and now we are in the league final proper.
"Our first priority is to play all our Kildare fixtures in both hurling and football but when we cannot fit a game in Kilkenny, the clubs there are so gracious and always find a way to facilitate us.
"The Kilkenny clubs have bought into it, the players' parents who drive down to Kilkenny have bought into it and the clubs in Kildare are working exceptionally hard to lift the bar even higher for themselves.
"That has a knock-on effect for the county teams. We saw it this year. Our under 17s lost to Wexford by four points and, in turn, they were beaten by just three by Kilkenny. The progress is there for all to see, and we want to keep it going."
Tomorrow evening, the Naas juvenile hurling PROs James O'Dwyer and John Burke will have the experience of promoting a Kilkenny final. It's a significant milestone.
"Win, lose, or draw tomorrow evening it does not matter," Bergin adds.
"The key thing is we are now breeding a different type of hurler and it is helping the development of hurling in the club and in the county. And the great thing too is that, along with the Kilkenny board and Kildare board, we are all working in the same direction.
"The beauty of what has happened is that Naas have improved, the Kilkenny clubs get to experience playing against a different style of team, the other Kildare clubs are working hard to drive their own standards and various Kildare county squads have seen the bar rise across the board.
"For these Naas lads playing tomorrow night, this minor final will be their last as juveniles with the club. And what a way to go out – playing in Nowlan Park. A lovely way to finish."