SUNDAY 22 AUGUST
All-Ireland SHC final
Limerick v Cork, Croke Park, 3.30pm.
ONLINE
Live blog on RTÉ Sport Online and RTÉ News Now app.
TV
Live on RTÉ2 and RTÉ Player from 2pm. Also live on Sky Sports.
Live overseas on GAAGO
Highlights on The Sunday Game, RTÉ2, 9.30pm.
RADIO
Live commentary on Sunday Sport on RTÉ Radio 1.
WEATHER
Some bright intervals will develop after any mist or fog clears. There'll be a good deal of dry weather and some scattered showers. It will be warm with highest temperatures of 18 to 21 degrees and light northerly breezes. For more, see met.ie.
ATTENDANCE
A crowd of 40,000 will attend Sunday's 2021 hurling decider.
We need your consent to load this YouTube contentWe use YouTube to manage extra content that can set cookies on your device and collect data about your activity. Please review their details and accept them to load the content.Manage Preferences
Cork's new wave hoping to come of age ahead of schedule
Limerick's golden generation of players got an All-Ireland under their belt early - arguably ahead of schedule - when they held off the defending champions, a rather jaded Galway side, in the 2018 decider.
Only a year earlier, John Kiely's team were the earliest top-tier hurling county to exit the championship, after losses to Clare and Kilkenny in low-quality matches. Yet a year later, they were All-Ireland champions.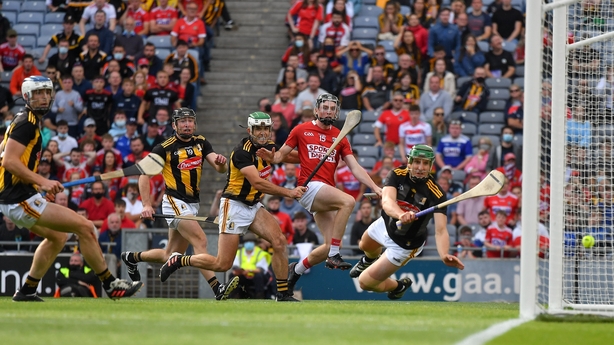 It set Limerick off on what has turned out to be a glorious era. But for a sucker-punch loss in the 2019 All-Ireland semi-final, they could be on for the four-in-a-row this weekend.
In the grand scheme of things, it's not that long since the powers-that-be in Cork were being hauled over the coals for their stewardship of the county's underage system, the dearth of success at even provincial level and the resulting lean spell endured by the seniors.
Well, things have reversed dramatically. You can't turn on TG4 now without being confronted with the sight of Cork young lads cantering to victory in Thurles or Nowlan Park or wherever else.
They've just scooped two U-20 All-Ireland titles in a month, winning the delayed 2020 title against Dublin in July and the 2021 final against Galway this week.
The starting line-up in the semi-final contained only two survivors from the 2013 All-Ireland final saga - Horgan and Harnedy. Every other player in that starting XV was 24 or under. Only four players on the starting team were born before 1997.
The broader hurling community is now bracing itself for a looming wave of Cork success - not to mention the ceaseless round of crowing which will likely follow.
Whether it comes this year is another matter entirely. Could they ape Limerick and snaffle an All-Ireland title ahead of schedule?
2021 battles point towards Limerick
The two sides have met twice in 2021. The league meeting is perhaps less relevant given the rather experimental XV that Cork trotted out that evening.
Prior to the game, there was a narrative that Limerick were out-of-sorts and that officialdom were on their case over the team's tackling style. They'd drawn one and lost two of their opening three games.
Notwithstanding Cork's fairly novice line-up, the first half was a sobering reminder for the rest of the hurling world of Limerick's intimidating credentials.
They racked up 0-20 in one half - and that was even done with their wides tally also tipping into double digits. Cork had perhaps engaged in some mis-direction with their starting team and when the A-listers were sprung, they mustered a comeback of sorts, substitute Pat Horgan rustling up 0-09, Jack O'Connor pilfering a clever goal.
A clever finish from Jack O'Connor, batting the ball to the net from a tight angle - Watch Limerick v Cork live on @RTE2 and @RTEPlayer #GAA #AllianzLeagues pic.twitter.com/zmBt7ILXKZ

— The Sunday Game (@TheSundayGame) June 5, 2021
The Munster semi-final meeting between the pair ended in an eight-point win for Limerick, a conclusive enough victory on one level, although there were moments in the contest when things could have taken off in a completely different direction.
Cork were highly competitive until two quickfire goals late in the first half changed the nature of the contest at the break. Even then, had Horgan managed to slot his second half penalty, it could have teed up a more intriguing finale.
The evidence of the match ultimately pointed to the balance of power residing with Limerick but there was enough there to give them pause for thought.
Limerick aiming for history - Cork aiming to prevent it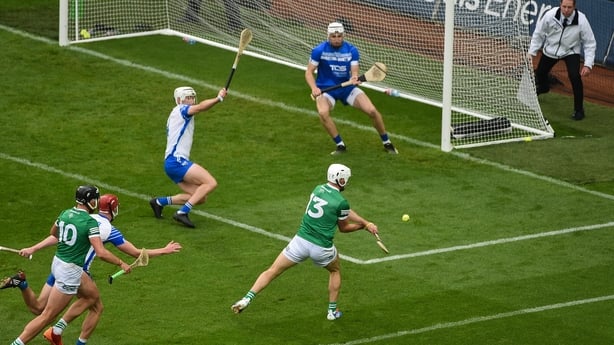 Five hurling counties have achieved the back-to-back in their history, Limerick not being among them. The big three, obviously, on numerous occasions (though not Tipp for a long time, as the rest of the hurling community never tire of pointing out).
Wexford, back in the Rackard era, did the two-in-a-row in 1955 and '56, chairing Christy Ring off the field after the latter.
Galway, meanwhile, managed it in 1987 and '88, Keady, Finnerty and co seeing off Kilkenny and Tipperary in successive deciders.
Limerick can become the sixth county to do so this weekend. 1974 and 2019 were their two most recent attempts, Kilkenny scuppering them on each occasion. Kilkenny are out of the picture this time.
Cork, on the other hand, will seek to prevent history. At best, they've already tied their longest ever All-Ireland famine - which ran from 1903 to 1919.
They had initially won the 1905 All-Ireland title on the field of play before the objection and counter-objection process swung into gear. To make what we can only assume was a very long and very tedious story short, they wound up not winning it that year.
Sixteen years has elapsed since their last title. Only a shock result can prevent this run stretching into a 17th.
Settled Limerick, Cork bench heroics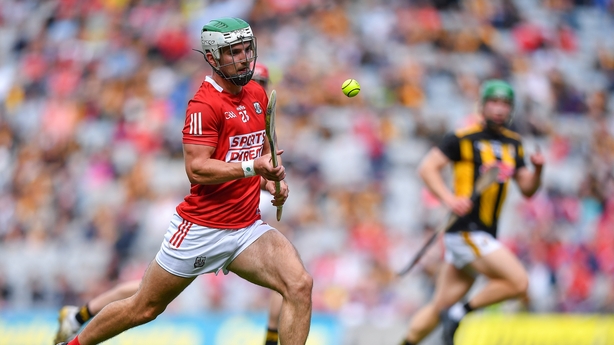 While Cork pulled off a win against an under-cooked Limerick side, coming off a bye-week early in the 2019 Munster round robin, the more relevant recent championship meeting between the sides is the 2018 semi-final, a 90 minute thrill-ride, which delivered five goals and 63 points.
To indicate how settled and experienced the Limerick XV now is, we see that Mike Casey is the only starter from that game to not appear in the Waterford semi-final, in any shape of form.
Intriguingly, Limerick made very little use of their subs bench, by modern standards, against Waterford. It wasn't until the 65th minute that the first sub was sprung, David Reidy for Gearóid Hegarty.
Cork's subs bench made a rather more dramatic impression in their semi-final, one in particular. Shane Kingston managed to pick up the Man of the Match having been only introduced in the second half (he did get an extra 20 minutes to stake his claim), rustling up a remarkable 0-07 from play to send a pointed message to his Dad.
"I'll tell him you needed the wake-up call of dropping ya (laughs)! That's what I'll say to him!" Kieran Kingston told RTÉ Sport, when asked how he'd address his son when he next saw him.
TEAMS:
Cork: Patrick Collins; Niall O'Leary, Robert Downey, Sean O'Donoghue; Tim O'Mahony, Mark Coleman, Eoin Cadogan; Darragh Fitzgibbon, Luke Meade; Conor Cahalane, Seamus Harnedy, Robbie O'Flynn; Jack O'Connor, Patrick Horgan, Shane Kingston.
Limerick: Nickie Quaid; Sean Finn, Dan Morrissey, Barry Nash); Diarmaid Byrnes, Declan Hannon, Kyle Hayes; William O'Donoghue, Darragh O'Donovan; Gearoid Hegarty, Cian Lynch, Tom Morrissey; Aaron Gillane, Seamus Flanagan, Peter Casey.
Last five championship meetings:
2021: Limerick 2-22 Cork 1-17 (Munster SHC)
2019: Cork 1-26 Limerick 1-19 (Munster SHC)
2018: Limerick 3-32 Cork 2-31 (AI SF)
2018: Cork 1-25 Limerick 0-28 (Munster SHC)
2014: Cork 2-24 Limerick 0-24 (Munster final)
We need your consent to load this SoundCloud contentWe use SoundCloud to manage extra content that can set cookies on your device and collect data about your activity. Please review their details and accept them to load the content.Manage Preferences
Follow Sunday's All-Ireland hurling final with our live blog on RTÉ.ie/sport and the RTÉ News app.
Watch Limerick v Cork live on RTÉ2 or RTÉ Player from 2pm.
Watch highlights of all the weekend's hurling and camogie action on The Sunday Game at 9.30pm on RTÉ2.
Listen to live and exclusive national radio commentary on RTÉ Radio 1's Sunday Sport.