Tommy Walsh knows a thing or nine about winning All-Ireland finals.
The former Kilkenny star believes reigning champions Limerick are deserving favourites to beat Cork this Sunday - but only marginally.
"I wouldn't even put it 60:40, I'd put it 55:45," he told RTÉ Sport. "That's how close it is.
"Why? Because of the game Cork play. The way not to play Limerick is to take them on physically. Because they're just too big. They're all above 6'2, 6'3. They'll soak you up. They'll spit you back out.
"Cork have tools in their toolbox to take on this Limerick team that probably no-one else has at the moment. You take them on with speed and that's what Cork have.
"They have troubled them in the past, Cork have, and this year (in Munster) it was only the goals coming at the right times for Limerick. Cork aren't as far away from this Limerick team as people think and I think that's because of their speed.
"In previous years, I don't think their forwards had the work-rate to give themselves a chance of winning the All-Ireland but this year they do. I'd give them every chance of being there on Sunday."
We need your consent to load this SoundCloud contentWe use SoundCloud to manage extra content that can set cookies on your device and collect data about your activity. Please review their details and accept them to load the content.Manage Preferences
Walsh thinks that if the Rebels are to spring an upset then they will need both goals and to cut off Limerick's supply lines, and that going man for man upfront is the best way to make that happen.
"The reason that they'll take on this Limerick team is their ability to defend, to stop the Limerick half-back line coming out with the ball.
"They could always score 2-20, 2-25, 2-30 but to put in those last-ditch tackles, to dispossess the Kilkenny backs when they were coming out with the ball, it's only this year we've seen that. The semi-final is where it came to a head and it's what won them the game.
"Kyle Hayes, Declan Hannon, they're the guys that launch all these attacks. They give good ball long into the full-forward line. Ball will always go in but if the Cork guys are getting in hooks and blocks, it will stop the quality ball getting in.
"Then when the likes of Jack O'Connor and the boys get the ball… Shane Kingston, even though he scored seven points the last day, has scored a goal in every other match.
"They're scoring a huge amount of goals, which they haven't done in quite a while, so that gives them a chance.
"How they set up will determine whether they score goals or not. To score goals against Limerick you have to take them on, put your six forwards up front.
"They're too comfortable with the ball. A team that doesn't have the same quality, If you give them an extra defender and put them under pressure, they'll try and launch the ball up. But this Limerick team, they're able to play the ball backwards, sideways, playing five-yard passes with lads shooting past them.
"To give them an extra defender would be a huge mistake for Cork. They have the players to take them on 1 on 1. Put someone in on Hannon, someone full-forward on Dan Morrissey. Make these guys uncomfortable and take them on on their own. Don't give them the confidence that they have a player beside them and they can just let the ball through, Sean Finn and these guys will sweep up all day.
"If you bring it into a 1 v 1 battle up front, they won't have that cover. Cork have the speed. They now have the experience of scoring goals. Seven already this year."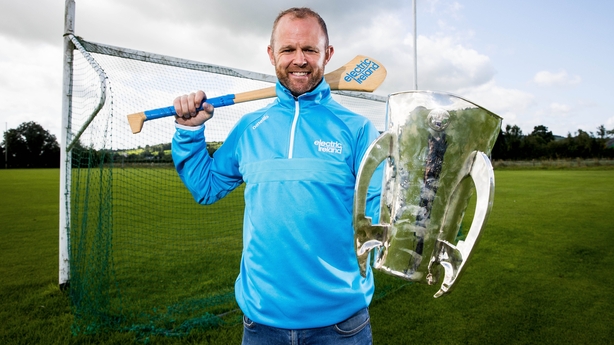 Walsh, who won the majority of his nine All-Stars at wing-back, was also impressed by the Rebel's young defenders in the victory over Kilkenny, and in particular the resilience of Robert Downey and Tim O'Mahony.
"The amount of last-ditch tackles by Mark Coleman and the Cork defenders, to dispossess Kilkenny from scoring goals, when was the last time you can remember a Cork team doing that?
"Downey was under pressure in the first half, with the quality ball going into Billy Ryan, who scored four or five from play off him. But Downey didn't let it get to him. When a lesser player might have been taken off with 10 or 15 to go, he just drove into it even more. That's the sign of a good player and a good team, to withstand those setbacks.
"He had an absolute stormer in extra-time. We'll all remember that great flick on TJ when it looked like TJ had the ball in his hands. We haven't seen too many players do that over the years. He just grew into it after the tough start and that will be a great experience for him before the All-Ireland final and his future career.
"Tim O'Mahony then was the real stand-out. He was tremendous all through. But then coming out with that last ball, nine times out of ten, you'd drive the ball. But if he had done that and it ended up in the net, you'd be going 'Why did he go away from the game-plan?'. He stuck to the plan, but lost it. James Bergin hurried him, Padraig (Walsh) got it and (Adrian) Mullen put it in the back of the net.
"To have to think about that between full-time and extra-time, that wouldn't have been easy. But he came out and was nearly man-of-the-match in extra-time. That was so impressive from the two of them, their mindsets and how they recovered from set-backs.
"O'Mahony was a centre-forward but he's made the wing-back position his own and is the modern wing back, the guy who shoots forward, like Kyle Hayes, and is there in attack as well. On Sunday, to see them against each other, it will be two of the best half- backs in the game."
Follow the All-Ireland hurling final with our live blog on RTÉ.ie/sport and the RTÉ News app.
Watch Limerick v Cork live on RTÉ2 or RTÉ Player from 2pm.
Watch highlights of all the weekend's hurling and camogie action on The Sunday Game at 9.30pm on RTÉ2.
Listen to live and exclusive national radio commentary on RTÉ Radio 1's Sunday Sport.