Sinead Goldrick was delighted to be back on the pitch for Dublin's All-Ireland semi-final win against Mayo on Saturday, after fully recovering from a horror hamstring injury.
The Dublin stalwart was a half-time substitute in the 1-17 to 2-09 victory over the Green and Red at Croke Park, and came through the second period unscathed following a long spell on the sidelines, battling leg-muscle issues.
And while the legs were fine walking off the pitch, the Foxrock-Cabinteely club woman admitted that her lungs were blowing hard following the return to the high-octane atmosphere of an All-Ireland semi-final.
Goldrick will now have three weeks to further her fitness ahead of this year's decider when the Girls in Blue look to land their fifth title in a row when they take on Meath on Sunday, 5 September.
"Going into that match, I would have been a lot more nervous than I would have been previously because I haven't really played in maybe six months or so," said Goldrick, speaking to RTÉ Sport.
"So after the game, even though I probably wasn't too happy with how I played, I was just happy to get through it and that we won. I think my hamstrings were okay but my lungs were not."
Goldrick was passed fit to play on Saturday and while all the hard work was done in the gym and the training pitch, the real test, she acknowledges, can only come in the heat of the battle.
And the four-time All-Ireland winner admits that she was unable to fully test the legs until faced with the intensity of a game such as Saturday's contest.
"There's nothing you can really replicate when you come into a match. You can try and train, but I think, especially in Croke Park, there is that extra intensity, so that was probably the lung part and just trying to reach up into that intensity because I haven't really had a match in six months.
"That was probably the tough part, yeah, on the lungs but after the game it was fine and the hamstrings held up well. Yeah, I'm happy with that."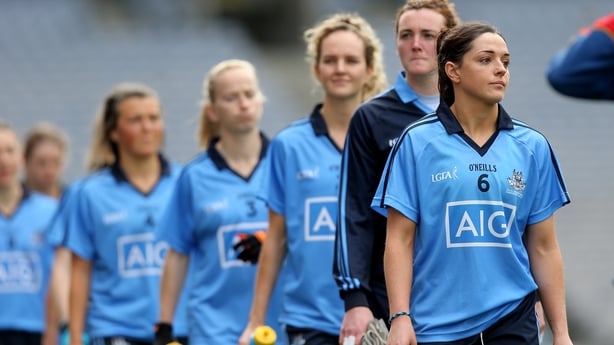 And now looking ahead to the final, Goldrick welcomes the change of opponents, having faced Cork in five of the last seven deciders, and the Dublin star feels that the elevation of Meath has given an additional boost to Leinster football.
Goldrick recalls her own maiden final back in 2014 and feels that first-timers Meath will have a similar approach, coming into the game under the radar with nothing to lose.
"I think that's something we're really conscious of because when people are playing with freedom that's when they're at their most dangerous, and that's definitely how Meath are playing," said Goldrick.
"They're young and confident and fit and they've earned it. I think against Armagh all of their forwards contributed to the team.
"I think they're a very good unit in terms of their setup and then they have the likes of Vikki Wall and Emma Duggan who are just exceptional footballers.
"I think a lot of people might be thinking that they're underdogs but I would see them as an exceptional outfit, so we're going to have to do our homework and I think it's going to be a really exciting game of football. Both of our styles are free-flowing so I think it's going to be a really tight game."
Meath will be looking to establish themselves at the top table of the game having reached this year's showpiece, beating a formidable Cork team to secure their spot in the final.
And Goldrick expects the Royals to create a real rivalry in the province and at All-Ireland level for the coming years as the young team grow in stature and experience.
"They have a very young squad and they play with freedom. I'm watching them play and they're really enjoying it. I think you can see that on the pitch, that they're enjoying it and they definitely will continue on for a few years, like, or six or seven years.
"Sure look at Cork and the Dublin rivalry, that's something special and I think Meath definitely with them being such a young team, I think they will be around for a long time."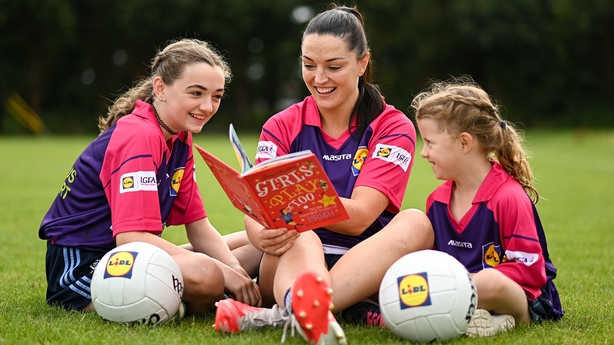 Goldrick's male counterparts failed to reach this year's final following an extra-time defeat to Mayo on Saturday, and she feels that the entire county will now get behind the women's side for the all-important season finale.
"Anyone that has ever been to an All-Ireland final day knows how special it is," said Goldrick. "The atmosphere is electric.
"The Dublin ladies are the only ones in an All-Ireland final. With the Dubs supporters, we're hoping to get huge numbers out because it does make a difference.
"It's a day to celebrate and I know from Dublin's perspective we just want to showcase the skillset and how we can play football.
"We just want to peak at our performance, as best as we can so I think it'll be a good day for ladies football and hopefully for Dublin."