"If we are to preserve culture, we must continue to create it"

- Johan Huizinga
It is often not until we see flaws in performance that we can begin to appreciate the enormous collection of deliberate actions, repeated incessantly, that culminate in excellence.
When you measure this Dublin team's previous standards against what they were able to produce over 100 minutes of football against Mayo this weekend, you begin to appreciate their greatness.
This is a good Mayo team but not near their best of the modern era. That Jim Gavin had built an evolving war machine capable of adapting to the very best Mayo, Kerry, Donegal, Tyrone, etc. could muster at any given time is an incredible feat of creativity and resilience.
The manic drive for better and more from Dublin over the last decade had created a culture of ruthless efficiency to underpin the undoubted football ability they possess. Several times during their phenomenal unbeaten run it was their game management, conditioning or mental toughness that rescued them from tight corners.
Building and maintaining those most valuable qualities requires a total investment of time, energy and heart from the whole group – players and staff. When that relentless pursuit of improvement drifts and standards drop, the signs quickly appear around the team.
We need your consent to load this comcast-player contentWe use comcast-player to manage extra content that can set cookies on your device and collect data about your activity. Please review their details and accept them to load the content.Manage Preferences
Metrics of Performance
This was a compelling All-Ireland semi-final, even if the quality produced was not what we've come to expect at this stage of the championship. When you look at the analysis, there are a number of metrics that summarise what we witnessed.
In particular they highlight the contrast between Mayo's first and second half performances. Their efficiency in front of goal went from 40% to 64% and then to an exceptional 80% in the first period of extra-time – when they essentially won the game.
By half-time the Connacht champions had produced a solid return from kickouts, despite the ordinariness of the rest of their play. However, their control in the second half and across extra time was flawless – literally.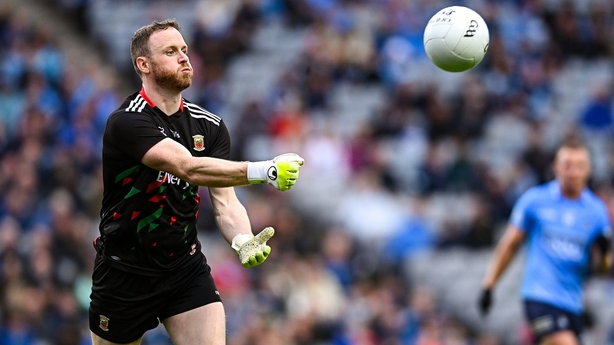 Rob Hennelly found a team-mate with every single restart from half-time onwards, which is phenomenal execution. That control was held in the face of the famous Dublin press and went a long way to minimising the impact Brian Fenton could have on possession.
There is a metric that explains everything about the difference between the Mayo teams we saw across the breadth of the game.
In the opening half, Mayo managed to pressurise Dublin into a turnover that created a score only once in each quarter. Fired by whatever impact half-time had on their attitude, that rose to three points in quarter three and a debilitating five in quarter four before another couple in the defining opening period of extra-time.
Hunger
Mayo opened the second-half pursuit of Dublin with the highest intensity they produced at any time in the game. The pace with which they carried the ball through the middle third and directly at Dublin in attack reflected all the best characteristics of James Horan's swashbuckling teams.
The psychology of that chase was augmented by a tactical switch away from Michael Plunkett or Lee Keegan covering the full-back line to a forceful press on the ball everywhere. The fire with which the Mayo players applied themselves squeezed Dublin and exposed the weakness in their preparations for the first time.
Dublin were unable to transition the ball out of defence and through the middle in the face of Mayo's pressure. What is normally a comfortable task against any opponent became a huge challenge for the champions and they were frequently caught in possession. The gas to withstand Mayo's onslaught was not in the tank.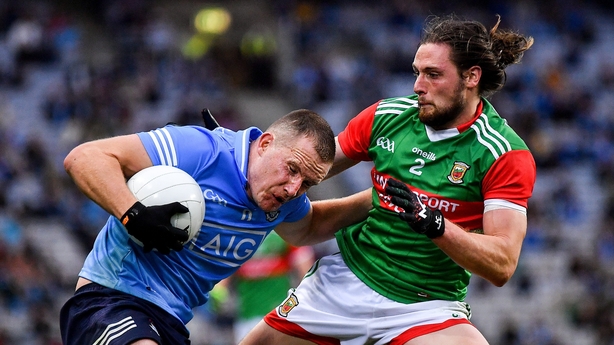 Spectre
Only those inside the Dublin camp can really identify how and why standards dropped far enough this year to leave them more vulnerable than they have been in a decade. The obvious areas to look are the change in management, coaching and defections alongside key players ageing collectively. Those are valid but somewhat superficial answers.
Dublin's conditioning was not where it normally is. A number of starters missed various phases of the season and that raises deeper questions. Front and centre is whether they all looked after themselves over the extended off-season as impeccably as they normally do.
The spectre of that question opens a box of related and loaded questions about mindset, desire, practice ethic and diligence of application. The answers to these questions would, I suspect, shine a light on the skills, energy and decision-making deficit in the group through the defining moments.
Mental Skills
In building their first-half advantage, Dublin had produced something approaching the intensity we have come to expect of them with and without the ball. In particular, when Mayo were building attacks Dublin hunted them with their customary controlled aggression and turned them over seven times for scores in the opening half. Those qualities couldn't be found after half-time.
Quarter three is moving time for the Dubs traditionally but this time they were flat and inaccurate with their skills in those moments. Mayo filled that energy void at the start of the second half superbly and wrestled momentum back that they wouldn't relinquish.
It was striking in the second half of extra-time that when the game had to be chased, Dublin had nothing left. When we think of the Terminator feel their "come from behind" pursuits of Mayo in 2017 and Kerry in 2019 generated it is easy to recognise its absence.
A full-court press on kickouts and rabid hunt for ball was standard procedure in previous years but both the game management and the energy weren't in their toolkit this time.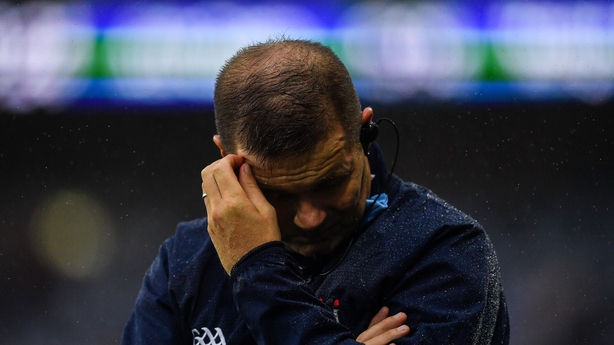 The gaps in the champions' mental skills are perhaps the most reflective of where they are now as a group. With the last ten minutes of extra-time left to close a three-point gap, Dublin were dead between the eyes. Desperation flooded their system and they constantly made poor decisions. Uncharacteristically, they also traded precious time in the closing moments for cheap shots and their consequences with Conor Lane.
There was nothing more bewildering that Evan Comerford's failure to identify Fenton as a reasonable kickout target. Most teams in the country go through periods in games when the kickout options dry up. Wishing you had Fenton to just hang the ball above in those moments would be top of most people's list of solutions.
Despite the walls crumbling around them, if Cormac Costello had offloaded their final half-chance to Tom Lahiff one minute into injury-time then all could have been rescued. Costello's decision to shoot succinctly reflects the difference between this Dublin team and the ones that dug their way out of those holes in the past.
Culture
The Covid pandemic has dealt Dessie Farrell and his coaches a cruel hand. With the impact on preparation time, they have essentially spent two seasons trying to maintain what they inherited. Within performance level sport, standing still is going backwards.
Replicating what has gone before comes with a heavy glass ceiling and if the building blocks of their team are not as solid as they have been, then decline sets in very quickly.
While Dublin have been patching holes and trying to keep the ship moving forward over the last two seasons, Kerry, Mayo and Tyrone have been trying to forge new identities for themselves.
The Decade of the Dubs - a look back on 10 years when Dublin won eight All-Ireland titles #RTEGAA pic.twitter.com/LC0HcEI0Ux

— The Sunday Game (@TheSundayGame) August 15, 2021
People and teams lost in the pursuit of the best version of themselves can generate a magic formula of cohesion and belief that has no ceiling of development.
Dublin remain the best-resourced team in the country with one of the most talented squads. The realities of the GAA world now mean that the capital team should be competing for All-Ireland titles every year and will have the quality to do so perpetually.
To return Dublin to the top, their players and coaches have to realise that what was good enough before is no longer the benchmark. Culture evolves and becomes more robust because of the work of those constantly exploring how to be better. Trying to stay the same never works for long.