Dublin manager Mick Bohan is keeping his fingers crossed that a number of key players will be available for the TG4 All-Ireland SFC final on 5 September after they qualified for their eighth decider in a row with a five-point win over Mayo at Croke Park.
Wing-forward Carla Rowe (hamstring) and full-back Niamh Collins (groin) missed this semi-final while full-forward Niamh McEvoy, who has been troubled by a calf injury, was also a late change but she did come on in the final quarter.
"We will see how they progress. We have a good medical team and we will work with them. We have three weeks now to an All-Ireland final," said Bohan.
His side remain on course for a fifth TG4 All-Ireland title in a row and Bohan said he was impressed with the way they handled the Mayo challenge on Saturday.
"We are delighted to be back in the final. We had a tough week losing the three girls but I was delighted the way they managed the game and the way certain players stepped up.
"This is what we have been saying to them for the past four years, the lessons they pass on to each other and the development they do within serves them on days like this. We are immensely proud of them."
Dublin never trailed in the match. They raced into a 0-04 to 0-00 lead after eight minutes and while Sarah Rowe got Mayo off the mark with a good goal, the champions responded with 1-03, with Caoimhne O'Connor getting the goal.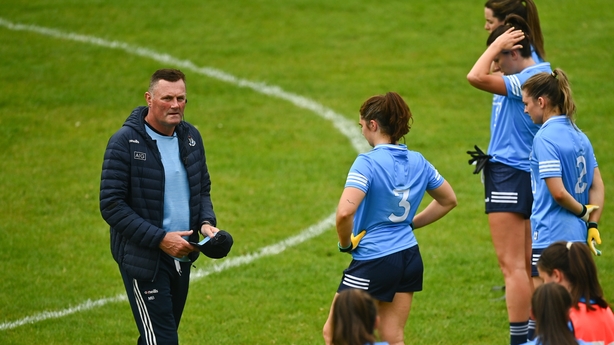 By half-time captain Sinéad Aherne and Siobhán Killeen scored three points apiece and while the impressive Rachel Kearns scored a goal after a fine passing movement, Dublin led by 1-10 to 2-01 at the break.
Mayo, with Kearns leading the way, enjoyed a lot of possession in the third quarter but Hannah Tyrrell was superb for Dublin and responded to nearly every Mayo point. The former Irish rugby international, who was married in midweek, crowned a superb display with five points from play, four of them in the second half to ensure they safely advanced to another final.
Mayo manager Michael Moyles was disappointed that his charges did not produce the sort of display he knows they are capable of.
"I didn't think we performed at all in the first half, I think we looked like we were shellshocked. The disappointing thing for today is that we didn't get next to or near what we can do," said Moyles.
"In the second half, we were still not near what we can achieve and we were still able to keep with Dublin then. And I know there's much, much more potential in those girls.
"We wanted to test ourselves against the All-Ireland champions, going for for five-in-a-row, the best team in Ireland on the best stage in Ireland – and we didn't do that."