A thrilling performance from a stylish young Offaly team at Croke Park secured the county's first EirGrid All-Ireland U-20 football title since 1988.
Superbly led by stand-in skipper and Man of the Match Cathal Donoghue, as well as goalscorer Jack Bryant and 18-year-old wonderkid Cormac Egan, the Faithful County streaked to a famous win over their midlands neighbours.
Bryant finished with 1-02 overall and his 50th minute goal ultimately separated the teams.
There were four points apiece too from Morgan Tynan and corner-forward Aaron Keelaghan as Offaly capped what has been a great year for the county with a landmark win.
Roscommon battled gamely and refused to throw in the towel, whittling down a seven-point deficit after Bryant's goal just two at one stage late on though Offaly deservedly held on.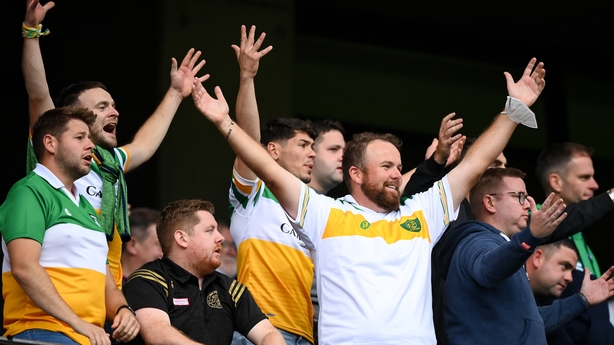 Jack Lohan was among a group of Roscommon substitutes who came on and turned the game against Down in the semi-finals last weekend, helping them come from behind to win that game by six.
Lohan was retained in the first team this time and despite wearing number seven played at midfield.
But it was Offaly that started brighter, in scoring terms at least, surging 0-03 to 0-00 clear and holding the lead virtually for the whole game.
Tynan, Egan and Bryant kicked those early Offaly points and while Roscommon fought back to level terms at 0-03 apiece, it was only briefly.
Tynan put Offaly ahead at the water break with a converted 45 and three points in a row from Donoghue and Keelaghan left them sitting pretty at half-time, 0-07 to 0-05 ahead.
Roscommon were far from out of it though and while they trailed for the most part, they conjured four clear-cut goal chances in the first-half.
James Fitzpatrick, with five goals in the competition, drew a strong save from Offaly 'keeper Sean O'Toole, Darragh Heneghan was twice denied and corner-back Lee Pearson cleared off the line from Daire Cregg.
All of those chances amounted to a clear warning that Roscommon, with 12 goals in their four previous games, were far from out of it.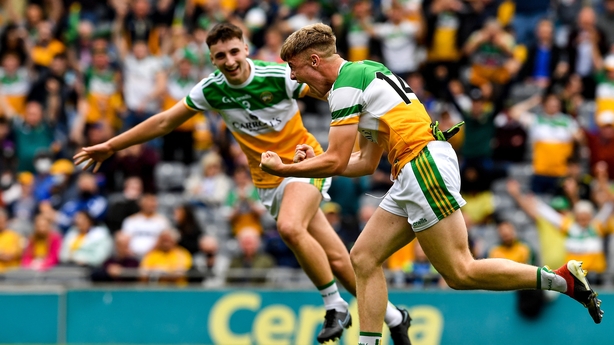 At the other end, Byrant, the conqueror of Cork with 2-04, went head to head with Roscommon full-back and captain Colin Walsh in a terrific duel. Egan, just out of the Offaly minor ranks, was picked up by Conor Lohan and had a thrilling tussle too.
Ruaidhri Fallon was Roscommon's spare man at the back due to Roscommon's decision to drop Oisin Keenan Martin, wearing number 11, into a similar role at the other end.
Two more Cregg points early in the second-half reduced Roscommon's arrears to just a single point but from there Offaly took off and it was mesmerising to watch.
Five points in a row put them in a strong position and each score seemed to be an epic, like Egan's 42nd minute point after great work by both he and Bryant to escape their markers.
Keelaghan then capitalised on a Fallon error to begin a move that ended with Donoghue sniping another score.
Keelaghan scored himself shortly after following a brilliant solo run and shot from Egan that was parried into the midfielder's path, leaving Offaly 0-13 to 0-7 up at the water break.
It looked all over when sub Keith O'Neill fed Bryant for Offaly's 50th minute goal, the full-forward bottled up by the goalkeeper before turning back onto his right foot and slamming home, to put Offaly 1-13 to 0-9 up.
Roscommon, to their credit, got that seven-point deficit down to five at one stage late on thanks mainly to Adam McDermott's 56th minute goal but that was as close as they came.
Offaly supporters gave a huge ovation for regular captain Kieran Dolan who came on in the 58th minute following hamstring trouble.
Offaly: Sean O'Toole; Lee Pearson, Tom Hyland, Aaron Brazil; Fionn Dempsey, John Furlong, Rory Egan; Ed Cullen, Morgan Tynan (0-04, 0-02f, 0-01 45); Cathal Flynn, Cathal Donoghue (0-02), Oisin Keenan Martin; Cormac Egan (0-02), Jack Bryant (1-02), Aaron Keelaghan (0-04, 0-01m).
Subs: Keith O'Neill for Keelaghan (48), Kieran Dolan for Brazil (58).
Roscommon: Conor Carroll; Dylan Gaughan, Colin Walsh, Conor Lohan; Tomas Crean, Ruaidhri Fallon, Patrick Gavin; Jack Lohan, Keith Doyle; Robbie Dolan, Daire Cregg (0-05, 0-03f), James Fitzpatrick; Darragh Heneghan, Adam McDermott (1-02), Ben O'Carroll (0-02, 0-01f).
Subs: Charlie Carthy (0-01) for Fitzpatrick (40-full-time, blood), Sean Trundle for Crean (40), David Wynne for J Lohan (46), Jason Doory (0-01) for Dolan (48), Joseph O'Malley for Gaughan (51), Enda Crawley for Heneghan (54).
Referee: Sean Hurson (Tyrone).
.