Mayo recorded a wonderful comeback win to end Dublin's dominance of the All-Ireland SFC in their semi-final meeting at Croke Park. Here's how we saw it.
---
MAYO
Rob Hennelly 8
Had issues in the first half kicking towards the Hogan side as he lost two and had Conor Loftus to thank for another one not going over the sideline. Did come forward to strike over a great long-range free into Hill 16 and that seemed to spark something in him. Landed a monster free into the Davin End and then, with Conor Lane affording him a second chance after he screwed his first effort badly wide, he brilliantly landed the 45 that forced extra-time.
"Look at this place... it's the best day of my life" - An emotional Padraig O'Hora is named man of the match after an epic Mayo performance #RTEgaa pic.twitter.com/WlthukIWxD

— The Sunday Game (@TheSundayGame) August 14, 2021
Padraig O'Hora 8
Redemption for the Ballina man. In the first half he was really struggling, first on Con O'Callaghan and then Ciarán Kilkenny, but when all was said and done he picked up the official Man of the Match award. He did have an assist for Mayo's first score from Matthew Ruane and, crucially, he got a handle on Kilkenny when defending Hill 16, even if the supply dried up a bit. However, it was his aggressiveness and full-blooded performance when the tide turned that really stood out. The footage of his tears as he went to collect his award will live long in the memory.
Lee Keegan 8
Told to mind the house in the first half and had little or no influence on proceedings as Dublin, bar a couple of early high balls onto the edge of the square, boxed clever around the 45-metre line. In the second half Keegan was let off the leash and brought that energy and drive that we have all become so familiar with. In the final moments of extra-time he moved back in front of Rob Hennelly and stripped a great ball late on.
Michael Plunkett 6
Tried to inject a bit of energy into Mayo in the first half but was let down by a real lack of movement in front of him. It meant that his occasional burst forward was stopped dead as there were very few give and go opportunities. His sweepingduties diminished in the second half as Dublin drifted further back, and he was replaced in the 49th minute.
Paddy Durcan 8.5
Started by dropping a ball short and that was one of the few blemishes on his copybook, although he did pick up a yellow card for a tangle with Cormac Costello. One of only a couple of Mayo players to be happy with their first-half work and turned the screw in the second period. Durcan's withdrawal at half time in December's All-Ireland final between these two sides knocked the stuffing out of Mayo. He seemed determined to make up for that with a barn-storming display. Good block to deny Costello's goal-bound shot late on.
Stephen Coen 7.5
Coen did nothing particularly eye-catching, but he pulled the strings during Mayo's second-half comeback as James Horan's side pushed further up the pitch. Worked the ball from left to right, picked the moments when to push and got on a mountain of ball. Others will get the headlines, but Coen's influence was huge. Taken off late on but soon thrust back into the action.
Eoghan McLaughlin 6
One of the few Mayo players who looked up for the challenge in the first half, but that eagerness manifested into a few loose tackles, although he was adamant that Paddy Small bought a foul off him. Unfortunately his game ended in worrying circumstances as he was stretchered off in the 58th minute after he was met with a hefty John Small tackle.
Matthew Ruane 8.5
Dublin's 45-game unbeaten run in the All-Ireland Championship has owed so much to the ability of their midfield, Brian Fenton, James McCarthy and Brian Howard in particular, to continually produce excellent performances when it mattered most. Rarely have they been bested, but they were today and that was largely down to a superlative showing from Matthew Ruane. Kicked Mayo's opening score when they looked like they were in real bother and just drove at Dublin all day.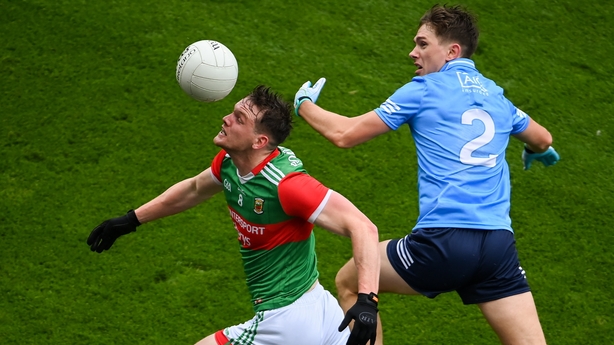 Conor Loftus 7
On reflection, his score at the very end of the first half was one of the most important of the day. It reduced the gap back to six points, slightly more manageable, and it brought a big roar from the Mayo fans. He worked really hard in the first half, forcing a good turnover on James McCarthy at one stage, without being overly involved. Ran out of steam towards the end of normal time and was replaced, but caught his breath and was reintroduced.
Diarmuid O'Connor 7
Missed a scoreable free early on and had a quiet start, but his influence grew as the game progressed. His work-rate was off the charts and his refusal to give up on a skewed Hennelly effort in the 63rd minute, brilliantly flicking the ball out to Kevin McLoughlin to score, was a massive turning point in the game. Mayo trailed by five at that stage and another wide would have sucked a bit more belief out of them, but suddenly Dublin appeared within striking distance. Picked up a late yellow card for a rash high challenge.
Kevin McLoughlin 6.5
Started both halves brightly but while he faded badly in the first, he managed to maintain a say in the second. One bad wide with the outside of the foot looked like a momentum-killer, but also squeezed a beautiful effort just inside the left-hand post after a brilliant recovery from Diarmuid O'Connor.
Darren McHale 5
Like much of the Mayo attack in the first half, simply could not get into the contest and was called ashore after just 28 minutes for Enda Hession.
Tommy Conroy 8
Perhaps Dublin were aware of Conory's threat because he was fouled a number of times in the first 10 minutes, Dean Rock picking up a yellow card for one of those tackles. It didn't diminish his impact though as he was one of Mayo's heroes as they finally put Dublin to the sword after such recent heartbreak. Kicked three scores from play and they were all excellent.
Aidan O'Shea 5
He'd a nightmare first half. Only had five involvements in all, two of those saw very bad wides after good catches and another saw Con O'Callaghan flick a high ball away from him. There was also a foul in there too. Didn't look happy when replaced midway through the second half but Mayo's performance after that suggested it was a great call by the management. Needlessly re-entered play late on to get involved in a bit of jostling, and was brought on to repel a few Dublin high balls in the final seconds. He will get his chance to atone in an All-Ireland final.
Ryan O'Donoghue 7.5
Sometimes can appear a bit too eager and this looked like it may be one of those days as he ran into traffic early on when a pass was the right option. Missed an early difficult free too, but was really impressive from there. Scored a mark and two from play, and he also landed a couple of high-pressure frees.
SUBS
Enda Hession 7.5
Made a huge difference as his searing pace really exposed a tiring Dublin defence. It's unlikely Mayo would have recovered without his energy.
James Carr 6
Brought plenty of effort but not too much end product as James Horan's side came back to win.
Bryan Walsh 6
Got involved in the midfield skirmishes as the game entered its helter-skelter stage.
Jordan Flynn 7
A really good cameo as he scored a point and took another excellent mark that led to a Tommy Conroy score.
Conor O'Shea 6
Ran into trouble at one stage and lost possession, but got stuck in well.
Darren Coen 6.5
Kicked a great score from the bench as Mayo started to really get on top.
James Durcan N/A
Not on long enough to be rated.
Brendan Harrison N/A
Not on long enough to be rated.
---
DUBLIN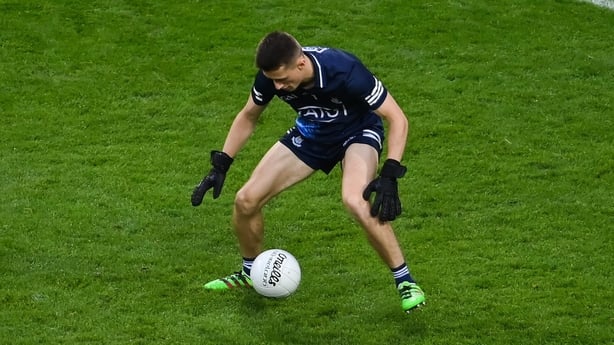 Evan Comerford 7
Lost the first kick-out and another towards the end of the opening half but was pretty much flawless from there until the final few minutes. In the 67th minute he was pinged for over-carrying to allow Ryan O'Donoghue to bring Mayo to within two. Was involved in the unsuccessful attempt to run down the clock in the final seconds too. Looked nervy in extra-time and gifted Mayo a score with a poor kick-out.
Michael Fitzsimons 7
Mayo's conservative tactics in the opening half allowed him to get forward but he didn't ignore his defensive duties either as an early turnover on Ryan O'Donoghue demonstrated. Wilted a bit in the second half, like the entire Dublin team, as Mayo came strong but the pick of the Dublin full-back line on a difficult night for the Sam Maguire holders.
David Byrne 5
Looked comfortable enough when afforded lots of space to come forward in the first half, but really uneasy after the break. Coughed up possession a few times, his over-carrying eventually led to a Kevin McLoughlin score and was very fortunate not to be black-carded for a cynical tug at the end of normal time. Spilled the ball over the line for Mayo's levelling 45.
Jonny Cooper 6
A bit of a mixed bag from Cooper. His work-rate and energy was outstanding as he popped up in all positions across the pitch, bit his tackling wasn't the sharpest, nor was his handling. Was replaced in the 52nd minute.
James McCarthy 7
A superb first half as he fronted up Mayo runners and forced them to turn backwards. It may not have been the most noticeable, but it was a huge reason why the Mayo attack didn't get into any sort of rhythm. Missed a great goal chance in the first minute of the second half to kill off the contest, and his influence waned from there. Fortunate not to be red-carded in the final seconds of normal time but was black-carded at the end of extra-time. Also made a crazy foul in the final moments as Dublin launched a ball into the square when looking for an equalising goal.
John Small 6.5
Small was really good in the first half and broke up the field well, at one stage linking well with his brother Paddy for the latter to score. Fortunate to stay on the field after his shoulder charge caught Eoghan McLaughlin, forcing the latter's exit. Referee Conor Lane didn't give a free though.
Eoin Murchan 6
Made his return from injury off the bench in the Leinster final win over Kildare and was a late addition to the starting line-up here. Most of his early work involved sweeping in front of Aidan O'Shea who was positioned on the edge of the square, but little ball came in. When it was clear Mayo weren't going to pepper the goal, Dessie Farrell gave Murchan more license to roam and he became much more involved. Went off inured in the 67th minute.
Brian Fenton 7
After six All-Ireland successes, Brian Fention finally experienced what it was like to lose a championship match. Made a couple of incredible fetches around the middle, but there was no doubting that Mayo's Matthew Ruane was the star of the middle sector at Croke Park.
Brian Howard 6.5
Battled hard and took a really good midfield mark just after the second-half water break. Shifted a big hit in the first half and perhaps that put him off a bit because he failed to dominate.
Paddy Small 7
If Dublin had progressed, some column inches surely would have been devoted to just how important Small has become to this team. Kicked two points from play and linked the play very well, but did have a much quieter second half. Was penalised in extra-time for a high challenge.
Ciarán Kilkenny 6.5
In the opening stages it looked like Kilkenny would have a field day as he, along with Con O'Callaghan, won basically anything that came their way. Scored two from play and a mark as well, but was barely involved after a very good first half. Looked tired at the end of the game and kicked a short free-kick straight to Mayo late on, which was unusual for a player who seems to never lose possession. Padraig O'Hora really got a hold of him after the interval.
Niall Scully 6
Just really wasn't too involved. Worked hard and tried, but couldn't put a stamp on proceedings. Picked up a yellow card as Dublin's discipline started to slip heading down the stretch. Was taken off in the 62nd minute when Dublin had a five-point lead, but it fell apart from there.
Dean Rock 6.5/10
Excellent from frees and also scored two points from play, including an impressive first-half effort with his left foot. Had a few wides though and was booked early on. Was found in defence on the odd occasion on a day when positions seemed to go out the window for a lot of players.
Con O'Callaghan 7
A similar story to Kilkenny, O'Callaghan started brightly before his star faded. It was a really good first half though as he won a rake of ball and at one stage he was in front of his own goal flicking the ball away from Aidan O'Shea. Quiet in the second half, but didn't get much supply either.
Cormac Costello 5.5
Just didn't happen for Costello and took a few wrong options, including dropping a weak effort into Rob Hennelly's hands in the second half. Was replaced midway through that second period but came back on and had a shot at goal to earn a draw, but it was blocked down. Perhaps should have laid it off to the runner beside him.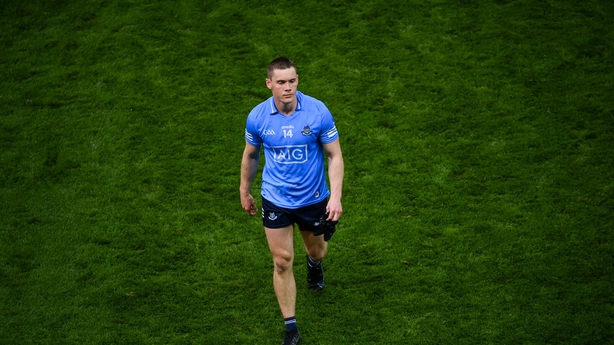 SUBS
Colm Basquel 5
Dublin's first sub off but a moment of stupidity saw him black-carded early in extra-time. Mayo took advantage of that extra man.
Tom Lahiff 5.5
Came on for Jonny Cooper and kicked a bad wide in the75th minute before picking up a black card as Dublin lost their discipline in the final moments.
Seán Bugler 6.5
Amazingly, his fisted point to put Dublin 0-14 to 0-13 ahead at the start of extra-time was their last score of the game.
Sean McMahon 6
Brought on to try and disrupt Mayo's momentum but the Connacht side were on too big of a roll by that stage.
Philly McMahon 5
It's rare that referees enforce it but McMahon was penalised for interference on Rob Hennelly's late levelling 45 attempt. That meant a retake and the Mayo 'keeper took the gift. Lost half his jersey in a bit of pushing and shoving at the end of normal time.
Robbie McDaid 6
Brought on for the last 10 minutes of extra-time but saw little ball.
Aaron Byrne 5.5
One involvement was to kick a ball straight to Mayo at a crucial juncture.