There was good news this week with the announcement that the AFLW, starting later in 2022, will boast all 18 existing clubs. It's great to have all the teams in there - that license have been awarded to four extra clubs (Essendon, Hawthorn, Port Adelaide and Sydney).
It's something we've been waiting for. We've been hearing bits and pieces about teams coming in, we heard that two teams might be coming in, but now that it's the four is really good news.
We are now going to have a full 18-team competition, a fully professional sport for women. It's definitely a step in the right direction and a step towards equality, towards greater inclusion. The numbers participating in the sport have doubled in the five years of the AFLW, we are now near 600,000. In such a short of space of time things have come long way.
There is no going back now.
"Simply, the competition is now whole."#AFLW

— AFL Women's (@aflwomens) August 12, 2021
The expansion, however, will no doubt have an impact on the number of players coming over from Ireland in the future. The season will now start in September at a time when the Ladies football and camogie championships will be coming to an end, so a crossover will be there. There will be a point where you will have to make a decision on where you want to play.
There is no getting away from the fact that the commitment level for AFLW is only going to increase as the competition gets longer, the more games you play, and that's not taking into account the work needed in both the pre and off-season. While we've had the best of both worlds in how the seasons have sat, a decision will have to be made by girls.
Such a decision may see the Irish contingent only play the leagues here.
Playing professional sport in Australia will now require a longer-term plan, a bigger commitment. We have had the luxury of living in one country for six months and living in another for six months but going forward it will have to be either Gaelic football or camogie - or the AFL. In the times that we are in now it's more difficult to get over and back to Australia.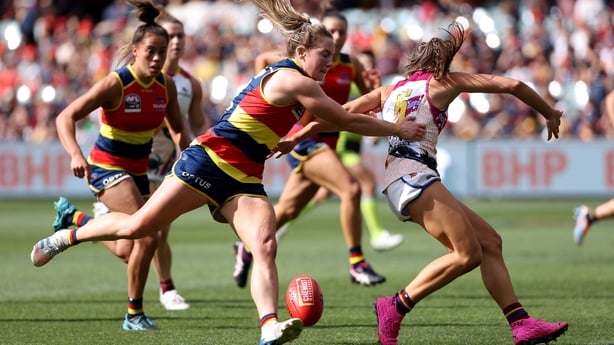 You just will have to commit to living a bit more to living in Australia.
At the moment I'm still at home in Clare, hopefully getting to enjoy another few weeks before I head back to Oz. That said, I did pick up a foot injury while surfing, hitting off the back of the board did produce a little cut but it's not going to derail me ahead of the new season.
I've kept up the training, so no complaints at my end. I stick to the whitewater stuff at Spanish Point or Lahinch. I wouldn't be a pro surfer but I can stand up now and again.
This summer I decided against playing for Clare. The risk of of getting injured and the hassle that might follow in getting back to Australia swayed my thinking. If I was going back on a plane injured it would not be worth the hassle. I would be no good to anybody good going out there as an onlooker. I looked at the risk assessment, and decided it just wasn't worth it.
Australia is getting hit with the worst Covid variants at the moment. Delta is running rampant. Sydney and Melbourne are in a major lockdown at the moment. It's winter over there and that's not helping things. The country was Covid-free for so long, so people didn't take the opportunity to get vaccinated.
Now there's a rush for the vaccine and the supplies just aren't there to meet the demands. Thankfully the AFL show hasn't been too upended by the virus and let's hope we'll keep ahead of it. Coming into the Australian improve, let's hope that things all round will improve. 2022 promises a whole lot more for the women's game.