Diarmuid O'Sullivan doesn't need any reminding that Cork haven't won the All-Ireland hurling title for 16 years.
He was there.
But the young Rebels he is steering alongside manager Kieran Kingston now have their own shot at glory. And they might just be a chip off the old Rock.
"We have shown great resolve," said the Cork selector after they held off a Kilkenny fightback to reach a first final in eight years.
"We've asked them to be different over the last 12 to 18 months, last year was an interruption obviously and we couldn't get to where we wanted to get to last year. So we took the winter to prepare and talk about that resolve and our strength in depth and bits and pieces.
"So it's down to what's inside the dressing room: it's that heart, that willingness and that want, and any person who wants to climb Everest has to go through it.
"We are extremely proud of them because, take the Tipperary game last year, we had Tipperary on the back foot and we couldn't see it out, so today was very pleasing from our point of view."
Cork had led by six points with as many minutes to play at Croke Park yesterday but were taken to extra-time after Tim O'Mahony coughed up possession and Adrian Mullen fired home a goal with just seconds remaining.
The Cats are never beaten.
Adrian Mullen buries the ball to the net with almost the last puck to take #kkvcork to extra-time
Highlights tonight on @rte2 and @rteplayerhttps://t.co/J3NwqtvxKW pic.twitter.com/FeVke91SVR

— The Sunday Game (@TheSundayGame) August 8, 2021
Most people in the stadium felt that was probably their chance gone, especially considering what Kilkenny had done to Wexford in extra time last month. The red men on the pitch disagreed.
"Yes, it was a sucker punch but once we got to the dressing room the players took control of the situation again," said O'Sullivan.
"We will accept mistakes, because in the game we try to play there will be mistakes. It's their game, it's not our game - mistakes happen. Tim put it to bed before he got to the dressing room, he came back out and he had an incredible 20 minutes after that. The mistake didn't trouble him, it didn't trouble our team so that was the important factor.
"Before, it might have but this team is different. There's more resolve in it and we are quite pleased with where we have come."
The four-time All-Star full-back was particularly pleased with the performance of Cork's oft-questioned last line of defence – "they have stood up, as have all our backs" – and the phenomenal impact of their substitutes, who contributed 11 points compared to just one from the Kilkenny bench.
"That's what we would expect," said O'Sullivan. "We'd expect when we bring guys on, they'd impact on the game for us.
"It wasn't the case against Limerick earlier on in the year. When they came in, especially in attack, we were very ragged, we lost our structure, but I think this qualifying system has given us an opportunity to work on that."
If Kieran Kingston dropped his son Shane to motivate him it certainly worked, the 23-year-old fired over a staggering seven points from play in his 50-odd minutes on the pitch. His replacement, U20 star Shane Barrett, did well and scored a point but Kingston changed the game.
"If you look at it, Shane has been our top scorer from play to date you know.
"He didn't start today, but he started the last three games, coming into today he has been our top scorer from play.
"He obviously felt aggrieved, he did get an opportunity, but look, he made an impact."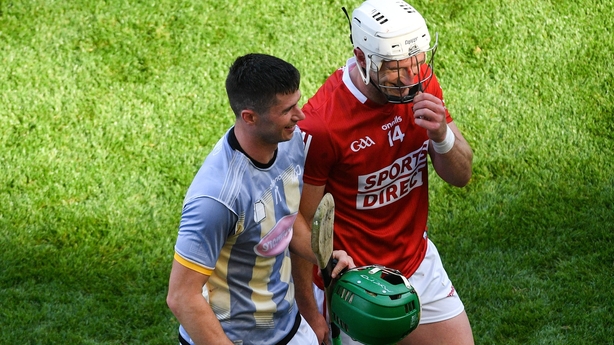 As the euphoria of finally winning a semi-final after three misses subsides, the cold reality of planning to take Liam MacCarthy off Limerick will sink in. Climbing Everest might seem handy enough a jaunt in comparison.
Only Pat Horgan (0-15 yesterday) and Seamus Harnedy (0-02) remain of the team that went so close in 2013, with the majority of the squad aged 23 and under.
Eoin Cadogan (34) was with the footballers eight years ago but came on to replace Ger Millerick yesterday and could do so again on 22 August unless the Ballymacoda man recovers from what looked a bad hamstring injury.
"We had nine lads who had never played in Croke Park before today before we came up," revealed O'Sullivan. "They have no baggage.
"There are one or two lads who have been unsuccessful here in an All-Ireland but they know those are days they are never going to get back again, so that's history - we can't change that.
"If you were to listen to the television and everything written and said today, Limerick's name is already etched on the cup.
"They are the greatest team that have played the game over the last number of years.
"Where do we go from there? We will come up. We will see how we get on and we will throw what we can at 'em.
"We plan accordingly for the next two weeks and see where that will get us."