It was in May 2020 when Derry footballer Jude McAtamney was scrolling on his phone and a post popped up that hit him like a bolt of lightning, dramatically changing his life journey in the process.
Kerry teenager David Shanahan had accepted an American Football scholarship at Georgia Tech as a kicker, and in doing so he became the first player born and raised in Ireland to take up a college football career.
McAtamney, who had helped the Oakleaf County to the Ulster U20 title two years previously, had never contemplated playing American Football in his life, but a thought instantly raced into his head – 'I could do that.'
Just over a year later and the Swatragh man has lived up to that promise by signing a full athletic scholarship with North Carolina's Chowan University.
Although it may not have the reputation of Shanahan's Georgia Tech, it has still been the launch-pad for a number of NFL players such as Fred Banks (Miami Dolphins), Robert Brown (Green Bay Packers), Jerry Holmes (New York Jets) and George Koonce, who was with the Green Back Packers as they defeated the New England Patriots in Super Bowl XXXI.
It also continues the incredible sporting story of that Derry U20 side of 2018.
Players like Padraig McGrogan and Conor McCluskey have progressed to represent the county at senior level, while Anton Tohill and Callum Brown have both made their AFL debuts over the last fortnight with Collingwood and the GWS Giants respectively.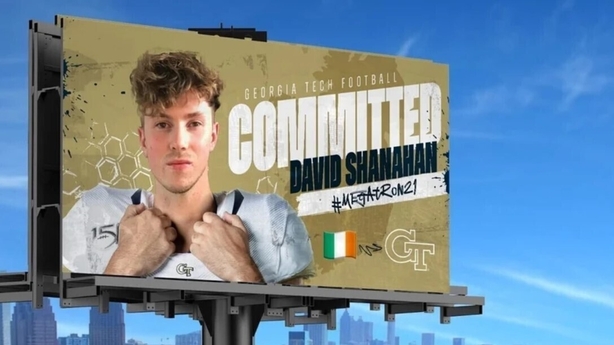 McAtamney is looking towards the US rather than Australia though, and he explained how Shanahan has had a big helping hand in allowing him to pursue his dreams of playing sport professionally.
"As soon as David put up that he had signed for Georgia Tech I literally just got the interest there and then," McAtamney told RTÉ Sport.
"I had a good kick and I always dreamed of playing professional sport and something just clicked in my head that day. This is the possibility to fulfil that dream.
"I had the whole of lockdown to train and experiment to see how good I was and eventually I contacted David. He looked at my kicks, said they were good enough and told me to forward them to a recruitment programme in Australia (Prokick), the same one he had worked with.
"They said that I was good enough and that I had a lot of potential, but they needed to work with me. The initial plan was to head out to Australia but lockdown went on a lot longer than expected so that didn't pan out.
"I played the club championship in Derry and then at the start of January this year David texted me to tell me he was going to train in America for two months with a guy called Tom Hackett, who used to play for the Utah Utes, and asked me would I like to come.
"Of course I wanted to because even though I was still talking to the recruitment company, there was just no way of me showing them how good I could be."
Shanahan immediately endorsed McAtamney to Prokick after seeing him in action in person in America, and over the next two months they practiced together every day with Hackett regularly joining them too.
They travelled around the country checking out colleges in Utah, Mississippi and Indiana whilst remaining true to their training schedule. That may have been in a gym they passed along the road or heading out onto a high school pitch to kick and punt until they'd be booted off by the local lacrosse team.
"That training really helped me in the process. Looking at when I started the kicking until now, it's night and day. It may not seem like that to the naked eye but it really is different," said the 21-year-old.
"I took a real liking to the college scene and I was determined to come home and keep the practice up and if an offer came up I knew I'd take it.
50 yards. 45 yards. 40, 45 , 50 yards rolling video. pic.twitter.com/78BvrjFTMM

— Jude McAtamney (@mcatamney_jude) March 8, 2021
"I had been training on my own and getting advice from Australia. Over time they were contacting colleges about me and three or four weeks ago the offer from the college in North Carolina came up with a full scholarship. I jumped on it."
McAtamney departs for North Carolina on Tuesday morning knowing he'll be playing a bit of catch-up as the Chowan football camp for the season started last Friday, but he is determined to give it his all.
Worst case scenario, he receives some extra knowledge as he plans to study psychology with a view to moving into the field of sports psychology.
That's in the future though because for three years, with the possible option of a fourth, he can try to improve as a kicker to the point where he may accomplish his dream and end up in the NFL.
"At the back of my mind making the NFL is obviously there.
"I don't want to be concentrating on that at the moment though, I just want to make the most of my college years and see where it goes.
"I definitely feel I have the ability to make it. It's very easy to decide for yourself whether or not you're good at the kicking because it's very black and white. You can see how far you can kick it, how consistent you are and what height you can get.
"So far it seems that I have a bit of talent on that side and I believe that if I work hard enough and put in full effort and commitment I could make a professional career out of it."