The Cork hurlers are "in a serious position" to beat Kilkenny and advance to an All-Ireland final if their attitude is right, according to former Tipperary goalkeeper Brendan Cummins.
Speaking on RTÉ's Sunday Game, Cummins said the Rebels will need their forwards to lead from the front when it comes to tackling.
He said he was voicing a "popular opinion at the time" when he suggested last year that there was an element of softness about the Cork side.
However he said that they are now showing an "angry" side and there is no coincidence that they are starting to win matches.
He highlighted Robert Downey, Luke Meade and corner-forward Jack O'Connor for particular praise following Cork's 2-26 to 0-24 win over Dublin at the weekend, which has set up their semi-final showdown with the Cats.
Discussing O'Connor, Cummins said that while he can occasionally pick up a yellow card "that's fine because that means he's hitting guys" and stopping them.
He said that if the rest of the Cork forward unit can adopt O'Connor's attitude they can give Kilkenny plenty to think about.
"If Patrick Horgan gets a few hooks and blocks the next day, the place is going to go wild and they're in a serious position then to beat Kilkenny, but it will take all of the inside forwards with Jack O'Connor's attitude if they're going to do it, but they now have that bit of steel.
"They have something bubbling and they're winning because they're angry and they're fighting on their backs," he said.
Former Limerick hurler Shane Dowling said Cork were "very professional in their approach" against Dublin.
"They put the game to bed just before half-time, they always kept them at arms length," he said on the same programme.
"They showed huge energy, they showed huge pace, they're going in to play Kilkenny now – who are obviously a real physical team but they're going to try counteract that with real pace. It has the makings of a great game."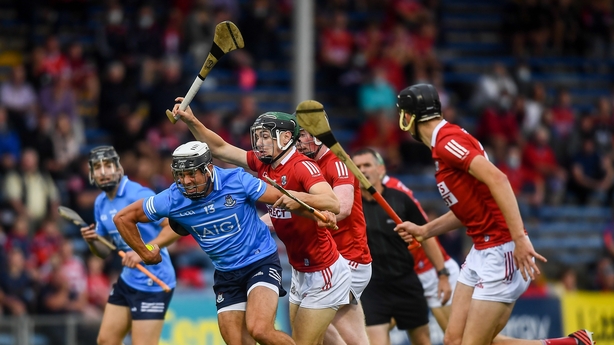 Discussing Dublin, who now bow out of a championship that saw them reach a Leinster final, Cummins said they could take plenty of positives from the campaign.
"I was worried and critical of Dublin throughout the league because I wasn't seeing a plan or a method but they certainly had one," he said.
"Beating Galway was a huge step forward. Obviously they put Antrim to the sword -that's exactly what they should be doing and they did it.
"The Leinster final was a bit of a setback because of Covid and all that was going on around it," he said.
He backed Mattie Kenny to lead the Dubs going forward, saying that the next challenge was to improve their cutting edge in front of goal.
His comments were echoed by Dowling, who said he felt that with a "small bit of rejigging" and some additions to the squad Dublin can improve.
The former All Star said Dublin may be under-achieving slightly and should be aiming higher than reaching All-Ireland quarter-finals.