Monaghan v Tyrone, Ulster SFC final, Croke Park, 4pm Saturday
They might need a couple of refs here, there were 16 cards the last time these met each other. Overall the credentials of them winning out the All-Ireland would be that bit less than the other teams left in it, but this is a tough game to call.
The perception out there is that both teams are playing really well up front, scoring freely, especially Monaghan, but that defensively Tyrone might be that bit tighter. Could it be that the 6-16 Kerry put up against them could have been a watershed moment? Probably.
Tyrone picked a team the last time they went out – Kieran McGeary, Nial Sludden, Frank Burns, Conor Meyler – all up front, but as defenders really.
The big question for them is will they start Cathal McShane and will they start Conor McKenna? Conor McKenna especially was going well the last day.
Mattie Donnelly and Darren McCurry are their only two natural forwards. People will say Donegal stayed on their coattails; there was a missed penalty, Michael Murphy got sent off, but Donegal were still there at the end of that game.
I think Tyrone have improved and thery're not the team they were 4-5 weeks ago. But with Monaghan, I'll be blunt, if they're as porous at the back as they were against Armagh, they could be in trouble.
Their forwards play brilliantly, they're destroying defences, Beggan's kick-outs are absolutely brilliant, they're running at teams, they're kicking it long and to play that game you have to commit bodies forward, which is the right thing to do.
But the reality is they need to slow the opposition down more going the opposite direction.
Teams are hurting them – Armagh had 36 shots, they scored 2-21 and had eight wides. If Monaghan cough up those chances to Tyrone, it's curtains for them.
Monaghan sadly have had an emotional rollercoaster the last couple of weeks, could it be the difference?
Well, the great Conor McManus dragged them over the line the last day and this could be a draw, but I have a sneaky feeling Tyrone could edge it.
Dublin v Kildare, Leinster SFC final, Croke Park, 4pm Sunday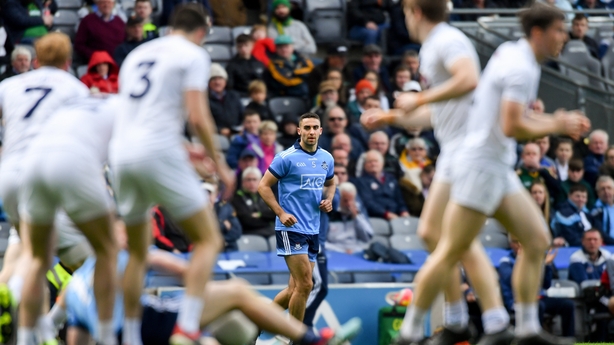 It was 2012 the last time a team got as close as the six points Meath did in the last game, so all eyes are on Dublin. How will they play over the 70 mins? Can they give a commanding performance that will deflate all the talk that all these other teams are going to catch them?
I think we will see Dublin going back to basics, and the basics are a game that is based on a savage workrate and relentlessness that was not to be seen in that second half versus Meath.
They still have the spine, Brian Howard, James McCarthy, Brian Fenton, Con O'Callaghan, Ciaran Kilkenny, Dean Rock. They only conceded 1-12 to Meath, so the panic button is not going to be pushed just yet.
John Small is a huge, huge player and his coming back would be huge for them if he can. But it's the other players, the Peadar Ó Cofaigh Byrnes, the Cormac Costellos, the Sean MacMahons, the Paddy Smalls, they need to have an impact because there is a perception out ther that these new players out here are not of the quality of those they have replaced.
I have no doubt Dublin will answer all the questions they are being asked right now. I think they will beat Kildare, that's not being disrespecttful to Kildare.
Jack O'Connor and Kildare have been promoted and reached a final in a province where Dublin are 150% expected to win. They are after all going for 11 in-a-row.
Kildare will come and play but the problem I have with Kildare is they don't get the ball in quick enough to the danger men of Jimmy Hyland and Daniel Flynn especially.
They can cause trouble, they were the difference against Westmeath, but Westmeath missed so many scores that day, it was Flynn's goals and part in goals that was the difference.
I think they need more goals to be honest. I expect a stronger Dublin with a point to prove to quell all this talk.
If they don't, it will give oxygen to all the other teams, thinking they will have a better chance this year. Dublin will win it and will win it convincingly enough.
A victory for Kildare here will be staying with them for 45-50 minutes, but I'm going for Dublin.
Tomas Ó Sé was speaking on RTÉ Morning Ireland.
We need your consent to load this YouTube contentWe use YouTube to manage extra content that can set cookies on your device and collect data about your activity. Please review their details and accept them to load the content.Manage Preferences
Follow all the championship matches this weekend with our live blogs on RTÉ.ie/sport and the RTÉ News app.
Watch Tipperary v Waterford live on RTÉ One or RTÉ Player from 1pm Saturday, and Monaghan v Tyrone live on RTÉ2 or RTÉ Player from 3.30pm. Dublin v Kildare is on RTÉ2/Player from 3.30pm Sunday.
Watch highlights of all the weekend's action on The Sunday Game at 9.30pm on RTÉ2.
Listen to live and exclusive national radio commentaries on RTÉ Radio 1's Saturday and Sunday Sport.