Joe Canning's budding greatness as a hurler was being touted from his early teens, before many knew what he looked like.
Word had filtered through at national level that Ollie Canning, by then the best player on a (usually) misfiring Galway team, had a brother whose talent had to be seen to be believed.
His underage career was stellar, generating the kind of rare buzz that has probably only been matched since by David Clifford.
The pre-eminent star on Galway's All-Ireland winning minor teams of 2004 and 2005, Canning went into the 2006 decider seeking to become the first hurler since Jimmy Doyle in 1957 to win three titles at the grade. In any event, Galway fell short against a historically exceptional Tipperary side, which contained Seamus Callanan, Padraic Maher, Noel McGrath and Brendan Maher.
He subsequently added an All-Ireland U21 title to his collection in 2007, Galway burying Dublin under a hail of goals in the final in Croke Park. By the age of 21, he'd won three All-Ireland club titles as the leading light with Portumna, one of the greatest club sides in history, adding a fourth in 2014.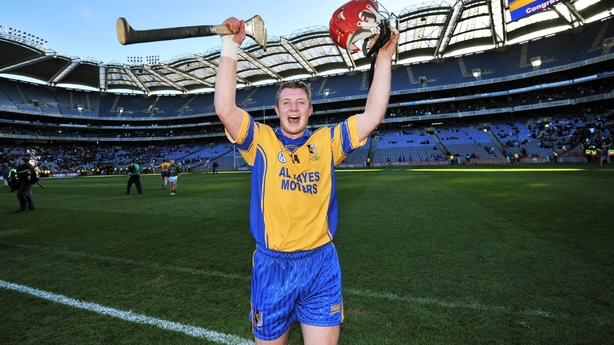 Strange to say, one of Canning's greatest ever championship displays with Galway remains his first summer showing against top tier opposition. It also emphasised the nature of Canning's predicament.
Whereas Kilkenny wonder-kids invariably wandered into a confident and smoothly functioning team, getting supporting roles before being asked to step into a leadership position, Canning was tasked with rescuing his side when still a teenager.
With Galway 0-04 to 0-00 down after a very sluggish start, Canning notched his first ever score in senior championship hurling, winning an aerial ball ahead of Diarmuid O'Sullivan, flinging the Cork full-back off him, finding enough room to smack a one-handed shot past Donal Óg Cusack to the roof of the net.
The Rock, one of the great full-backs of the previous decade, was struggling from that point and looked vaguely traumatised by his inability to corral the 19-year-old.
He proceeded to score 2-12 of Galway's tally of 2-15, 1-05 from play plus another sideline cut from outside the 65. He picked up the Man of the Match award, spent the aftermath of the game being mobbed by autograph hunters while Michael Duignan on co-commentary pronounced it one of the greatest displays he'd ever seen.
But Galway wound up losing the game against a Cork team who were (rightly) perceived to be in some disarray themselves. The rest of the side were bafflingly subdued, as if they were waiting on Canning to dig them out.
It fostered a narrative that Galway were inordinately reliant on Canning, one which - to the frustration of some Galway supporters - stretched long into the next decade, even after Cathal Mannion and Conor Whelan arrived on the scene.
In another nod to the problems in Galway hurling at the time, his arrival into the county jersey was stalled by a year following a ludicrously controversial and violent county senior final in 2006, when he was allegedly the victim of a stamping incident.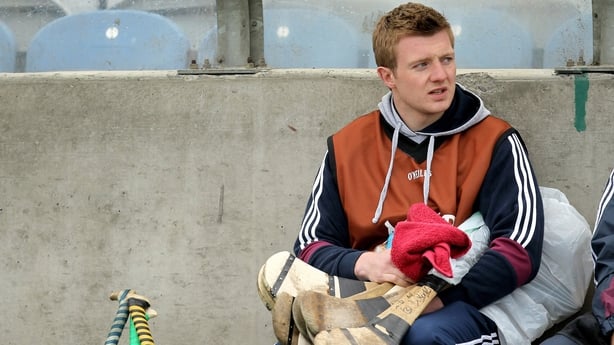 Portumna were unhappy with the county board's handling of the aftermath and both Cannings opted out of Ger Loughnane's panel, missing the abject 2007 campaign. The year out had the curious effect of heightening the sense of hype and anticipation and even mystique around his senior career.
Galway continued to tread water for a few years, exiting the championship at the quarter-final stage three years running from 2009-11, though Canning built his reputation as their chief marksman, picking up a second All-Star in 2009.
2012 was the breakout year for Galway, when they leapt from underperforming also-rans to consistent All-Ireland challengers. Few anticipated the Leinster final whirlwind that year, least of all those in Galway, judging by the relatively paltry crowd in maroon that afternoon. Canning set in train the extraordinary first-half blitz, catching a ball above Jackie Tyrrell and firing past David Herity.
As a surreal opening period wore on, the great Tommy Walsh sliced two identical sideline cuts straight into Canning's paw, the first of which he found Cyril Donnellan for a score, the second he pointed himself.
By then, folk were rubbing their eyes as Galway led 2-12 to 0-02 against the side who'd won five of the previous six All-Irelands. Galway won their first Leinster title in their fourth year of entry and Canning collected more Waterford crystal for his efforts.
He made a majestic start to his first All-Ireland final appearance, collecting a pass from James Regan, abruptly switching direction to leave the Kilkenny defenders flat-footed before rifling a shot to the far corner.
But Kilkenny gradually got to grips with Galway's tactical approach, holding their positions as the westerners crowded their own half-back line, stemming the flow of scores. Eventually, it took a late Canning free from the left wing to force a replay, redeeming himself after a miss one minute earlier. However, Galway's wave had crested, Kilkenny were coming strong and Cody's side won the replay comfortably in the end.
By 2015, Galway's attack was finding a better balance. The westerners reached the All-Ireland final despite Canning's own slightly patchy form that year. It was the only season in which Galway made a serious drive for the All-Ireland title in which Canning himself didn't collect an All Star.
Despite this, there were magic moments to add to his exhaustive highlight reel, in particular his stunning Leinster final goal against Kilkenny, in which he caught the ball while falling backwards, spun and fired to the net in one fluid movement.
Another dispiriting fade-out in the second half of the All-Ireland final unleashed a winter of discontent as a putsch was launched against the management of Anthony Cunningham.
He shipped what he later revealed was a career-threatening injury as Galway were pipped by eventual All-Ireland champions Tipperary in the 2016 All-Ireland semi-final - but he was back in time for their tilt in 2017.
From the moment Micheál Donoghue's side ripped Tipp asunder in the league final in April, it was apparent that this had to be the year. There was, from the beginning, an almost suffocating air of "if not now, when?" about Galway's 2017 campaign.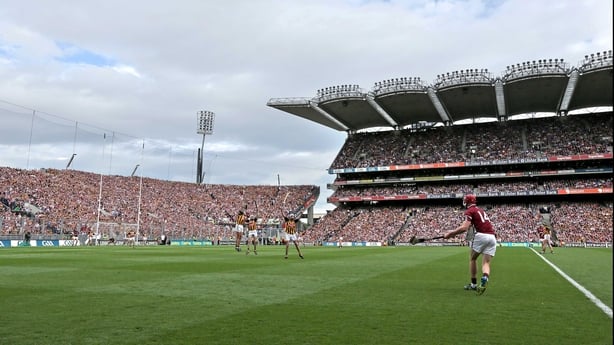 In another of those drama-choked All-Ireland semi-finals against Tipperary, Canning seized the moment in the final quarter.
He struck Galway's final five points - three from play - in a nerve-jangling finale. With the game level deep in injury-time, Johnny Coen collected a Darren Gleeson clearance, scuttled up the right wing, heard the shout from behind him, turned instantly and fed the ball back. Canning, with Tipp defenders converging, cracked a shot away.
As the ball sailed high between the sticks, Sportsfile's Piaras O'Mídheach captured Canning's wide-eyed delight as he surveyed the ball's flight-path, the Galway supporters in the Cusack leaping in ecstasy behind him.
In a career decorated with so many montage-worthy moments, it stands as his signature score.
A month later, they held off Waterford to win a first All-Ireland title in 29 years, sparking emotional scenes in Croke Park. The cameras remained largely fixed on Canning in the aftermath, as he charged around the pitch in celebration, embracing players both past (Noel Lane managed to get on the pitch immediately) and present.
"2018 has a strong claim to being Canning's finest season."
It may be a source of irritation that he and Galway didn't pick up a second title.
In the early part of the 2018 championship season, Galway looked, by a clear distance, the best team in the country, mowing down Kilkenny and Wexford with relish in the Leinster round-robin.
2018 has a strong claim to being Canning's finest season, in terms of individual performance and consistency.
But they dawdled when well on top against Clare in the semi-final, were sucked into an energy-sapping replay, from which they just about survived, and were then conspicuously leggy for most of the final.
Canning himself nearly pulled them out of the fire in the final quarter of that decider, rustling up 1-05 in the last 20 minutes as Galway almost retrieved a desperate situation.
As he hoisted that long-range free goalwards in the last play of the game, one fatalistic Limerick fan in the Canal Stand sighed "it's over, it's over, it's a point". But the ball dropped short in the square, Tom Condon burst out with it and Galway's shot at the back-to-back was gone.
One All-Ireland title from four final appearances? That they didn't add at least a second may be a stone in his shoe. But then in this context, one is a lot more than none. After all, many great players finished their careers without an All-Ireland medal - his brother included.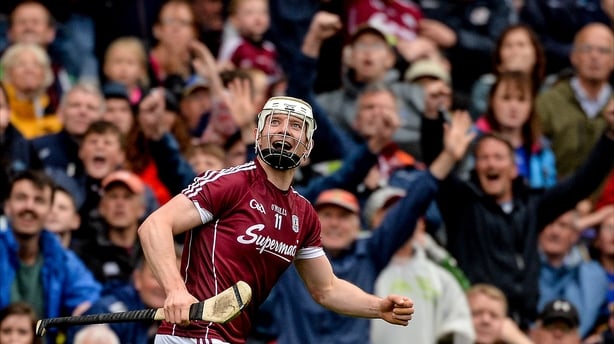 Injuries dogged him in recent years, forcing him out of all but the last 15 minutes of Galway's 2019 championship. He plugged away, stroking over some fine scores in last year's Leinster final, a game Galway frittered away at the death. Then there was the borderline comical sideline masterclass in the semi-final against Limerick, in which he clipped over an unprecedented four in total, making one of the most difficult skills in the game look routine.
He finished his career with 28 championship points from a sideline, breaking the previous record by an absurd margin. On Saturday, even as Galway exited the championship in poor fashion, he broke Henry Shefflin's all-time scoring record.
But Canning's career is not so much about numbers as it is moments. No hurler created such a lengthy highlight reel.
The compilation videos have been flowing freely on WhatsApp and beyond in the last day - the underhand pass against Cork in 2011, the goals against KK in 2012 and 2015, the sideline exhibition against Limerick in 2020, the zipped pass to Flynn against Dublin in '17, the equaliser against Kilkenny in 2014, the winner in the 2017 semi.
For the guts of 15 years, Canning - elegant, explosive, technically flawless - was the most magnificent sight in the game.