It's been a desperately sad and challenging couple of weeks for Monaghan.
On the eve of their Ulster SFC semi-final clash with Armagh, the Farney County's Under-20s captain Brendán Óg Duffy was killed in a car crash on his way home from his team's provincial last-four defeat of Donegal.
A community was numbed by grief.
Monaghan went on to edge past the Orchard County in a pulsating tie at Páirc Esler to reach their first Ulster decider since 2015, but Duffy was never far from their minds that afternoon.
"The following few days were difficult," says captain Ryan Wylie.
"As a group we gathered, went to the house on Tuesday night to lend our support to the family, it just really shows the power of the GAA in such times, something so small, it only took an hour out of our time but it can mean so much to people when they are at their lowest ebb.
"As a group there is nothing we can really do to replace the hurt the family is feeling. Sometimes small things, even just being at the funeral can help.
"I'd like to give a special mention to the Down U-20s and I know there were some Donegal U-20s at the funeral as well. Small gestures like that... it means a lot.
"I know there are a couple of members of our squad who would have played with Ogie the whole way up. Unfortunately I wouldn't have known him as well as the others so just being there for those younger lads, if they want to talk to you, they mightn't want to talk to you but to find that balance, try not to push them, just to make them aware that if they want a phone call...
"I can't imagine how some of them feel, to be on a team bus with him and then, 20 minutes later, for such an event to happen. It's unimaginable. If I could do anything for that younger generation, I'll be there for them."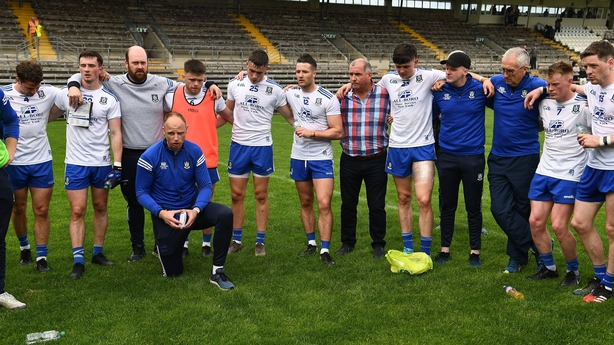 Wylie admits that it's been impossible for players to completely focus on football in the wake of such a tragedy.
Once the ball throws in at Croke Park for their showdown with Tyrone this Saturday, thoughts will be consumed by bringing back a first provincial crown in six years, but the loss of Brendán cuts deep.
"A huge figure like that in Monaghan football over the last number of years, he probably had more success in the few years that he played for Monaghan than some had in their whole careers," Wylie says.
"In the back of everyone's minds it's resonating but it's something that doesn't need to be talked about the whole time. An incident like that will be on people's minds for a while more."
Wylie works as a radiographer in the Mater Hospital, an occupation that keeps him grounded in the harsh realities of life outside of the football bubble. Conversely, being able to get out on to the pitch has been a welcome sanctuary after a year like no other.
"It was a strange time for a good few months and around Christmas time it was busy enough, but thankfully things have settled down," he adds.
"Perspective wise, the two bounce well off each other. When there's work you're not worrying about football and when there's football you're not worrying about work.
"We've seen the value of sport in the last couple of months with Covid and everything going on."
"Work's generally alright. I'm tipping away at it and I got down the road tonight for training so yeah, grand.
"It is tough. Sometimes you have to work late, I'm working late a few evenings this week.
"I work with a good few outstanding colleagues that help me out towards football season. I'm grateful for that and whenever they're stuck I'll help them out.
"When you are out on the pitch, the last thing you are worrying about is what is going on outside the field.
"You're worrying about not getting clattered by somebody in training or a match. We've seen the value of sport in the last couple of months with Covid and everything going on.
"When you break it all down there is not much to life without sport."
Wylie was part of the team that last delivered Ulster glory under Malachy O'Rourke in 2015, when they edged past Donegal in an absorbing Clones clash. He wants to experience that feeling again.
Standing in their way are Tyrone, who soured the summer of 2015 when they beat O'Rourke's men in the All-Ireland SFC quarters. Defeat by a single point in the 2018 semi-final was even more painful, and we can expect another intriguing battle between two counties who know each other inside out.
"When you're growing up, not even when you're growing up, when you're playing currently, all you want to do is win some silverware with the teams you're playing with and this is no different.
"Fortunately I have been lucky enough to experience winning the Ulster Championship twice. I've also been the unfortunate end of losing them so I know which side I'd rather be on.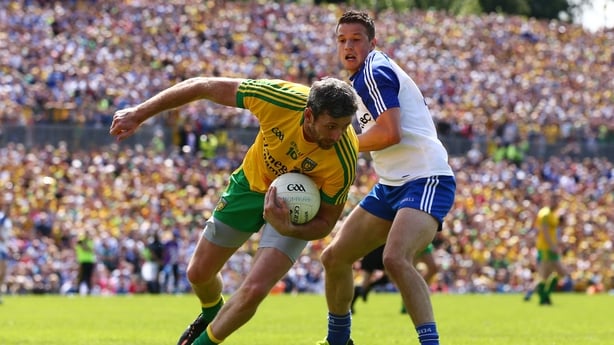 "It would be very special, the last couple of months with Covid and all that stuff, locked away, just for our supporters and our our families it would be nice for them to have something to look back on. Tyrone will have the same motivation as well.
"It would be very nice and something we'd cherish forever.
"Every game with Tyrone is different from others. We've played them a lot over the last couple of years, both of us have been in Division 1, both of us have come against each other in championship matches.
"I think they're probably the same as us, there's not really much that we don't about each other at this stage.
"I can't say exactly what way the game will be but they're normally tight and tense affairs and I'm sure it'll be something similar this weekend.
"Any time you go into an Ulster Championship you generally realise that if you're going to be lucky enough to get to a final or go try and win it, then you're going to have to come across them at some stage. Hopefully we'll be able to come out on the right end of it."
We need your consent to load this YouTube contentWe use YouTube to manage extra content that can set cookies on your device and collect data about your activity. Please review their details and accept them to load the content.Manage Preferences
Listen to the RTÉ GAA Podcast at Apple Podcasts, Soundcloud, Spotify, or wherever you get your podcasts.
Follow the Ulster SFC final between Monaghan and Tyrone via our live blog on RTÉ.ie/sport and RTÉ News app, or watch live on RTÉ2 and RTÉ Player or listen to commentary on RTÉ Radio 1.