Kerry under Peter Keane have always been a team with questions to answer. At each stage of their progression there have been weaknesses highlighted and a demand for more, given the attacking talent in their squad. More than most, they have suffered from the comparison with Dublin's dynasty.
Even after an unbeaten Allianz League Division 1 campaign this year, which culminated in the dismantling of Tyrone at the semi-final stage, questions remained because they conceded four goals and dropped a point to the All-Ireland champions.
After now banishing the ghosts of their 2020 Munster Championship implosion against Cork, we might finally be running out of questions.
Kick Out Dominance
Despite taking 15 minutes to settle in the game, the Kingdom imposed their style of play on Cork throughout. Bringing Jack Barry into the team as an additional kick-out option gave Kerry a platform of possession throughout that means they can confidently back their own attacking potential against anyone.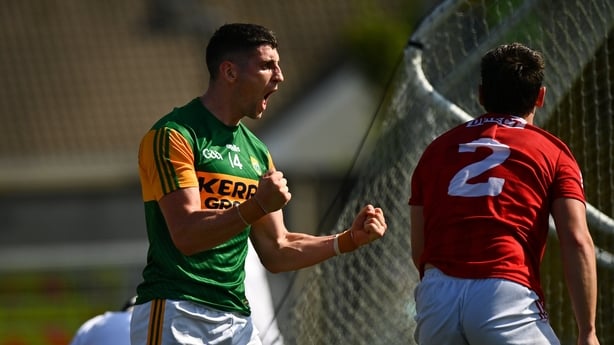 Complimenting David Moran and Diarmuid O'Connor, the three ball winners gave Kerry dominance (63%) on long kick-outs from both ends. That is a lion's share and translated into 11 more shots than Cork over the course of the game. With Kerry's quality and variety up front, those numbers mean only one outcome.
Despite losing O'Connor to injury in the first half, Kerry scored 1-08 directly from their own kick-outs and 2-04 from Cork's. If they can maintain that type of possession dominance in the All-Ireland semi-final and final, the best attack in the country will do the rest.
Seanie Leads
In the opening quarter Cork still managed to expose the Kerry Achilles heel at the back. Space is consistently available for opponents in front of the Kerry full-back line if they counter attack quickly and Brian Hurley demonstrated once again their paucity of quality man markers.
As ever for this Kerry team, when the game is in the balance Sean O'Shea steps up. When Cork were squeezing with everything they had in the first half, meaning time and space were at a premium, O'Shea went to work.
Having already demonstrated his ability as a target man earlier in the championship, Seanie was back in his playmaking role because that's where he was needed. It is a phenomenal quality, given the pace of these games, to know and be able to execute the right pass at the right time every time. Sometimes that is short and simple. Sometimes no one else sees it, yet he finds it.
There isn't a more valuable player to the aspirations of their team in the country right now and it will take something special to subdue O'Shea's impact on any game.
Stand Out Performances
On a day when both Provincial finals promised a show but drifted away from the realm of contest as the second halves wore on, there were three exceptional performances.
Sean Meehan produced a man-marking job on David Clifford that exemplified athleticism and aggression. Clifford may still be searching for his best form this year but he hardly took a step that Meehan hadn't anticipated and contested. Set in the context of playing against a team that was flowing for large parts of the game, keeping David Clifford scoreless from play was nothing short of phenomenal.
The other two standout performances were from the referees managing both finals. Given how the game has drifted away from physical contests, the refereeing of contact is now central to the momentum and often the result of games.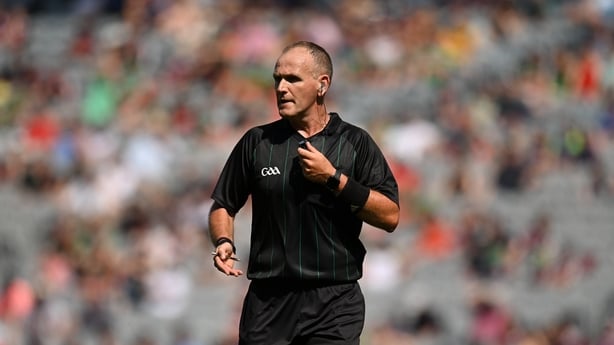 Both Conor Lane and Barry Cassidy were close to the play and penalised only the fouls that they saw. Too often in the modern game referees react to players or make judgements based on the outcome of contact as opposed to focusing on what they see. That has rewarded the exaggeration and feigning of impacts and not for the betterment of the game as a spectacle.
On Sunday both Lane and Cassidy bought very little of that and very quickly both sets of players adjusted and got on with the game. The result was actual contests for the ball, tackling and turnovers. A game of football.
Unsharpened Tools
Mayo will have taken a lot from their Connacht Final victory over perennial rivals Galway – particularly from the first half. An Allianz League campaign marooned in the second division, averaging over 24 points a game while experimenting with players and set-up is far from ideal preparation for a last eight All-Ireland fixture.
The first half in Croke Park was littered with Mayo players overplaying the ball and taking it into contact. That habit is the main indicator of players expecting more time and space in possession and not getting it. Galway defended deeply, which negated the impact of Mayo's customary power running through the middle third. They still carried the ball through that sector at pace in the first half but it was to no effect as Galway weren't interested in stopping them there anyway.
Mayo will have known the dangers of unsharpened tools but very few squads have the depth to replicate championship intensity in training and the Connacht Final is the first time in 2021 that James Horan's starting team will have been forced to play under those conditions.
One game will at least give them something to work from with the players but game number two is likely to be a showdown with the All-Ireland champions. An opening half against Dublin characterised by the same decision making errors won't have a recovery route.
Defensive Weakness
The evolution in Mayo's defensive structure this year has the potential to give them a greater capacity to withstand periods of opposition dominance than they have had in recent seasons. Dropping Michael Plunkett off early as cover mirrors how all of the top teams set up but it is a safety blanket that James Horan has always struggled to embrace.
While the theory is sound, the practice still needs developing to ensure the now two-in-a-row Connacht champions remain robust at the back. Maybe the purpose of the role, for Mayo, is to minimise the danger of conceding goals. How it is executed means that is all it might achieve.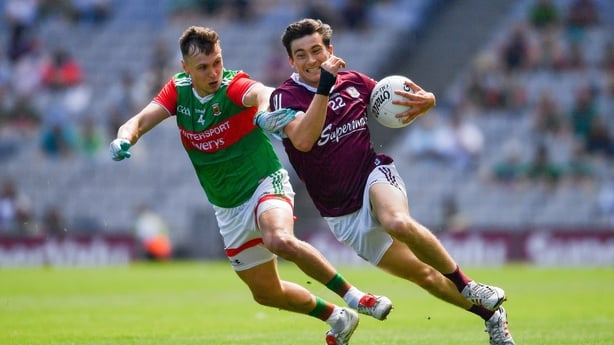 Constantly through the game Plunkett, or whoever occupied the role in a given phase, dropped further off as Galway developed their attack. Frequently Galway were able to kick points from mid-range distances when the Mayo cover player sitting around the penalty spot as a surrogate goalkeeper.
Contrast that with how Sean Mulkerrin executed the same role while Galway were still competitive in the first half. Mulkerrin set up as Plunkett largely did to deal with early ball inside but the Galway full-back then read the danger as Mayo built closer and pressed out to meet the play and not allow simple point chances to be taken without pressure. Mayo weren't able to do the same.
Attacking Identity
The main issue James Horan had to fix at half-time was in the forward line and, in particular, how to find a methodology to bypass Mulkerrin and create higher quality scoring chances. Whether by accident or design, rotating Aidan O'Shea onto the square meant that Mulkerrin dropped back to mark him and so the cover role was passed on.
The move had an immediate return with the penalty off a long ball into the target man. Ultimately, Galway were not able to continue tracking runners in the second half as they had done and Mayo burned them off comfortably.
For long periods, Finnian O'Laoi found himself in that key role but showed little understanding of what was required. There was certainly more purpose in Mayo's support running after the break but they were able to kick simple points from the space around the D that Mulkerrin was pressurising in the first half and that transformed their attack.
Both provincial winners this weekend stand out as teams who believe absolutely in their ability to outplay any opponent and impose their identity on any game. Kerry may be further down the track with fine tuning their method but we may actually see that tested head to head on All-Ireland Final day.