The Connacht final is going to be massive – Mayo and Galway in Croke Park.
People are saying the venue will be an advantage to Mayo, but I'm not too sure. I think that Galway will look forward to it up there. It's going to be a tense match.
Galway had a terrible start to the league in Tralee, they got relegated to Division 2 in a game they should have won against Monaghan soon after.
I think this is relevant because it was only a few weeks ago. They needed something big and they beat Roscommon in the Hyde, which was a huge win for them in the Connacht semi-final.
For Galway a few things need to happen against Mayo. Their big players need to fire; Sean Walsh, Damien Comer and Paul Conroy – they need to impact the game.
They need also to collectively stop conceding soft scores. It happens too often, it happened against Roscommon, it happened against Monaghan and it happened against Kerry. Scores are being spilt too easily.
Galway had a concern in goal with Bernard Power and kick-outs but they've changed that and Conor Gleeson is going to be tested big time.
The thing about Galway is yes, they have runners and Sean Kelly has been outstanding for them coming through but they can also play the long ball and the long ball is where they get goals from so that threat has to be there.
That said, Mayo and James Horan just won't go away. Horan is an outstanding manager and you only have to look at the players he's brought through.
Under Kevin Walsh Galway had got a foothold in Connacht again but it's Horan who has flipped that back around again. He keeps his high pressure gameplan the same.
Diarmuid O'Connor, will he start? I think that's key because then you can see Aiden O'Shea on the inside of the square. The experience of Lee Keegan and O'Shea, Paddy Durcan and Kevin McLoughlin is key, but it's the young lads in the squad, will they fill in for Cillian O'Connor's loss? I'm not too sure.
Mayo will create chances but it's about taking those chances from play.
But for me, too many things have go right for Galway and Mayo fire when it's needed most. I'm going to go with Mayo.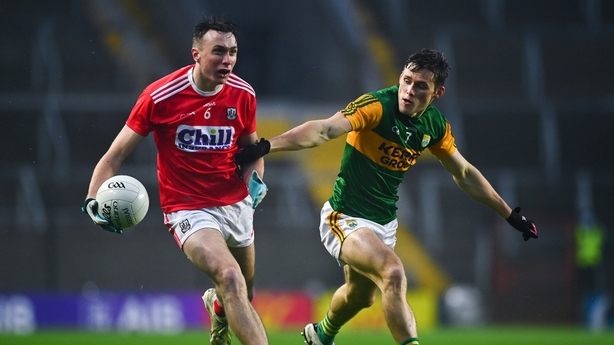 With the Kerry and Cork Munster final back in Killarney, a lot of people are thinking Kerry will trounce Cork.
I think Kerry will win and Cork are so predictably casual at times that Kerry could hammer them but I don't think that they will.
Cork need to tighten up at the back and clog the middle third of the pitch. The wing-forwards and half-backs will be absolutely key here. Defensively against Limerick, Cork were poor at times.
Will Cork go very defensive? I don't think they should. Yes, they should clog up the middle but they have to leave that threat up front so they can kick the ball or run the ball. If you can kick the ball into the likes of Cathal O'Mahony or Brian Hurley, you will cause trouble but it has to be given early.
If Cork want to run it, the have the players to do so and of course their best player Sean Powter.
They need a balance but it's the workrate in the middle third that I question.
From a Kerry point of view, they didn't seem to be able to reach the level needed against Cork last year.
The reality is that Cork deserved that victory because emotionally, Kerry were not at the races. It was Cork in a Munster final and Kerry were second-best to every ball.
If you marry that emotional passion with the tactical game that they have and the new players they've introduce along with the shape of the team, then I think Cork would have too many fires to put out around the pitch.
For me, it's going to be a victory for Kerry.
Tomás Ó Sé was speaking on RTÉ's Morning Ireland.
Listen to the RTÉ GAA Podcast at Apple Podcasts, Soundcloud, Spotify, or wherever you get your podcasts.