The opening group results from the All-Ireland Senior Camogie Championship offered little in the way of surprises at the weekend as the big guns picked up wins.
Cork, Galway, Kilkenny and Tipperary, who were all semi-finalists or better every season since the 2017 championship when Dublin made a semi-final, picked up victories to boost their chances of surging smoothly into the knockout stages, while Wexford and Waterford also won.
Former Cork goalkeeper Aoife Murray feels the weekend highlighted that there are almost three loosely established tiers in camogie at present.
"I think the weekend just highlighted the two different groups. There's almost three groups coming out of this championship," she told RTÉ's Game On.
"You've got the top two, which still are Galway and Kilkenny, and then you've got that chasing two, of Tipp and Cork.
"As I said last week, I really thought it was Tipperary's opportunity to take Cork in that Munster semi-final, and I think if they did they'd be good shouts for a semi-final or a final place.
"And then you've got that chasing pack, and for me, this weekend is really all about that chasing pack and what actually happens and who comes out of the wind for them."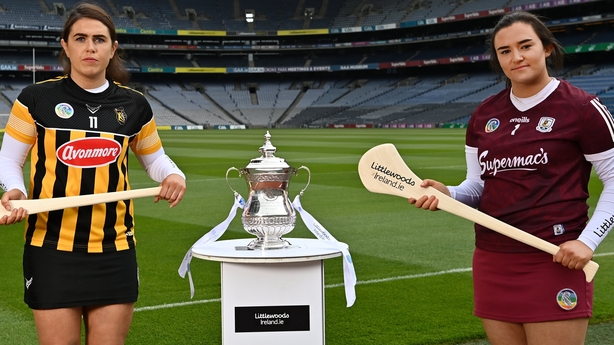 Highlighting the example of Cork's "phenomenal" work at underage level, Murray added that she has "quite a concern that there is a gap between the top four and the remaining pack" and that the same quartet of counties were involved in the latter stages of the Under-16 All-Ireland competition, which hints that it could be an established order here to stay.
"The trend isn't changing at underage and that would be my biggest question and that's why I'm looking at that chasing pack to see what they can do this weekend," she said.
"It's disappointing that you're not seeing the likes of Dublin - it would be great to see them in those semi-finals at underage. It does come down to an awful lot of that work that's going on at underage.
"I think for the Camogie Association, they really need to examine how do we bring these other counties up to that level."
In-form Tipperary will have Limerick next on Sunday in Group 1, with the latter coming into that difficult assignment off the back of a dramatic four-point loss to Wexford at the weekend.
"They've unfortunately put themselves under pressure and it's a position you don't want to be in the second round," said Murray of Limerick.
"In saying that, there's a huge rivalry there between Tipp and Limerick, and if Limerick won't be able to get up to the pitch of the game against Tipperary, then I would really worry for them for the latter end of the competition.
"I'm sure they'll go out and have no fear but they're going to have to really outperform their last few games and Tipp will probably have to drop their standards just a little bit. But the way, they're going about their business, I can't see Tipperary dropping that and for me you're looking at a Tipperary win.
"It would be great for the competition - Limerick beating Tipp - because that would really open the door in that Group 1 but for me I just can't see past a Tipperary win."