Davy Byrne has no inside information on Stephen Cluxton's intentions but says that the team will respect whatever decision the Dublin captain makes.
A host of big-name players have opted out of Dessie Farrell's panel this season, with Kevin McManamon, Eric Lowndes, Paul Mannion and goalkeeper Cluxton not featuring in their run to the Leinster final.
In addition, stalwarts Cian O'Sullivan, Michael Darragh Macauley and Paddy Andrews have officially called time on their inter-county days.
On the continued absence of 39-year-old Cluxton, Byrne said: "I haven't caught up with Stephen on that so I couldn't give an exact comment on anything he said.
"He'll come to his own decision, and we'll respect that.
"Stephen Cluxton has had an amazing career to date and he's been a fantastic leader for us but I suppose there is always that changeover every year.
"Some players, not even retiring, some players get dropped and other lads step up to the plate.
"I think Evan [Comerford] has done a great job with it so far and I believe he'll continue to do so as well.
"On a personal level, I miss the guys, I miss Eric. We both came on to the panel in 2013.
"This would have been our ninth year playing together so you miss them but we absolutely respect their decision.
"It's a tough commitment, committing to inter-county football. It takes a lot of time out of your life so everyone has the right to play or not play."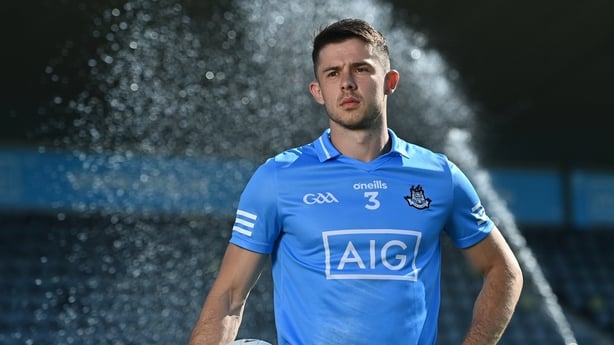 Asked why so many players have stepped away at the same time, the St Olaf's clubman - a seven-time Sam Maguire winner - said: "It's hard to put an exact reason on it. I'd say the reasons are going to be very unique to the individual.
"Some guys maybe coming towards the tail end of their career from an age perspective. Other guys might have commitments outside of football. It's an amateur sport, there are no contracts, they have jobs, they have family life.
"It's going to be particular to the individual."
Dublin are back in another Leinster final having seen of the challenges of Wexford and Meath, however, the manner of victory in those games has led to questions about the desire of such a medal-laden bunch of players.
Their hunger, insists Byrne, is not an issue.
Asked if they still have that drive, he said: "I think we are as driven as ever. There are new guys coming into the camp who are adding that little bit of energy and freshness."