When it comes to stand out figures in Gaelic games there a few more memorable than Cork's Brian Corcoran.
During the 1990s and 2000s he lined out for the Rebel hurlers and footballers, lifting the Liam MacCarthy on three occasions.
He was an imposing figure, who had the skill and determination to play anywhere on the pitch and he was in demand too.
At just 15 years-old, he played minor hurling for Cork, losing the All-Ireland final to a star-studded Kilkenny team that included DJ Carey.
Just two years later Corcoran was in college and playing for 14 different teams, spread across college, club and county.
"It was just par for the course, some of those teams weren't necessarily training two, three nights a week, you came together for games, and you can't be in two places at once," explained Corcoran speaking on We Become Heroes, an RTÉ Sport podcast.
"I never saw it as an issue at the time, but I suppose in hindsight, looking back, it probably did play a role in kind of mentally just burning me out and I probably overdid it a little bit.
"And you know, towards my mid 20s it probably was a factor in my falling out of love with the game."
One thing Corcoran always knew was that he would one day represent Cork, he always believed in himself but was aware that he needed to put in the work to make that goal a reality.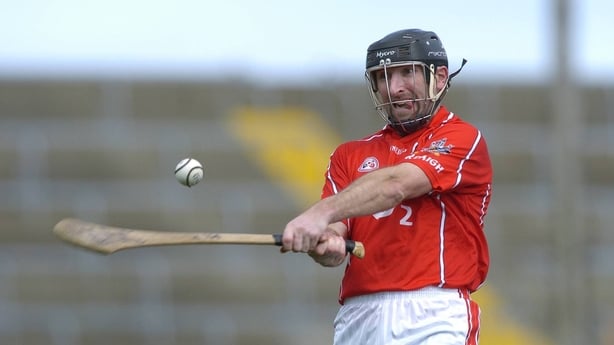 "This might come across as arrogant or as cocky was when I was seven or eight years of age, I believed I was going to make it, I never doubted myself. That was in my own head, I never told anybody else that, but I always believed I was going to make it," said Corcroan.
"It was a matter of committing myself and for the years to roll by. I remember when I was in Croke Park watching my brother playing the minor All-Ireland in 86, I was 13 at the time, and in my mind, I was trying to foresee the future.
"I remember sitting in the upper deck of the Cusack that day and I was trying to imagine what year it would be when I would run out there, It wasn't the case of would I or will I, it was whether it was going to be two years or three years or four years.
"That can come across maybe kind of arrogant but that's not something I would have told anybody at the time. But I believed in myself and I'm a strong believer that if you don't believe in yourself and if you don't aim for something and aim high, you're not going to achieve it."
We need your consent to load this YouTube contentWe use YouTube to manage extra content that can set cookies on your device and collect data about your activity. Please review their details and accept them to load the content.Manage Preferences
We Become Heroes is a podcast hosted by RTÉ Sport journalist Marie Crowe, featuring some of Ireland's biggest sports stars.
You can watch the interview with Brian Corcoran above or listen on Apple Podcasts, Soundcloud, Spotify or wherever you get your podcasts.