Nine-time All-Ireland winner Jackie Tyrrell described Limerick's comeback against Tipperary as the "greatest half of hurling" he had ever seen but was adamant that the winners should have had two players sent off.
John Kiely's side found themselves 10 points down at half-time in yesterday's Munster final in Cork.
Heading for the qualifiers and about to hand over their Munster SHC title, they burst into life and ran out 2-29 to 3-21 winners.
"It was awesome, it was emphatic, Limerick just brought their game to a level that I don't think any team in the country would have lived with," the Kilkenny great said on RTÉ's The Sunday Game.
"Power, pace, determination, speed and clinical - it's the greatest half performance of a hurling team I've ever seen."
But Tyrrell reckoned that referee Paud O'Dwyer's call at the start of the second half to issue just a yellow card to Aaron Gillane, who scored six points in total, instead of a red, was incorrect, and "not even up for debate".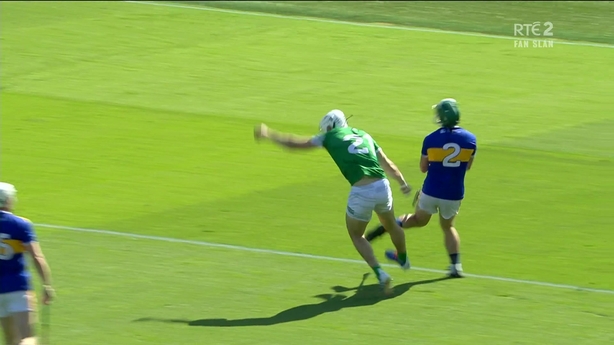 Later, when the tide had turned, goal-scorer Seamus Flanagan made a high challenge on Paudie Maher, a collision that only warranted a warning, in the view of O'Dwyer.
"This is the stuff that will worry John Kiely," continued Tyrrell.
"Aaron Gillane, no need for that, has the free won and pulls back and lashes at Cathal Barrett. That's a straight red for me. It's not even up for debate.
"Seamus Flanagan goes so high and so aggressive with the hurl into Paudie Maher's neck. That's a red for me. They were both missed.
"At that stage that game was over, the Seamus Flanagan one but the Aaron Gillane one could have had an impact on the game because it was early in the second half."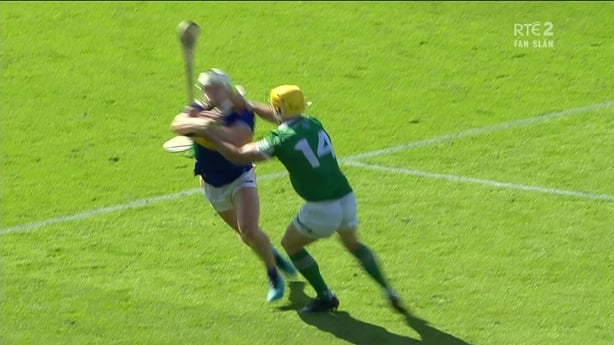 Fellow pundit and former All-Ireland winner with Clare Anthony Daly concurred.
"There's no excuse for Paud O'Dwyer not pulling the red there," he said.
"Let's face it, that has to be a red card and the comeback hadn't really started, two points had just been scored. That was a free in that was overturned. The Seamus Flanagan one is careless, it shouldn't be happening.
"There's no excuse for the Aaron Gillane one, he did it against Sean O'Donoghue [against Cork] in '18 and he got sent off and he should have got sent off (again)."
Limerick's win sees them go directly into the All-Ireland semi-final, while Tipperary will meet one of the round two qualifier winners, with that draw being made on Morning Ireland.