Limerick manager John Kiely says that "a little bit of restructuring" was the key to them turning around today's Munster SHC final.
The Treaty County men looked to be in big trouble at the break as a dominant Tipperary performance had them 10 up at the break.
But Limerick, chasing a first three-in-a-row of Munster crowns since the 1930s, exploded into life in the second half as goals from Seamus Flanagan and Kyle Hayes turned the game on its head.
And Tipperary couldn't recover their first-half form as the defending champions won by five in the end.
Speaking on RTÉ's The Sunday Game Live afterwards Kiely admitted they had to change a few things in the dressing room at the break.
"Tipperary had is in real trouble in the first half," he said.
An extraordinary Limerick comeback in this second half and it's summed up here by this Kyle Hayes effort.

Watch now on @rte2 or highlights on #sundaygame from 9.30pm pic.twitter.com/GNClAbpAlB

— The Sunday Game (@TheSundayGame) July 18, 2021
"They stretched us every which way. They had an extra defender at the back and we couldn't manage it. They played the ball around really accurately and they were picking off their scores from every angle.
"We were lucky that we weren't even further down at half-time.
"We've great faith in our ability as a team. We did a little bit of restructuring but it was about us getting stuck into it.
"We were not physically engaged in the game and we needed to [be]. We tightened things up at the back and we committed to going for the ball. We chipped away, one point at a time, and got our confidence up.
"As the gap closed our confidence grew and we could see that the opportunity was there for us to take it. We pressed on and the lads coming off the bench made a huge impact again.
"Really pleased with the effort today - we had to overcome a lot of challenges."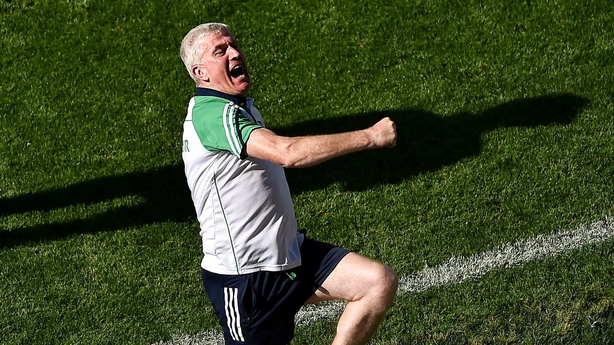 Tipperary looked like they might win the game comfortably during the first half. Jason Forde hardly missed a shot as he struck 10 points in that opening 35 minutes.
While goals from Jake Morris and John O'Dwyer put real daylight between the sides.
"We knew we could still win the game at half time," Kiely said.
"We just needed to get into it and get hurling, and get a few scores on the board - physically engage in the game. Once we did that we never looked back."
Tipperary manager Liam Sheedy admitted that the better team won but was still full of praise for his team's effort in the game.
"We came out of the blocks fairly quickly and got a few scores," he said.
"2-16 in 35 minutes of hurling is an exceptional performance. You'd have to give all credit to Limerick. They completely over-powered us in that third quarter.
"That's where they did the damage and we were probably sucking for air for long stages in that second half.
"A massive performance from my group but we just came up a bit short today."
Asked if they needed a few scores to settle them early in the second half he said, "We did and we had a half chance for a goal that we know if it went in would have been a massive score.
"Then mid way through the half we had three wides in a row when we needed to score.
"In that second half we were just out played in most sectors of the field. When Limerick come at you in waves and work that triangle and get some quality ball inside they're a hard team to deal with.
"We'll sit back and watch next weekend's action. If we play like we did in the first half we'll be a match for whoever comes through, if we play like we did in the second half we'll find ourselves on the outside of the All-Ireland series."