For Cork dual star Hannah Looney, this year is more pivotal than ever on the pitch.
If it wasn't for the Covid-19 pandemic she might currently be abroad on a work-related adventure. But as it happens, that still remains on the cards which means an All-Ireland camogie title bid has an added sense of urgency.
As the chemical engineer tells RTÉ Sport, she has the option to go either to the Netherlands or to the United States as part of her day job.
"My plans before Covid was to be abroad this year and that obviously went on hold so now that's looking more like an October time-frame," she explains at the launch of the Camogie championships which has Cork pitted against Down, Dublin and Waterford in Group 2.
"I'm hopefully going to take an opportunity abroad to either go to the US or the Netherlands, so it's a bit scary when I think about it like that and how important this championship will be personally.
"It's probably best not to make too many long-term plans and just focus on the championship for now."
"But at the same time, I try not to dwell on future plans. I'm just going to make the most of this championship and the run at it that we'll have."
As to the likely preference in terms of destinations post-championship, the United States may be leading the way thanks to the presence of long-time Cork camogie team-mate Orla Cotter on the other side of the Atlantic.
"I think it would be great to get over to the US personally. Orla Cotter a good friend of mine is still over there in New Jersey so it would be great to go over and nag her for a bit but the visa process at the moment isn't the easiest so I'm not holding out hoping for anything with the way things are going at the moment in and out of the pandemic.
"It's probably best not to make too many long-term plans and just focus on the championship for now."
There's always been plenty to keep Looney busy on home soil due to her dual commitments. While that role is increasingly difficult with the growing demands on players, she has found a way to balance football and camogie over recent years with the added benefit of an expanded friendship pool between both panels.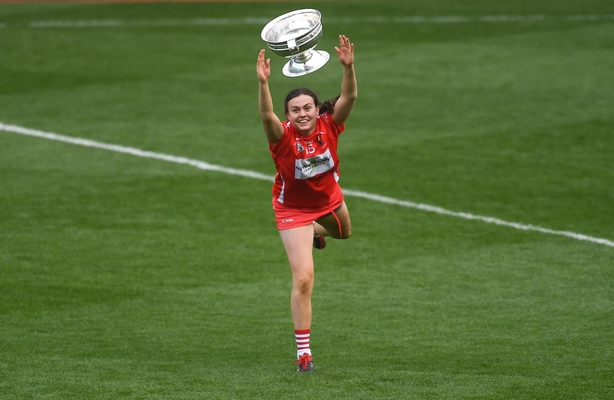 "It is a big commitment playing two sports. At the same time, I think if you're playing one sport the way it is at the moment, you're still out 4-5 times a week, be it gyms, personal sessions. I don't actually think the workload or the training load is much different because I'm fortunate that football and camogie setups can facilitate me to play both," she explains.
"But I guess you would notice you're out (playing matches) every weekend whereas if I was just playing camogie, I might have a weekend free where I could plan something to do in my personal life. That kind of goes on hold for the couple of months in championship but I really do love playing both and fortunate that I can represent Cork in both codes."
But with great experience, she adds that it has been important to put herself first in regards to mapping out her preparation for playing both sports simultaneously at elite level. Indeed, in the old days, she only had Mondays away from the sport.
"I just need to be more cautious to let people know how I'm feeling. If I don't want to train a certain night for a certain reason, people can understand that so that's great," she says.
"Early on (in my career), I probably wouldn't have done that. I would've just thrown myself into everything.
"But I've noticed I get more out of myself when I'm just a bit more conscious of how I'm feeling and my time."
"If players want to play both, they should be facilitated."
Looney also feels better communication from the Camogie and Ladies Football authorities in recent times has helped make things a bit easier than before for players in her situation, although she points out that, "I see the younger girls (breaking into the game) struggling a bit more".
"My opinion is that if players want to play both, they should be facilitated," she adds, but also feels frustrated that in the men's game, there is less leeway to do the same.
"That does frustrate me when you hear of men, let's say even at minor and U20, being put in positions to choose and just stick with the one route."
For this summer though, while admittedly frustrated at missing out on the camogie league final by just two points at the hands of Galway, Looney sees that competition as a "learning experience" for Cork as new players get used to the system before their championship group opener against Dublin on Sunday.
"Obviously we would've preferred to have beaten Galway and be playing in the league final but I don't think we'll dwell on it too much now," she says.
"I think we got what we wanted from it just getting that learning, getting new players into the set-up and I think that will stand to us come championship."