Other than the celebrations of the players on the pitch last December, silence was part of the backdrop when Kilkenny got their hands on the All-Ireland Camogie title.
Some welcome new voices could be heard however when they beat rivals Galway once again in the league final in June.
With spectators filtering back in as Covid-19 restrictions ease, Mary O'Connell could revel in the sound of a familiar voice in particular.
"It was brilliant, even just our parents really, hearing their voices on the sideline," the Kilkenny forward tells RTÉ Sport as she and her team-mates prepare to open their 2021 championship campaign against Clare on Saturday in Group 3.
"I've grown up with my parents going to every single game and my Mam's voice is unique so I can always hear her voice. Not being able to hear it last year, I actually surprisingly missed it, especially when we won the All-Ireland.
"It would have been nice to have them there but it was a very special moment when we won the league final and we were able to go across the pitch, to the fans and be able to speak to them over the wall or the net. It's brilliant and long may it last and hopefully we'll be able to get more fans in as the season progresses."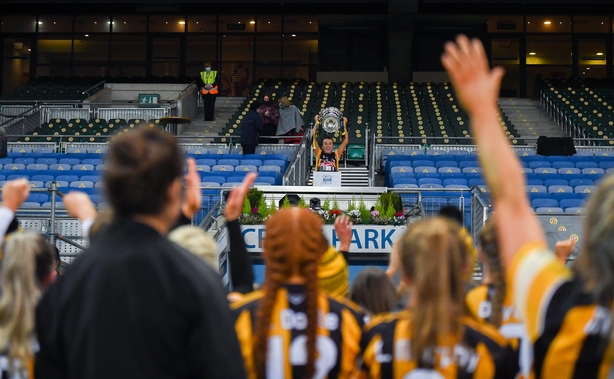 While Kilkenny backed up last year's All-Ireland triumph with league success six months on, some of the games were too close for comfort with the Cats' resilience proving crucial in staging multiple fight-backs including in the final against Galway.
Starting more quickly and not leaving as much work to do to claw back results as games progress is a conclusion one could derive from that trend.
But O'Connell feels it's more complex than just something specific to Kilkenny's own form in the league, although it's an area Brian Dowling's team will try not to replicate during the upcoming All-Ireland.
"I suppose people say we started slow against certain teams in the league but I think that's down to (the opposition's) hard work and the intensity them teams brought as well," says the 25-year-old.
"It's up to us now to match that intensity and to try and start strong. If you look back at the league, we only won a few matches in the last 10-15 minutes and in championship you can't afford to do that.
"We will be hoping to start stronger but doesn't always work like that. I think you have to stay playing for 60 minutes so whenever you get your purple patch, you'll take it, whether it's in the first 10 minutes or the last 10."
With Clare up first on Saturday, before further group games against Westmeath and All-Ireland and league runners-up Galway, O'Connell adds that the focus is on what's ahead as title defenders rather than the past.
"We're not really speaking about the league final or the All-Ireland final from last year. It's all about this year's championship," she says.
"I wouldn't say there's much added pressure (to be title defenders). It's just taking it game by game and seeing how we fare out of our group."