One way or another, there is going to be a huge casualty this weekend in the hurling championship.
Before the draw took place last Monday morning, there was a sense of "it's going to happen again, isn't it?" And happen again it did.
Wexford v Clare.
Not Davy v Lohan. This is not about them. Of course it will add to it, but they can't be to the forefront of this game, it's always all about the players.
Don't get me wrong, eyes will be peeled to see the interaction, if any, between them before, during and after the game, but should there be any extra incentive for either of them to win just because of who they are playing? Well, I hope not.
You have your group, your circle, you operate as a unit, and whoever you comes up as your opposite number on the line should be irrelevant.
In relation to the game then. Wow - it really should be something else, for many different reasons. From a Clare perspective, it would be harsh if their bags were packed in the middle of July, considering they were so good against Waterford, and were giving Tipperary as much as they got before the penalty. They really do seem to be in a good position.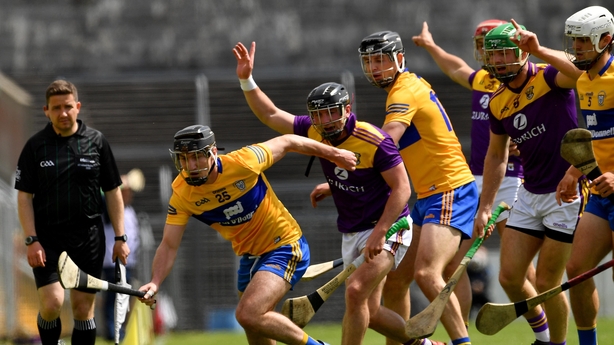 All that being said, Brian Lohan would have had to pick these boys up off the floor after the last day. If they can go back to their league performance against Wexford in the league, and take a number of learnings from that game, they should put themselves in a good position.
I hope for their sake they play to their potential, because they deserve to. Antrim aside, they had a super league, and a super start to the championship. But as we all know in sport, just because you deserve something doesn't mean you will get it, you have to go and make it happen!
From Wexford's point of view, they come into this game under a hell of a lot more pressure than the Banner. They gave an atrocious performance against Clare last year and were tamely knocked out of the championship in a qualifier.
If they were to lose on Saturday, for the second year in a row in a qualifier, it could be bye bye time for Davy.
They can count themselves unlucky, they were inches away from being in a Leinster final where there would have been favourites, but the inter-county game is about one thing: results. If you don't get them, people show you no mercy, lucky or unlucky!
You would think there would be a good kick in the Wexford boys to rewrite the wrongs of last year, but you would also expect there to be a kick in the Clare boys after two weeks ago, so if they both come out kicking, we should be in for a classic.
"As the league went on, more and more I thought the Dubs weren't up to much. But by God have they turned it on for championship."
You could have lined 100 people up against a wall earlier in the year and ask them for the Leinster final pairings, and I'd say all 100 would have got it wrong, myself included.
As the league went on, more and more I thought the Dubs weren't up to much. But by God have they turned it on for championship. They were really good against Galway, and ignore people saying Galway were bad, the Dubs were good.
They worked extremely hard, got the ball into the right positions and worked it really well. It would be a fair achievement for Mattie Kenny if he was to bring a Leinster title back to the capital, and when you go through their team they have players good enough.
From a Kilkenny perspective, aren't they just deadly? They remind me of a game we played when we were growing up, called 'Butcher'. Basically, to get a lad 'on' with you, you had to catch him, and basically keep bating him until he said 'butcher'. The thing is, there was always one lad who no matter what hiding you gave him, he wouldn't give in, he wouldn't say 'butcher'. Well, the Cats are the same.
You can keep at them, minute after minute, time after time, and they just hang in there. They won't give up, and just keep on fighting. I think that's why they are admired so much, and you have to give them credit.
Dublin have improved big time, but they will still struggle to get Kilkenny to say 'butcher'!
Munster final day is always so special. Can you imagine the banks of the Lee on Sunday with 40,000 people walking down to the stadium? What a sight. And going by the weather forecast, they would have to load up on the tubs of ice-cream.
Anyway, we can look forward to that again next year. For Sunday, 7,000 lucky people will be able to attend the game, and there will still be a nice atmosphere at it. In between the lines then, could get very intriguing.
Tipperary scored 2-15 the last day from turnovers - that's fair going. If they are to put themselves into a position to win the game in the home straight, they will have to do the same on Sunday. They showcased to the country two weeks ago when they get a bit of time, and space, how quickly they can hurt you.
We need your consent to load this YouTube contentWe use YouTube to manage extra content that can set cookies on your device and collect data about your activity. Please review their details and accept them to load the content.Manage Preferences
The question is though, will they get that time and space on Sunday, and the answer to that is probably no. Limerick hammered them in the Munster final in 2019, and the same can be said for last year, down in Cork also.
A lot of questions have been asked of this Tipperary team in recent years, and to be fair, they have wronged the critics on nearly every occasion. Okay, they haven't been super consistent, but in the main they are on the dancefloor most years.
From a Limerick perspective, it is a fair achievement to be back in a Munster final for the third year in a row. And while I said Tipp have not been consistent, Limerick certainly have. They will be a lot sharper for there outing against Cork.
A few of the lads looked like they needed the game, and with natural improvement, you would think that they should come back into the form that they had late last year.
Limerick have had Tipp's number over the last number of years, and if they can cut out the supply into their forwards, and turn them over enough in the middle third, I see no reason why Limerick can't make it three in a row.
Listen to the RTÉ GAA Podcast at Apple Podcasts, Soundcloud, Spotify, or wherever you get your podcasts.
Follow all the championship matches this weekend with our live blogs on RTÉ.ie/sport and the RTÉ News app.
Watch Kerry v Westmeath and Dublin v Kilkenny live on RTÉ2 or RTÉ Player from 4.45pm Saturday, and Donegal v Tyrone followed by Tipperary v Limerick, live on RTÉ2 or RTÉ Player from 1.15pm Sunday.
Watch highlights of all the weekend's action on The Sunday Game at 9.30pm on RTÉ One.
Listen to live and exclusive national radio commentaries on RTÉ Radio 1's Saturday and Sunday Sport.