With the debate raging over tiered football championships in Gaelic football, Down hurling manager Ronan Sheehan says that more levels of development are also needed for underage hurling competitions.
Sheehan feels that emerging counties like Down can only continue to target top-flight hurling if their underage talent is exposed to increased and sustained game time beneath senior level.
The Down manager feels the solution is readymade. He says the GAA 's Celtic Challenge template is hugely successful and has called for it to be incorporated at under-19 and 20 level to help emerging counties maintain their development.
It's been a tough week for all involved with the game in Down after they only just missed out on a place in this weekend's Joe McDonagh Cup final.
With three Group B teams finishing level on two points after two games, scoring difference kicked in to separate the sides, pushing Meath into third position.
But that meant Kerry and Down were still tied on +4 scoring difference.
The next method of separating the teams was total scores over the two games.
Once more, though, both teams were tied – Kerry's 3-45 to Down's 2-48.
The ultimate model to separate the teams was total goals scored in the campaign, and on that basis Kerry – and not Down - progressed to face Westmeath in Saturday's McDonagh Cup final.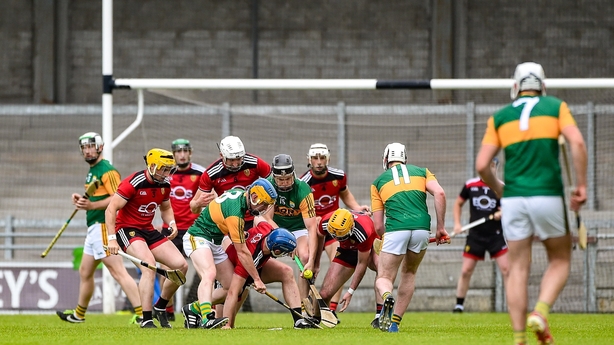 Sheehan says counties like Down need all the games – big and otherwise – that they can get. And he was glad to see they got back on the horse last night with their U-20 team winning in the All-Ireland B quarter final.
"We played our second U-20 game against Armagh in the All-Ireland B quarter- final, which we won, and now we play Meath.
"That is great but Armagh, Donegal, Wicklow, Mayo, Roscommon are all gone after one game. Where is the development in that?
"I think we should all be looking at the Celtic Challenge model. That's the way to go. It's an absolutely fantastic competition which gives every team a guaranteed number of games and really should be replicated at U-19 and U-20 now."
The Celtic Challenge series was established in 2016 and is the only competition in hurling that has teams from all 32 counties participating.
The ethos is a developmental one with teams initially competing at group stages. Depending on results teams are graded for the knockout stages giving all an opportunity to compete at their own level. The inclusion of second and even third teams from Tier 1 counties has proven very successful as it can result in teams from for example, Nicky Rackard counties playing teams from Liam MacCarthy counties in a final.
These are opportunities that players otherwise would not experience.
Sheehan managed the Down Celtic Challenge team five years ago and brought a huge number of players on that squad all the way up to senior ranks.
Despite last weekend's disappointment, Down are currently pushing hard to get back to dining with hurling's elite. He feels it will happen quicker if sustained development is allowed at underage.
"That's why the Celtic Challenge competition has been great for us, 14 of my senior panel played in the competition over the two years I was involved in it and they took great confidence from being able to compete and beat teams from Tier 1 counties," Sheehan adds.
"I totally accept these were regional teams for Kilkenny, Cork, Waterford etc but it still registered with the lads they were able to match players from those counties."
Until we address the imbalance and gulf at standards at underage then we will never close it at senior level," he adds.
"Raising standards and ambitions is key which a competition like the Celtic Challenge supports and I think we should be doing more with competitions like this not less."
Having helped to bring through impressive young Down players like Eoin Coulter, Donal Og Rooney, Daithi Sands and the talented McCrickards, Conor and Ruairi, Down have shown what is possible.
The 2021 crop of players will participate in their Celtic Challenge finals on Saturday, 24 July with the Corn Michael Hogan, Corn John Scott, Corn Michael Feery, Corn Tom Hogan, Corn William Robinson, and Corn Jerome O'Leary trophies all up for grabs.
The remaining 12 teams will compete for sets of specially commissioned Celtic Challenge medals in the six consolation finals.
Some counties will also have their senior teams involved in Ring, Rackard or Meagher games on the same day and with overlapping mentors and officials in many cases it promises to be a very busy weekend for those promoting hurling there.
It means that 24 teams will be involved in 12 finals at 12 different locations on the same day – a significant development considering the likelihood of the competition taking place at all was very slim due to the Covid-19 pandemic.