"Presence is very important in sport. It is one thing just being there in the middle, but it is another making people aware of your 'presence'. It is about body language and radiating confidence."
- Sachin Tendulkar
---
When Michael Murphy was sprung from the unfamiliar surroundings of the bench on Sunday, Donegal had just slipped to a three-point deficit in a fascinatingly attritional Ulster Championship arm wrestle with neighbours Derry.
There were 25 minutes left on the clock and the frontrunners would add only three more points in the time remaining.
Revelling under the standard issue Rory Gallagher defensive straight jacket, Derry were proving very difficult to break down. At the same point in their championship opener against Down, Donegal had already amassed 1-17 but the Oak Leaf men had conceded only eight miserly points.
Murphy was patently not at full throttle and looked to have had no intention of taking any tacklers on. And yet, Donegal responded immediately as a team to the crisis Derry had created.
Significant Contributions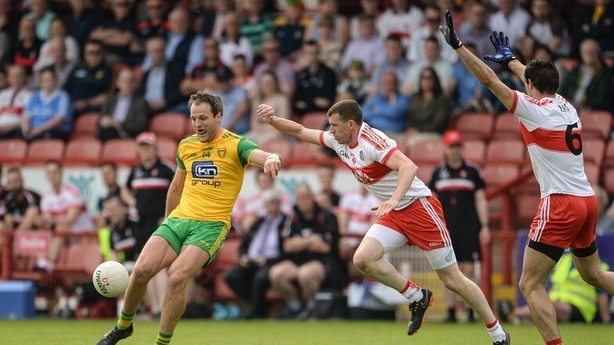 The Derry coaching team had obviously expected and planned for the Donegal captain's appearance in the second half. Brendan Rogers knew he was picking him up and the cover adjusted immediately to ensure Murphy had minimal room to manoeuvre in.
Those were all factors that should have minimised any impact the Glenswilly man could have on the decisive period of what was a pulsating contest.
Overall, Murphy made six significant contributions that influenced the flow of the game but those were not decisive in the game.
He won two important frees in the attacking third, converted two free-kicks at crucial times, drew defenders to create Paul Brennan's point and got his body down on Shane McGuigan's right boot as last man when a match-defining goal seemed inevitable.
Another Level
None of those contributions were the reason Donegal ultimately prevailed from a position of distinct vulnerability. However, it was no coincidence that those around him were able to find another level of performance only after Murphy entered the fray.
The scarce crowd allowed us to hear the Derry sideline's reaction to Murphy's introduction. If the Derry players weren't acutely aware of managing the Donegal talisman, the constant instructions to close him down and double up on him - often when the ball was nowhere near - emphasised the reverence in which he was held.
It also kept a collective focus on Murphy that may not have optimised how the defence in particular functioned.
Paul Brennan's score was a direct result of the Derry clamour to close Murphy down. It was also clear that when he went onto the square the cover dropped deeper and space opened up further out that hadn't appeared previously.
Niall O'Donnell took full advantage of those gaps and in the second half looked like the marquee forward he has been promising to become.
Unsettling Effect
If Murphy's appearance unsettled Derry and knocked them out of the rhythm they had established, it had the opposite effect on his team-mates - particularly those in attack.
Paddy McBrearty doesn't need any artificial reassurance of course; he has been stepping up at clutch moments for a long time.
On a grinding day when he struggled to get away from the shackles Chrissy McKaigue had attached, it was a mark of his quality to take on his most difficult shooting opportunity under the pressure of both the moment and Derry's tackling.
For any team, the presence of a leader can bring reassurance, confidence and belief. In Ballybofey on Sunday, it wasn't just that Michael Murphy made it onto the field of battle, it was the that both sets of players knew instantly what he adds.
An Old Trap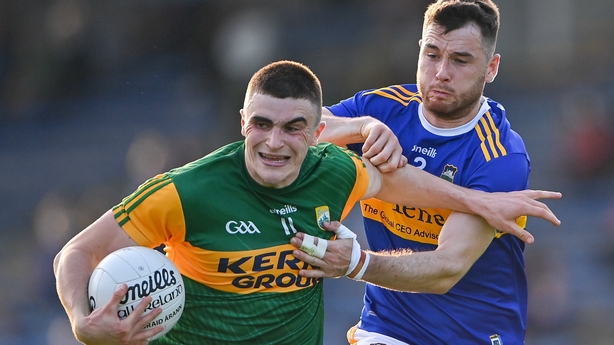 On Saturday evening in Thurles, Kerry were exposed to a timely test of their patience and adaptability. As we might have expected, Tipperary entirely removed the Kingdom's kicking game in attack with a double sweeper in front of their inside line.
David Power and his coaches set a very similar trap to that laid by Cork in Pairc Uí Chaoimh last year but this time Kerry had an emphatically different answer.
That 2020 Munster semi-final defeat must have prompted much debate over the winter and through the early part of this season. It was inevitable that they would be presented with the same equations to solve sooner rather than later. The evidence of this weekend is that they have done their preparation.
Kerry's Craft
When opponents are giving you the ball in the middle third in exchange for giving you no space within shooting range, the type of creativity required changes.
Kerry's two most recent performances - against Tyrone and Clare - were notable for the speed and accuracy of delivery to brilliant movement inside. Tipperary were determined they wouldn't be beaten in that way.
Crafting scores in the type of traffic Tipperary manufactured required patience and very smart support play. Kerry were consistently able to find the pockets of space that moving the ball around cover players at pace will always generate and they provided the ball carrier with options at all times.
As a result, no matter how many numbers Tipperary committed to closing attacks down, Kerry were able to keep the ball moving away from contact and into the path of the next runner. Kerry have good footballers everywhere on the pitch and are now capable of playing in whatever style is necessary to create scores, irrespective of the opponent.
Playmaker
On a day when the Kerry performance was most notable for its collective nature, the indicators of Sean O'Shea's importance to this team continued to accumulate.
Peter Keane had publicised another string to the O'Shea bow in the Munster Championship opener against Clare two weeks ago by deploying him at full-forward and as the main focal point of a kicking attack. Even David Clifford deferred to a support role on the opening day as Seanie's movement, ball winning and finishing stole the show.
In Thurles, when it became obvious that scores would need to be crafted from deeper, O'Shea immediately returned to his more orthodox playmaker role. However Kerry need to play on any given day, one thing is clear - Sean O'Shea will be operating wherever Peter Keane feels most scores will come from.
The Presence of Greatness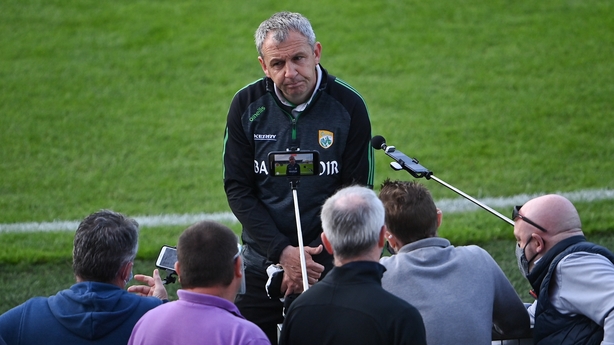 It was a weekend when the favourites for the Ulster and Munster championships came through different types of tests that might be very important for the journeys this year.
Donegal passed a test of character - the type that they had lost for the previous two seasons in a row - but with the clear statement that it could not have been done without their talisman Michael Murphy.
Kerry came through a physical chess match. Perhaps it was less obvious but when measured against their contrasting performance against Clare previously, it is also clear that Sean O'Shea is now fundamental to how Kerry perform on any given day.
Both Murphy and O'Shea are emblematic of the modern game and the mixture of physicality, skill and game management is required to lead an attack at the very highest level.
As with all great players, their impact is not confined to what they can do themselves - more notably, everyone around them become better for their presence.