FIXTURES
Saturday
Armagh v Monaghan - Athletic Grounds, 2pm
Cavan v Mayo - Markievicz Park 2pm
Cork v Meath - St Brendans Park, 2pm
Dublin v Tyrone - Kingspan Breffni, 2pm
TV & Online
All games will be available to view on the LGFA and TG4's dedicated viewing portal.
WEATHER
Sunny spells, scattered showers and light winds, with highs of 18C.
Armagh v Monaghan - Athletic Grounds, 2pm
Armagh crushed Monaghan in the recent Ulster semi-final but it was Monaghan who had the upper hand when the sides clashed in Division 2 of the Lidl NFL.
Armagh, however, appear to have rediscovered some of the form that took them all the way to an All-Ireland semi-final appearance against Dublin in 2020.
They were too good for Tyrone in the provincial semi-final last weekend and will be looking to repeat that recent victory against Monaghan.
Aimee Mackin was the 2020 Senior Players' Player of the Year and sister Blaithín has been in sensational recent form, too.
But Monaghan are a very capable outfit in their own right and they were unlucky not to reach the knockout phase of the 2020 championship.
The Farney girls beat Tipperary at Parnell Park before losing out narrowly to Galway by just a point in a winner-takes-all clash.
Armagh (v Monaghan): A Carr; S Marley (capt.), C McCambridge, G Ferguson; E Lavery, L McConville, T Grimes; N Marley, N Coleman; B Mackin, C O'Hanlon, F McKenna; A Mackin, A McCoy, A Clarke.
Monaghan (v Armagh): E Corrigan; M Monaghan, N Fahy, A McAnespie; S Coyle, A McCarey, E Traynor; C Courtney, M Atkinson; L McEnaney, E McCarron (capt.), L Garland; C Treanor, C McAnespie, A Garland.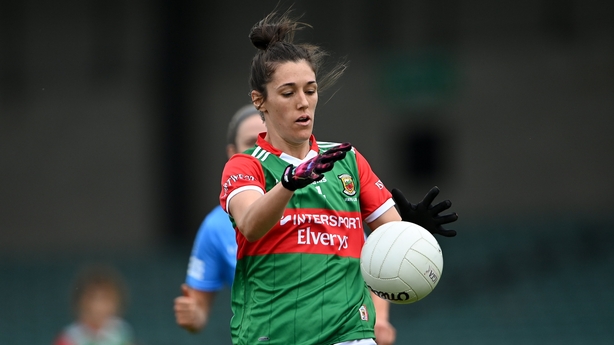 Cavan v Mayo - Markievicz Park, 2pm
Cavan enjoyed a very solid Lid NFL Division 2 campaign – topping 2B and winning against Armagh, Monaghan and Tyrone.
But they lost out to Meath in the Division 2 semi-final, and then to Donegal at the semi-final stage of the Ulster Championship.
Cavan remain a very capable outfit on their day but they came up short in a 2020 championship group alongside Cork and Kerry.
Mayo, for their part, were showing decent form throughout the League but they were well beaten by Dublin in the Division 1 semi-final.
The Westerners are still capable of having a big say in the championship and manager Michael Moyles will be looking to find the right mix in a deep squad as the campaign progresses.
Cavan (v Mayo): E Walsh; R Doonan, S Lynch, M Smith; S Greene, L Fitzpatrick (capt.), M Sheridan; C Dolan, N Byrd; A Kiernan, C Finnegan, N Keenaghan; G Sheridan, A Sheridan, A Gilsenan.
Mayo (v Cavan): A Tarpey; S Lally, C McManamon (capt.), E Brennan; T O'Connor, É Ronayne, K Sullivan; C Needham, S Cafferky; F Doherty, R Kearns, M McHale; G Kelly, S Howley, T Needham.
TG4 All Ireland Senior Championship – Group 2 - Round 1
Cork v Meath - St Brendans Park, 2pm
This one promises to be an extremely interesting game in Birr. Cork, smarting from a Division 1 Lidl NFL final loss to Dublin, come up against a Meath side high on confidence.
The Royals collected the Division 2 title recently and with it, promotion to the top flight.
And this fixture is their first back in the senior championship ranks after emerging from the intermediate grade with an All-Ireland final victory over Westmeath last December.
Cork will start as favourites but they'll need to be on it right from the start against a Meath side that will show absolutely no fear.
Meath have a forward line capable of wreaking havoc but Cork are similar, with the likes of Orla Finn and emerging talent Sadhbh O'Leary marked out as genuine scoring threats.
Cork (v Meath): M O'Brien (capt.); M Cahalane, R Phelan, E Meaney; E O'Shea, A Hutchings, M Duggan; M O'Callaghan, H Looney; L Coppinger, C O'Sullivan, O Finn; S O'Leary, B O'Sullivan, K Quirke.
Meath (v Cork): M McGuirk; E Troy, M.K. Lynch, K Newe; A Leahy, A Cleary, O Byrne; V Wall, M O'Shaughnessy; S Ennis (capt.), S Grimes, N O'Sullivan; S Melia, E Duggan, B Lynch.
TG4 All Ireland Senior Championship – Group 3 - Round 1
Dublin v Tyrone- Kingspan Breffni, 2pm
It'll be hard for Dublin to avoid the talk of five-in-a-row as they go deeper into the competition but that's the job for manager Mick Bohan and his players as the quest for Brendan Martin begins again.
Dublin have been excellent in recent seasons, landing four successive All-Ireland titles while also adding league crowns in 2018 and 2021 for good measure.
The Sky Blues have become the game's dominant force and they have a squad laced now with talent and depth.
Dublin's bench for this game contains players of the calibre of captain Sinead Aherne, Lyndsey Davey, Nicole Owens, Siobhan McGrath and Sinead Goldrick, who's working her way back from injury.
They're the team to catch and Tyrone will need to bounce back quickly from last weekend's Ulster semi-final loss to Armagh, to be in a position to compete.
This is the first championship clash between the counties since Dublin's breakthrough All-Ireland Senior final win in 2010.
Dublin (v Tyrone): C Trant; L McGinley, M Byrne, H Leahy; L Caffrey, O Carey, L Collins; J Dunne, L Magee; H Tyrrell, N McEvoy, C Rowe; C O'Connor, N Hetherton, S Killeen.
Tyrone (v Dublin): L Kane; M Kerr, T McLaughlin (capt.), E Mulgrew; E Brennan, C Kelly, D Gallagher; A McHugh, E.J. Gervin; N Hughes, N Rafferty, N McGirr; N O'Neill, G Rafferty, C McCaffrey.