When it comes to leaving an imprint on the sport of camogie it's hard to compare to the achievements of Kilkenny's Ann Downey. Twelve All-Ireland titles as a player, one as a manager plus countless hours of behind the scenes work and mentoring.
Indeed, over the last five decades Downey has shaped the direction the sport has moved in and helped change the landscape for so many who followed in her footsteps.
When Downey and her twin sister Angela started winning All-Ireland titles in 1974 it was very different environment for women's sport.
"We knew that the guys were going down to Langtons every night after training, and having a big steak supper, where we were driving down to John Street and going into the chipper and buying our own bag of chips," said Downey, speaking on We Become Heroes, an RTÉ Sport podcast
"You would be hoping that when you get to the All-Ireland final that you might get a tracksuit and a bag or something like that.
"We knew it was there but we didn't crib about it, we just accepted that's the way it was. And in fairness at the time, even back as far as 1974, Ursula Grace was on the team with us and her father was Paddy Grace, the secretary for years of the GAA Hurling Board in Kilkenny.
"The hurling board were really good to camogie over the years.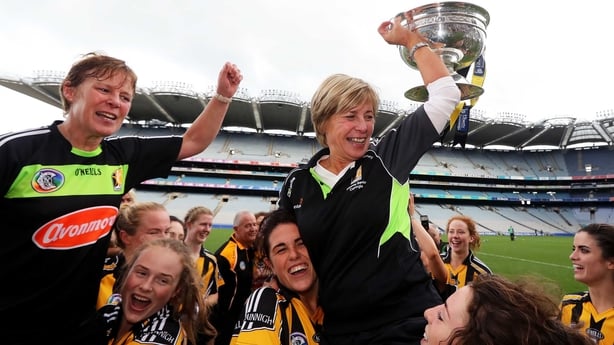 "The last night of training before the All-Ireland, we'd get to go to Langtons and the hurling board would pay for it and they paid for the train up that help with the cost of the hotel."
When Downey returned to the set-up as manager she started to see changes but they were slow and came about mostly because several professional people volunteered their time for free.
"In later years, when I got back involved with teams the girls were saying well, you know, we want to be professional and we want to be treated as professionally as everyone else but it wasn't until 2016, when I got involved again, that we were lucky enough to get a doctor with us. I mean, that was a long time.
"Dr Martin O'Brien came on and he was of no expense to the county board. Nicola Aylward was the physio, we had Dr Fergus Heffernan, psychologist, you know, and all those people giving free of their time.
"Camogie couldn't afford it and we knew that, you know, that's such a cost and they'd be looking for sponsorships it was a big ask of the county board to come up with all the money at the time.
"Even going back to 2016 there wasn't grants but there is now, you know, you get a certain amount of a grant and things are changing for the better, but certainly, we never really looked for it, we knew we wouldn't get it and we weren't bothered. Once we got to All-Irelands and once we got to win we were happy."
We Become Heroes is a podcast hosted by RTÉ Sport journalist Marie Crowe, featuring some of Ireland's biggest sports stars.
Watch it in full above or listen and subscribe on Spotify, Apple Podcasts or Soundcloud.