Ryan O'Donoghue got a WhatsApp voice note from Cillian O'Connor on Saturday morning as he prepared for Mayo's Connacht SFC opener against Sligo.
"Stick to the routine" was the advice to the young forward who has assumed the responsibility of free-taking for the Green and Red in O'Connor's absence.
The talismanic O'Connor - out for the summer due to an Achilles injury - still has a strong influence behind the scenes. Now the challenge is for others to fill the void.
"It's just about sticking to the same routine," said O'Donoghue at AIB's All-Ireland SFC launch.
"It's like a golf swing. You always hear them saying that they stick with the same routine, and it doesn't matter what pressure is there; you're still doing the same things and kicking it. I don't [simulate crowd] sounds or anything like that. I just stick with the same routine, and hopefully it all goes well.
"Cillian sent me a voice note on Saturday morning, wishing me well and telling me to stick with my routine, that nothing changes, and it's the same if you're practising or in a championship game.
"He has helped me, and gave me a lot of confidence on that Saturday morning."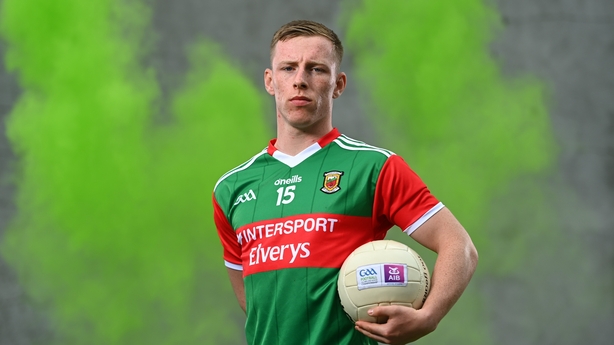 O'Donoghue nailed four frees in what was an afternoon stroll for Mayo in Sligo - a first hurdle cleared for the Belmullet man who is embracing the opportunity to take on more responsibility.
"I love the pressure of it and it lights that fire in my belly," he added. "I don't always need it to play well but I definitely don't shy away from it and I'm well comfortable with it.
"Getting responsibility to take frees thankfully doesn't faze me and I just get on with it."
Having had a breakthrough year in 2020, O'Donoghue is feeling far better equipped to deal with the demands of senior inter-county football this year. He was a talented boxer and a strong soccer player in his younger days, good enough to be picked up by Sligo Rovers for a time, but it's Gaelic football where he's excelled.
Now part of a good young bunch breathing energy into the Mayo panel, he's ready to kick on.
"A lot of us have made the step up: myself, Oisín [Mullen], Tommy [Conroy], Jordan [Flynn]. The physical demands are the biggest step up from that level. James [Horan] has made our transition a lot easier.
"He's given us the chance but we had to earn that chance. It's not about what age you are or who you are, it's if you're putting in the work and playing well. Us, the younger lads, we earned our chance and we took it.
"We've just gone from there really and haven't looked back. That was one of my goals for the season, I didn't want to just be a one-season wonder. I wanted to push on this year and so far I've done that.
"I've played one championship game and I want to play more, so just keeping the head down working hard and hopefully keep getting the opportunities.
"Athletic-wise, that's the biggest step-up. Obviously you have your skills the whole way through and if you're skillfully good enough, you'll always have it but definitely the physical demands of it is where the inter-county senior level really stands out.
"I'm seeing the benefits of learning last year, of not bringing the ball into the tackle. The physical demands are very high at this level so I definitely learned a lot and always learned a lot off the older lads."
Next up for Mayo is a Connacht semi-final against Leitrim on Sunday, 11 July.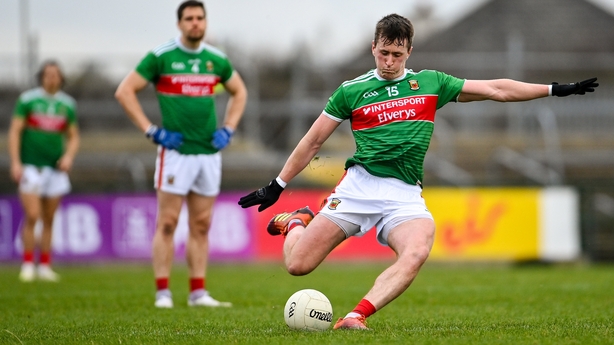 O'Donoghue will stick to the routine and hope for a similar result, and with O'Connor in his corner, self belief won't be a problem.
"We can't control that Cillian got injured," he stressed.
"We still have our own players and Darren McHale has stood up and shown what he can do at the weekend, so it's just a matter of the rest of us standing up.
"It's all ourselves and we'll just worry about ourselves over the next couple of weeks, and look forward to Leitrim.
"Cillian the man is even better than Cillian the footballer. He's a gentleman. He's not that much older than us really but you'd think because he's around for so long that he's a lot older than he is.
"He's someone that every young footballer in Mayo looks up to. And if it's not him, it's Andy [Moran] and if it's not Andy, it's Ciarán McDonald as a forward. But Cillian has been brilliant for the likes of me and the younger lads to look up to.
"From the first day I walked in, he's been the exact same to everyone. He sees the game a lot better than most players and he'll always come over and give you words of advice.
"He's brilliant and you couldn't really have a better player around the team to look up and be a mentor."