Lee Chin says Wexford are eager to atone for 2020's no-show as they approach another Leinster championship joust with Kilkenny.
Wexford ran up a whopping 5-31 in their championship opener against a badly over-matched Laois in UPMC Nowlan Park on Saturday evening.
Chin himself notched 1-02 on an evening when a goal-hungry Wexford spread the scores around. Eleven of the fifteen starters had brackets after their name on the match report, with two more getting on the scoreboard off the bench.
"I think we can take a bit of confidence from the manner in which we played it," a satisfied Chin told RTÉ Sport.
"I thought we hurled particularly well and we put up a good scoreline. It was still a tough contest. It was still championship pace. Laois put up a decent score as well with 1-23 on the board."
There's little time to admire their work as another clash with Kilkenny comes down the tracks this weekend, a game that will played in front of 8,000 fans at Croke Park.
Wexford have an intriguing history with Kilkenny during Davy Fitzgerald's era. Prior to 2017, they endured a long, gruelling run of defeats in the fixture, a fair number of them heavy and confidence-draining affairs.
Since Davy Fitz's arrival, the balance of power has shifted, Wexford winning two of the four championship clashes and another ending a draw. The 2018 Leinster round-robin collision in Nowlan Park was their only championship loss.
However, the recent league meeting between the pair saw a decisive win for Cody's side.
"Kilkenny were, in my opinion, the most impressive team throughout the league," said Chin. "They had some great performances, looked very strong.
"You can tell with the way they're playing at the moment, they're playing with a lot of freedom and a lot of confidence as well. Look, they didn't finish top of our league for no reason either.
"We're happy that we get another opportunity to play Kilkenny. In the league, we probably didn't really hurl very well on the particular day.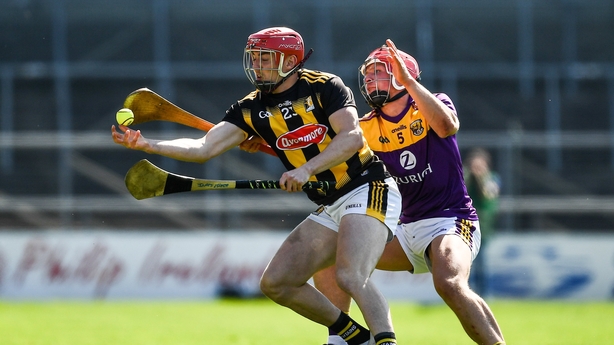 "Not taking away from Kilkenny, they actually did hurl very well on the day. And it was a performance that summed up their league.
"I think over the couple of years of underage, particularly maybe U21, Wexford have a decent record in that grade. But I suppose at senior level, it's been nip and tuck the last number of years.
"We've had some really great battles, and a lot of the games have been tight. It's been two or three points going to either side, either Kilkenny's way or our way, really really stiff contests."
There was the caveat of the Covid-related disruption which afflicted Wexford in the run-up to the league game in Kilkenny, though the media focus following that centred on Brian Lohan's comments and the ensuing dispute between the Clare and Wexford county boards.
In any event, Chin is inclined to play down its impact on the 10-point loss in Nowlan Park, though he acknowledges it wasn't ideal.
"There was a 10-day lay off where we weren't really allowed to get together. It's not particularly ideal when you are going to face a side like Kilkenny. We just dealt with it. We did our training individually, like you would.
"We got on with it. Look it, whether it had an effect on the day, I don't think so but it's not really ideal preparation for a big game like that."
Wexford have alternated between good and bad during Davy's four seasons in charge thus far, from the cathartic win over Kilkenny in 2017 to the low-key exit to Clare in 2018, the Leinster championship-winning campaign in 2019 followed by last winter's drab displays.
Chin was keen to draw a line under Wexford's abject 2020 performance. Asked whether there was an inquest into what had gone wrong, he said nothing more than it had served as a motivating factor for the coming summer.
"After last year we're coming into this year motivated off the back of it, wanting to do ourselves some justice. We knew last year's wasn't up to the standards that we wanted.

"We weren't happy with our championship last year at all and it has been a good driving factor for us going into this year's championship."
Chin was talking to the media as part of the GAA's launch of a pilot programme of concussion baseline testing, in association with the GPA and UPMC. The objective of the programme is being able to rapidly diagnose and treat concussion in players.
The Wexford hurler says he hasn't much recent experience of concussion - but does recall an incident when playing for the county U21 footballers.
"I can't really recall many throughout the years, in recent years. I do remember one situation when I was playing U21 football, I think it was against Laois.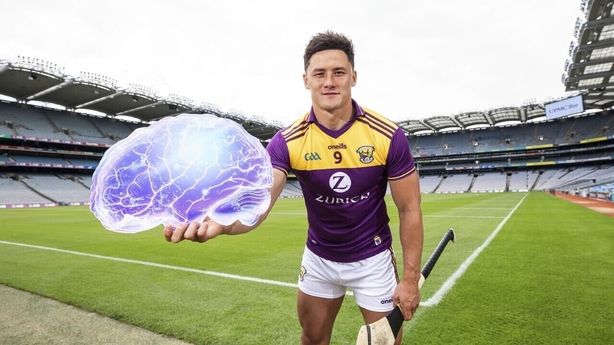 "Myself and one of my own teammates ran into each other. It's only when the conversation is going now when you think back on the time, on the game, and even to this day I actually can't remember a whole lot about the game or what happened in the game.
"All I can remember is being stitched up after the match. Just that would have been my only experience. That's me assuming that maybe I was concussed after the collision. But it is a very serious matter and I think it's something that needs to be taken really seriously.
"At the time, I had split my eye open, and the guy I ran into, we clashed heads and he split just on his cheekbone. I don't know how he was, if he remembered much.
""But even to this day, I can't remember a whole lot of the actual game, and that's just a clear indication to me that possibly on the night I was concussed.
"I often see lads now that suffer a head blow, and then after the game they'd be confused and they might not know what went on in the game. I think that was something that maybe happened to me on that particular night."
Chin insists that the culture has changed in the meantime, with far greater awareness of the issue.
"I think it is something that people need to be conscious of. Even in particular, one or two Wexford guys got concussed throughout the National League and got concussed in training, and even for a couple of days after.
"We take it very seriously that they wouldn't be let train for a number of days or even a week or two after training.
"Even a couple of days after when you're talking to guys, they're still a bit foggy about it, they're still a bit...they haven't just got their feet under them, for want of a better phrase. But it is something very serious. We do value our health, and this is just one thing that we really need to be more conscious of."
UPMC has joined with the Gaelic Athletic Association (GAA) and Gaelic Players Association (GPA) to introduce a pilot programme on concussion baseline testing – with the goal of rapidly diagnosing and treating concussions in players. The initiative, which begins today and continues until the end of the 2022 championships, will cover football, hurling and camogie. Both men and women players will participate equally across all codes, including inter-county teams from across the country.