It's difficult to remember the last time that the opening weekend of the championship blew the doors off everyone's expectations for the summer and 2021's first days did little to buck that trend.
There is undoubtedly a message in that for our overall structures but everyone with an interest in the development of our games knows that already.
Despite the low key nature of activity, we had three All-Ireland contenders in action – all with varying measures of value to take from their respective victories.
When you consider the opposition, there is credit in the Kerry performance. Clare, after Cork, are clearly the next best in Munster at the moment and capable of stretching Division 1 opposition.
Down provided 30 minutes of resistance to Donegal, whereas Mayo will have learned virtually nothing against a Sligo team ill-equipped for the contest.
Positive Kingdom
For all three, they will be measuring their performances against where they need to be against the best but for Declan Bonner, and James Horan in particular, it will be difficult to take significant lessons from what they saw.
There were plenty of positive signs for Peter Keane.
Front and centre was to concede only 1-11 against an opponent who put 2-18 on the board against Mayo in a promotion play-off two weeks ago. Given that was achieved without sacrificing any of their offensive instincts, it is not an insignificant marker.
The main alarm sounding for the Kingdom will be the execution of their kickout strategy at both ends of the pitch. An inexperienced keeper offers mitigation on their own restarts – even if the movement and options you might expect didn't materialise.
But, how ineffective their press on Clare's kickout was for long periods is a bigger concern.
Kerry committed an usually low number of players to pressurising Clare's restarts, allowing keeper Stephen Ryan to find runners with relative ease.
The conclusion must be that, in the long term, Kerry prefer to concede shorter restarts than to overexpose themselves around the middle and get caught with longer deliveries that can really inflict damage.
Misdirection
Much has been made of the deployment of Sean O'Shea as an inside forward. O'Shea is such an instinctive footballer with very few weaknesses in his game that he can really be effective anywhere on the pitch.
What distinguishes O'Shea from everyone else in the Kerry forward line – even mercurial finisher David Clifford – is his understanding of how play is evolving.
What shifting O'Shea did achieve was to subdue David Clifford's possessions and impact on the game. Such is O'Shea's quality of movement that he was invariably the first and right option for passers so Clifford had to wait for the next phase of play – which wasn't always required.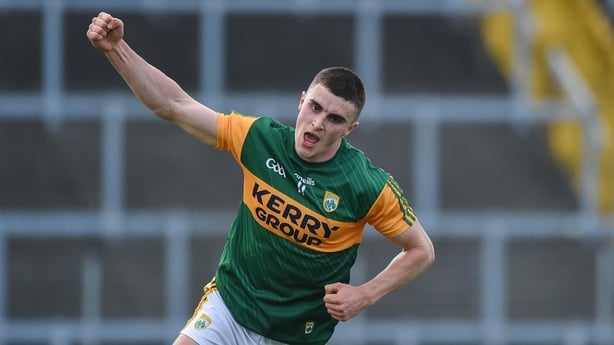 It's difficult to think this use of O'Shea isn't misdirection in a long game with Dublin. Fluidity of roles in the forward line is essential at the top level but the Kenmare man is the epitome of the modern number 11 and for all their attacking options, they don't have a direct replacement in the role.
O'Shea's movement, work rate, creativity, vision and skillset means he is essential in a playmaking role.
Paudie Clifford deputised credibly in that role against Clare but while he has creativity in his kick passing, he doesn't have the same presence with or without the ball.
Donegal's Direct Intentions
Donegal's bright opening on Sunday featured Michael Murphy operating as a pivot at centre forward with Paddy McBrearty further inside. They kept both up as much as possible as a pair and looked to release Murphy with accurate kicking from defence if the opportunity arose.
That mixture of kicking along with their customary power running kept Down off balance and gave Donegal variety in the opening 15 minutes.
It's an approach that offers the type of directness that has disappeared from the Donegal game over recent seasons. Those early, kicked balls from defence put Murphy in position to make the final pass inside, which is the type of service now critical to McBrearty carrying a threat.
When Murphy went off it was noticeable that the desire to kick forward disappeared with him.
Tough Decisions Required
Despite their comfortable win in the Ulster Championship opener, Declan Bonner has a number of headaches that may need some tough decisions to plot the best path forward. The first two are related.
Michael Murphy's hamstring difficulties have more layers to consider than might be the case for any mortal player. The captain didn't seem to do a lot of damage as he appeared to want to play on but the final stages of hamstring recovery can be tricky.
Restoring Murphy to full health may require the calculated gamble of resting him against Derry in the quarter-final but can Donegal's other attackers step up without his leadership and reassuring presence?
Bonner may need to find out because their championship run will be curtailed if they can't get him back to full health before a potential showdown with Tyrone in the Ulster semi-final.
Less complicated is Patrick McBrearty's role. The Kilcar man is not as mobile as we have seen him in the past and struggled through the league and again on Sunday to engineer space from his marker. He remains a strong presence but offered limited movement on Sunday, which curtailed Donegal's options up front.
With Oisin Gallen to return and Jamie Brennan offering a contrast in terms pace and movement, Bonner and Stephen Rochford must be considering the impact that a caged McBrearty, released from the bench for the last half hour, could have on tight games.
Structural Weakness
Donegal's final headache is with the role of Hugh McFadden. The Killybegs clubman has been deployed as the key defensive cover for three seasons now. As well as his ball-winning capacity around the middle, McFadden reads the game well and communicates superbly with those around him.
His role is to trek in behind his half-backs when possession is lost and get to work in dealing with opposition attacks. For some time, the weakness in this has been McFadden's inability to react quickly to evolving danger.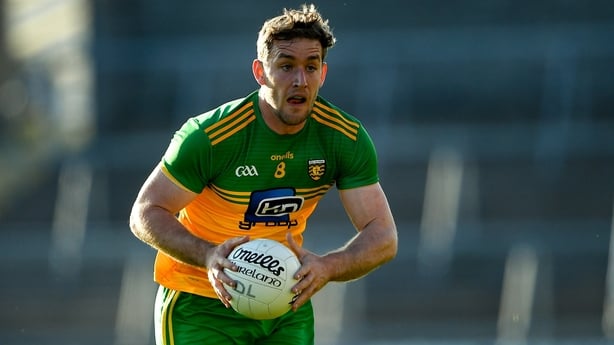 If the point of attack is changed quickly, or if serious pace is injected, then McFadden doesn't have the footwork to get to where he needs to be to intervene. The goal Caolan Mooney scored on Sunday was a perfect example and similar to the goals Monaghan carved out at will earlier this year in the Allianz League.
An injection of pace and a simple pass to a runner in behind neutralised McFadden as cover player and created the goal.
The Contenders
Given the low to medium competition levels across weekend one of the championship where the silverware contenders were concerned, it is difficult to discern any real indicators of form and potential.
Mayo are a step further but none the wiser and Kerry have road tested their championship shape at least.
While Donegal ultimately were never under any real threat against Down, they will have left Páirc Esler with some significant questions hanging in the air about what to do next. There are some fundamental flaws in their make-up now and not a lot of time to find solutions.