John Mullane says that the four-point defeat today for Waterford was flattering as last year's Munster and All-Ireland finalists were beaten by Clare at Thurles.
The Déise were missing the injured duo of Conor Prunty and vice-captain Jamie Barron going into the game and, bar a mini-purple patch in the last 10 minutes, they never really got going.
It means they're heading for the first round of the qualifiers where they know they'll be facing Leinster opposition.
Speaking on RTÉ's Sunday Sport, Mullane said his county didn't show up on the day.
"It was a four-point hammering and the scoreline is not a reflection on the dominance of Clare," he told the programme
"From a Waterford point of view it was thoroughly disappointing, outside of Austin Gleeson who was very good today and scored five points.
"What was encouraging was the bench - Kieran Bennett, Neil Montgomery, Patrick Curran and Mikey Kearney. They picked off four scores and had a bit more about them in that last quarter.
"I thought we had a strong panel and that the players coming in would do justice to the players that were missing. Think of the calibre of players we were missing today - I'm not making excuses - but Conor Prunty - rock solid at number three - Tadhg de Búrca, who was a revelation last year at centre-back.
"We missed Jamie Barron's energy at midfield as well as Pauric Mahony. And then Stephen O'Keefe retiring from goals. Billy Nolan gave a good account of himself and couldn't do anything for the penalty.
"But those are big guys to be missing down the centre of your team."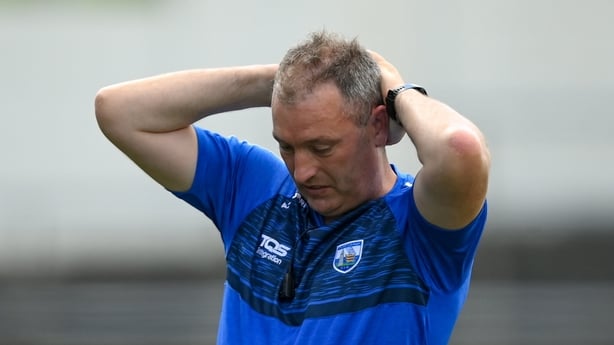 Waterford's next game will be on the weekend of the 17/18 of July and Mullane is hoping that there's enough time to see some of the injured players return.
"It might actually suit them because they would have been going into a semi-final next week without Barron and Prunty. It might give them that bit of time to reflect on today's performance.
"I thought they looked a bit flat, energyless, and stuck to the ground at times today. In fairness that wasn't a Liam Cahill performance today and I'm fully expecting a bounce in the qualifiers."
Mullane did reserve praise for the winners, and hinted that Clare will fancy their chances of getting past Tipperary the next day.
"We've got to give great credit to Clare and to Brian Lohan. Considering where they were coming from over the course of the winter. The stories coming out of Clare and then losing that first league game to Antrim.
"Clare supporters will be very happy with that performance and it all bodes well for Clare hurling going forward."
The Banner don't have long to savour Sunday's victory with that Munster semi-final to come against the Premier in just seven days' time.
After the game their manager Brian Lohan told RTÉ Sport that his players hadn't been "efficient" enough in front of goal, and Mullane echoed Lohan's sentiments.
"They scored 1-22 but the worry for Brian Lohan going into next week is that they had 22 wides. If they're going to push on and beat Tipperary they'd have to be converting a high percentage of the scoring opportunities that they create.
"I give them every chance of beating Tipperary with a game under their belt. They have the forwards that can trouble them.
"Shanagher, McCarthy, Taylor - they have speed and Tipperary are an ageing team. I expect a kick from Tipp, but I don't think they'll be much in that game next week."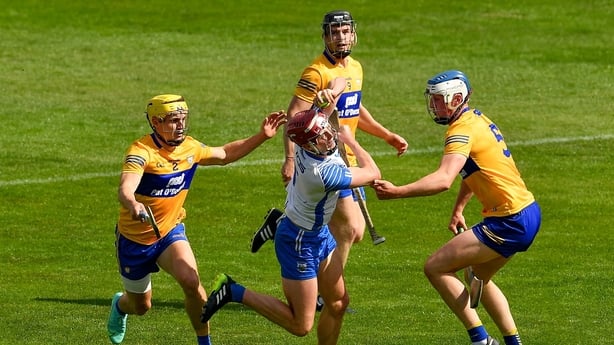 Speaking on the same programme former Tipperary hurler Shane McGrath said that Clare shouldn't have allowed Waterford get to within striking distance at the end.
"Clare were 1-18 to 0-12 up going into that last quarter and they really should have closed out the game," he suggested.
"That's what they can work on for the next day, but they'll be absolutely delighted to be in a Munster semi-final against Tipp. They won't fear them up in Limerick.
"With the form Tony Kelly is in - 1-12 with five of those points coming from play - sensational stuff. If anything does happen to this guy you'd worry [for Clare]. To be fair to the rest of their forwards they all scored from play.
"Apart from [Aran] Shanagher, who could have scored three or four. Malone, Reidy, McCarthy, Taylor, Galvin - there's a good spread of scorers there.
"They'll take great confidence from it and look forward to playing Tipp next week."