Mayo manager James Horan is concerned by recent rule changes within football and warned that the GAA are going "overboard" in their tinkering with the game.
Football teams had to get to grips with the advanced mark last year and then the new sin-bin and penalty rules in 2021, with plenty of criticism for the uncertainty and doubt that the changes brought to the Allianz National League campaign.
With the All-Ireland Championship set to begin this weekend, the spotlight remains very much on the rule changes and their interpretation.
As Mayo prepare for a trip to Markievicz Park and a clash with Sligo in the Connacht Football Championship, Horan is worried that these new rules could ultimately decide games.
"I think we've gone overboard on rule changes, I think some of them have been reactionary and some of them in my opinion haven't worked," he said.
"The advanced mark, the penalty rule, will that throw up a few things in the Championship? It probably will. You'd hate for games to be decided on some of those rule changes.
"I don't know where or how [the rules] are generated or what's the science behind some of them, or what's the intended benefit of some of them.
"I said this before and I keep saying it, and even a couple of years ago when there was an awful lot of shouting that the game was too defensive or too cynical – the game evolves itself naturally at a high level.
"I think Gaelic football is in the healthiest shape it's possibly been ever in, with the highest standard. Just look at the league campaigns we've just had and some of the games in that with the standard and the scoring rates.
"I'm not sure we need to mess with some of the rules that we are."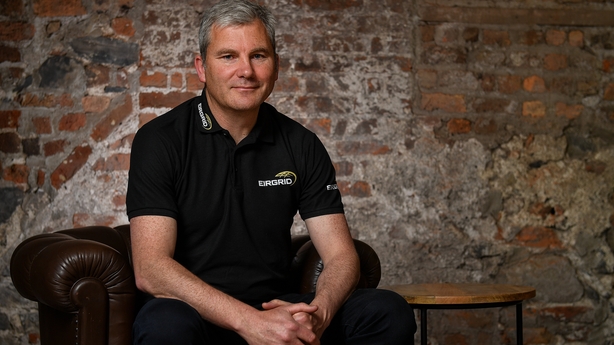 Mayo, like all other teams, have had to get used to playing in front of empty stadiums during the Covid-19 pandemic and while 200 supporters will be allowed into Markievicz Park for the clash with Sligo, Horan is hoping to see numbers increase as the summer wears on.
The Mayo manager believes that officials may be playing it too safe in allowing just 200 fans into a stadium with a capacity of 18,553 and he admits that he's missed the energy that spectators bring.
"I think we've been very cautious, maybe over-cautious on certain aspects of it," he said.
"It's not the same without people there, just the general energy that sways around games when there's people there.
"I think it's quickly getting there and we could certainly have more people at games even now."
Horan has few injury concerns ahead of the Championship opener but did confirm that he expects Cillian O'Connor to miss the entire season.
O'Connor suffered an Achilles tendon rupture in a league clash with Clare and has undergone surgery in an effort to repair the damage.
"Cillian is out for the foreseeable future so that will probably be for the season," Horan confirmed.
"It's a blow for Cillian obviously on a personal level but it is what it is. I suppose we're lucky in one way we have a lot of players playing very well in training and we have a lot of young players coming through and one of those will have to step up.
"We have a certain way we like to play and key principles of our game but we see what players are there and what suits them well. We'll tweak things there but the key principles of our game will certainly remain."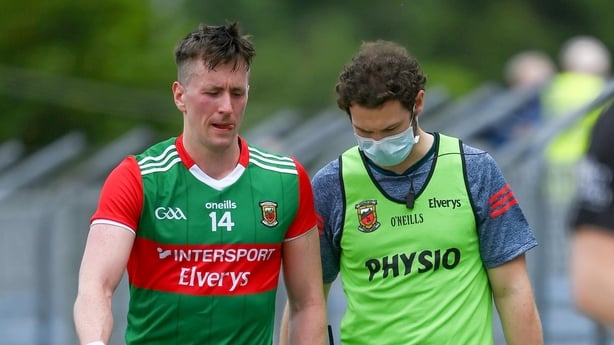 There was better news elsewhere for Mayo, however, as O'Connor's brother Diarmuid, who also picked up an injury against Clare, is close to a return and could feature against Sligo.
"Diarmuid came off in the Clare game and is pushing well, he's very close," Horan explained. "Jason Doherty trained very well with us and Brendan Harrison is again pushing very hard with a couple of games under his belt with his club.
"They're some of the longer-term injuries that we had so we've a pretty good group to pick from.
"Diarmuid was just at full tilt chasing a guy and tweaked his hamstring a little bit so nothing major. You expect some of those throughout the season when you have 30 or 35 guys involved and pushing hard.
"The selection we have, I'd be happy with. Obviously, you'd love 100% selection but our medical people are doing an incredible job under crazy conditions."
Follow all the championship matches this weekend with our live blogs on RTÉ.ie/sport and the RTÉ News app.
Watch Down v Donegal and Clare v Waterford live on RTÉ One (from 12.55pm) and see highlights of all the weekend's action on The Sunday Game at 9.30pm on RTÉ One.
Listen to live and exclusive national radio commentaries on RTÉ Radio 1's Saturday and Sunday Sport.