In one way, Donegal have already played a mini-Ulster Championship before the start of the real thing this Sunday.
With the Allianz Football League divided up geographically in light of the current situation, Donegal contested the 'Division 1 North' section against an all-Ulster contingent, coming out on top over Tyrone, Monaghan and Armagh in the table before a loss to Dublin in the semi-final the weekend before last.
The Ulster Championship proper starts with a trip to Newry to face Down on Sunday but Declan Bonner has already had plenty of provincial battles to navigate.
"We'd probably have rather done without it to be quite honest and maybe got playing the likes of Dublin, Galway and Kerry," the Donegal manager quipped to RTÉ Sport.
"But it was very tough. When you look at Tyrone coming under new management, Armagh have new backroom members, and Monaghan, and they were all really good quality games.
"The games that we played, we beat Tyrone by two points and the other two games ended up in draws, so there was very little between any of the teams.
"We had to get players up to speed and we used 30 players, so from that point of view and the fact that we stayed in Division 1, it was a satisfying enough league campaign."
The big worry for the panel ahead of the start of championship has been the fitness of captain and talisman Michael Murphy, who had limped off with a hamstring injury against Monaghan.
But Bonner signalled that Murphy should be fit, although Odhrán Mac Niallais will be an absentee for Sunday.
"Michael's not far away at this stage now. We're very hopeful that he'll be available for Sunday," he said.
"We train tonight and we train on Thursday night. The majority of guys are back on the pitch and these two sessions will decide the make-up of the starting XV.
"Michael has been back over the last week, so we're hopeful that he's going to be okay and ready to go. We've two more training sessions to go through and it'll be keeping an eye on that and we'll make our decision after those two sessions. But at the minute, he's good to go."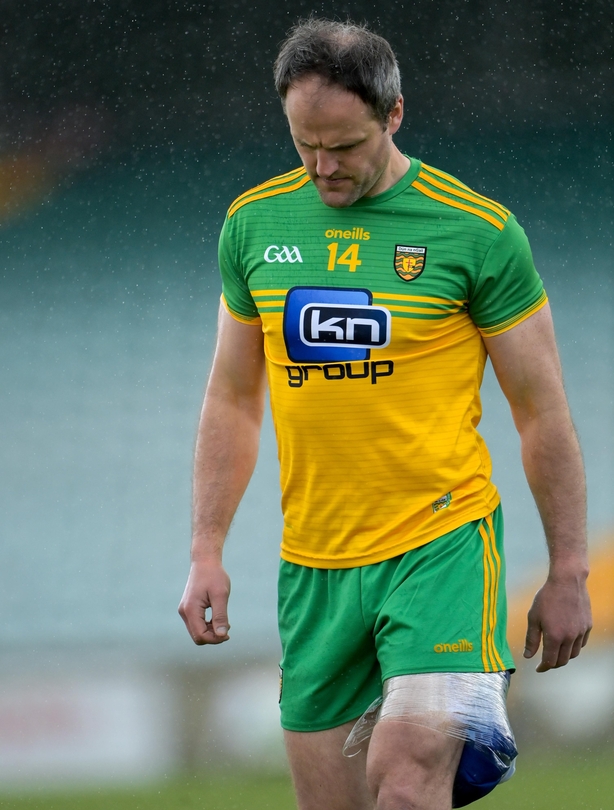 On Mac Niallais, who sustained an injury against Dublin, he added: "Odhran will not be part of the weekend. He picked up a soft tissue injury against Dublin in the first half, so he'll not be in contention."
Having shuffled the deck throughout the league, Bonner also suggested that "there could be a few surprises come this weekend" when it comes to selection calls for Newry.
He acknowledged that logistical challenges have been factored in for the trip to Down in light of current restrictions and the early 1pm throw-in time.
"We're not living in a normal environment at the minute," said Bonner.
"Naturally, you'd rather be playing at home but listen, it is what it is. The logistics team have been sorting that out over the last couple of weeks and as I say, it's an early start also on Sunday.
"But we can't let those distractions get in our way. All we're concerned about is getting it right on the training ground and right on the pitch."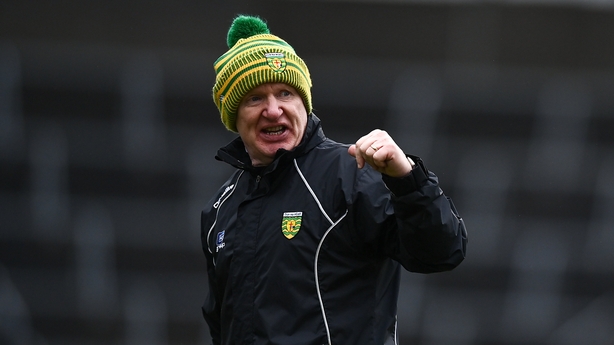 One area Donegal are looking to get right over the coming weeks is the balance between a vibrant attack and a defence that was at times vulnerable during the league.
"Any day you concede four goals, you have to sit down and sort it out, that's for sure," he said in reference to the Monaghan game, where he felt his side had not dealt adequately with runners from deep.
"It's definitely something we looked at and since then I think we've defended better as a unit and we had to."
With Cavan counterpart Mickey Graham making his opposition to the penalty/sin bin rule crystal clear this week, Bonner also briefly touched on his stance over it.
"A lot of the rules have been changed over the last period I wouldn't agree with and that would be one of them," he replied to RTÉ Sport.
"Again, we can even look at the advanced mark, which I don't think is offering anything really to the game of football - it's just slowing it down - but the rules are there now and we just have to get on with it.
"But a number of those rules, I wouldn't be in favour of, that's for sure."
Watch Down v Donegal live on RTÉ One (1pm) and see highlights of all the weekend's action on The Sunday Game at 9.30pm on RTÉ One