The 13th of August 2014 is seared into Kevin McCloy's memory.
That was the day the then-35-year-old former Derry full-back collapsed while playing a county championship game for Lavey against Magherafelt.
"I had just made a tackle and got a free. I collapsed after taking a cardiac arrest," he told RTÉ Radio 1's Sunday Sport.
"Three doctors came from the stand. Two sisters, Dr Monaghan, and Dr Joe from my own club, they gave me CPR. The first defibrillator that was brought wasn't charged so that caused quite a delay.
"But the second defibrillator, that was brought about by what the Cormac McAnallen Trust have done, brought me back to life. I was just very lucky there were two at the game that night."
McCloy subsequently spent three days in a coma and the first thing he asked after waking up in Altnagelvin hospital was 'who won the match?'
He was eventually diagnosed with the rare condition cardiac sarcoidosis and has suffered five minor heart attacks in the years since.
Last week's dramatic scare for Denmark's Christian Eriksen, who was revived after his heart stopped during his country's Euro 2020 game with Finland, brought back chilling memories of 2014 for McCloy, his family and friends.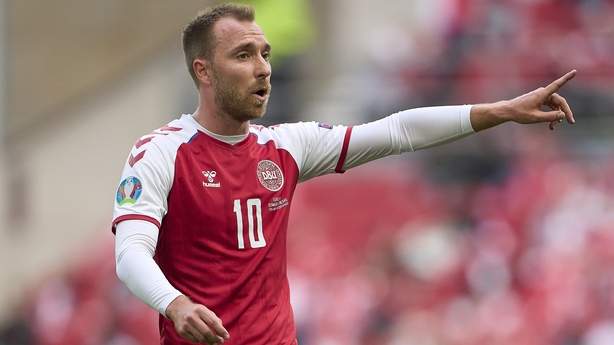 "I wasn't watching the game but very quickly the text messages started flying to the phone," said the 2007 All-Star of Eriksen's collapse.
"The man who put me in the recovery position that night was the first to text me so quickly turned over to the TV to see what was happening.
"It was hair-raising stuff for me, to bring it all back, and I'm sure for everyone who witnessed my scene that night. It brought it back how quickly it can happen to somebody who thinks they're so fit and it couldn't happen to them.
"It just shows you the importance of defibrillators and that the first moments are so vital. The captain gave him CPR and got his tongue released.
"Christian Eriksen was very lucky, he was in the right place at the right time."
McCloy also revealed that he had had heart scans with Derry previously that hadn't picked up any warning signs and said that the fact that cardiac arrest can strike without warning meant everybody should be trained in CPR and that every GAA club should have a defibrillator.
"Anybody who hasn't got one is just waiting for the worst to happen.
"Go and get one and anyone who has one make sure the batteries are charged and the pads are in date.
"The European countries, they all train CPR and defib training in schools and we're not doing it.
"It's a very simple thing. We don't have people trained to do it and I was just lucky them people (the doctors) were at the game that night."