Reigning All-Ireland champions Kilkenny return to Croke Park on Sunday in the hopes of adding to their silverware as they take on Galway in the Littlewoods Ireland National League Final.
A trip to Croke Park is always a special occasion for any GAA player and for All-Star forward Miriam Walsh, every chance to don the black and amber in the capital and represent her family and her county is a treasured one.
"I remember going up to Croke park when I was younger, going up to watch Tommy [Walsh] and he was one of the best there is on the pitch," she told RTÉ Sport at the Littlewoods Ireland Camogie League finals and hurling championship launch.
"He was amazing to watch and we were just so proud of him, and I always said to myself, I'd love to wear the Kilkenny jersey.
"I was lucky to have my cousin Grace [Walsh] play alongside me the whole way up. We used to be marking each other in training, and then we kind of pushed one another on and we're at the top level now.
"So all the battles were worth the tears and all."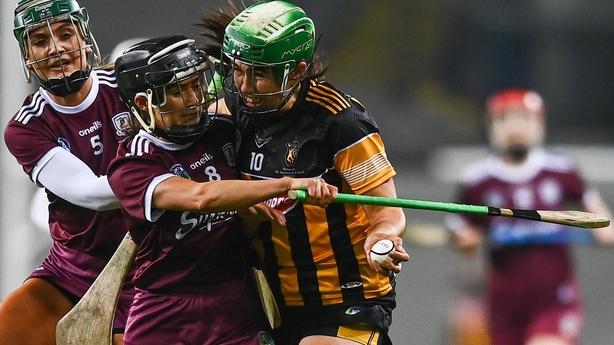 This Kilkenny side have been no stranger to 'tears and all' having lost out on All-Ireland glory in 2017 and 2018 by a single point to Cork as well as a six-point loss to Galway in the 2019 All-Ireland final.
In one of the most memorable championships of all – for various reasons – last December the Cats got the monkey off their backs with a three-point win over Cathal Murray's Tribeswomen.
"[Galway] will be looking for revenge but we're just going to go up and just enjoy the game. We're going to just work as hard as them. We want the game as much as them," said Walsh.
"It's going to be a brilliant match on Sunday. Two good competitive teams and I'm sure there'll be brilliant battles all over the field. It'll be a great match to watch."
Galway's All-Star goalkeeper Sarah Healy sees Sunday's late television slot as a positive opportunity to expose more people to camogie. #RTEGAAhttps://t.co/pRaRUVQHnW

— RTÉ GAA (@RTEgaa) June 17, 2021
The game has been fixed for 7.30pm throw-in on Sunday evening and will be shown live on RTÉ2 from 7.20pm.
Despite the unusually late throw-in time, Walsh insists that the squad are unaffected and believes that the late television slot is welcome exposure for the game.
"I actually think it's good that it's at 7.30pm," she said.
"I think we'd have more tuning in at that time, rather than if you think about it, the 2-3pm throw-in. People are going to be going off places and they might not tune in.
"The majority of the team, most of them are teachers so everyone is quite flexible in that sense. Camogie kind of comes first so we're just really looking forward to it and the time doesn't really matter to us."
In light of a recent Littlewoods Ireland survey which revealed that 89% of the population couldn't name a current camogie player, exposure to these high-performance athletes is more important than ever.
"It's nice to be on The Sunday Game," acknowledged Walsh.
"Normally, we're at the end of it but we're kind of in the middle of it now. Loads of people from Kilkenny were saying it to me, 'Ye went well in the league'. Normally, if it was at the end, they wouldn't really cop it.
"It's nice to be part of that. I still think we're after getting that bit more recognition this year. I just think Littlewoods are after doing an amazing job, even the ads on the telly are striking.
"I know you have the names on the jerseys on the All-Ireland day but it probably would be nice to have them throughout the year. That's a brilliant idea, it's something maybe the Camogie Association could come up with."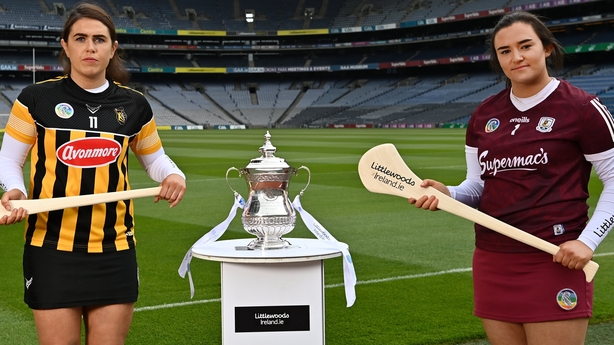 Brain Dowling's side have stuttered their way into the league final. Their forgettable quarter-final display against a gallant Limerick side saw them continue their lethargic form in the semi-final as they found themselves chasing Tipperary right up to the 54th minute.
Two goals in the space of a minute from powerhouse duo Denise Gaule and Katie Nolan saw the defending champions crawl over the line and into the league final.
"The last few matches, we were very lucky to win," admitted Walsh.
"Look, we just haven't really got going yet. I don't know if it's a lot of pressure on us from winning last year's All-Ireland. I don't really know. I still think it's early in the year. There's time for us to get going. I wouldn't panic just yet.
"I know Ann Dalton and Katie Power are huge losses so I suppose I need to kind of stand up and start being a leader on the team and I know a few of the younger girls need to start standing up.
"Now, I know Ann Dalton's shoes will be hard to fill but sure hopefully anyway, we'll get back to where we want to be."
Watch the Littlewoods Ireland Camogie League final between Kilkenny and Galway live on RTÉ2 and RTÉ Player on Sunday from 7.20pm