Under Sunday night lights, familiar foes Galway and Kilkenny will return to HQ, to battle for National League honours in a repeat of last year's All-Ireland final.
Announced last month as a pilot event for the return of spectators to live events, the game has been earmarked for sometime by supporters eagerly anticipating their return to Croke Park.
Due to RTÉ broadcasting the Euro 2020 games between Italy v Wales and Switzerland v Turkey at 5pm, a throw-in time for 7.30pm has been set for the camogie clash.
That has disappointed some supporters and team personnel but Galway's All-Star goalkeeper Sarah Healy sees the late television slot as a positive opportunity to expose more people to their game.
"It's great to have the final being on TV," said Healy, at the launch of the Littlewoods Ireland Camogie League finals and hurling championship. "That's only going to better camogie as a whole.
"People flicking through the channels, if they stop and watch one camogie game, they might come back and watch another one. Then they might go to the matches,"
"It is a long day before it. We have had experience, the All-Ireland final last year was a late throw-in.
"We would be able to adapt. As long as you know what you're doing for the day, and you have it planned out, I think we'd be able to cope with it."
With up to 3,000 spectators being admitted for the showdown, Healy is looking forward to having some noise return to the stands to add that extra bit of electricity to the task at hand.
"Just to get the family back coming with you is great. It was hard going up playing a match, and they have to stay at home. It's great to have them coming with us.
"Even as players, it's great to hear the cheers, and just the atmosphere around it. It makes a lot of difference to us playing on the pitch. It's good for everybody, I think.
"There will be a great buzz about the place with people back, and friends and family there. I'm just excited to be back playing camogie.
"Everybody dreams about playing in Croke Park. Everyone is always excited when you walk into the dressing room, and walk out onto the pitch."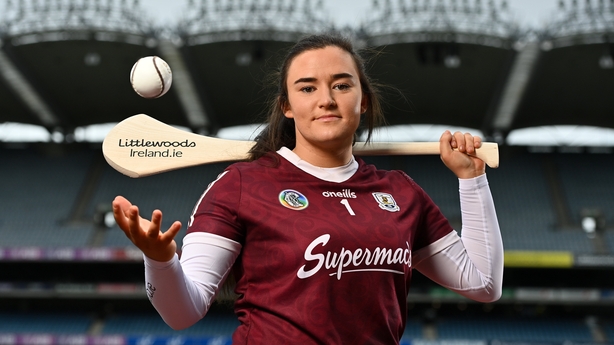 It was a chilly December night the last time these two sides met in Drumcondra in a battle that saw Kilkenny crowned O'Duffy Cup winners in a memorable 1-14 to 1-11 decider.
Galway – who are still the defending league champions since 2019 – will have that bitter reminder in their heads when they grace the field this weekend.
"We've met Kilkenny loads of times throughout the years," said Healy. "We know each other very well. It's always a battle. It really just depends on who gets the luck of the bounce on the day.
"We're just looking forward, and trying to focus on ourselves for Sunday, and not focus too much on Kilkenny
"[The All-Ireland final] was disappointing. We had the chances that could have won it for us. But I suppose it's just focusing now on this year, trying to get back to the All-Ireland final again.
"Championship hasn't started yet, we still have to get through the early rounds so there are no guarantees, but that would be our main focus for the year ahead."
Healy was just 19 years of age when she won her first All-Ireland under Cathal Murray in 2019. The GMIT student credits him for maturing the mindset of the Tribeswomen to adapt and overcome challenges such as their semi-final against Cork last weekend, which saw the game go to extra-time before the Westerners prevailed two-point winners.
"Back [in December], I'm not sure if we fully believed in ourselves but I think it has carried on now. We're a much stronger team mentally now, even more than in 2019. That just made us a stronger team. Even winning that semi-final the last day, I think it showed our character and showed how strong we are mentally."
It's the mentality of the public that Healy feels needs a revamp in relation to a Littlewoods Ireland survey that 89% of the public couldn't name a current camogie player.
"I think it's just about getting the games out there and getting people watching the games. They'll hear the commentators calling out the names and it will build from that then. That statistic was shocking. It's something that you have to try to improve on," she told RTÉ Sport.
"I think Littlewoods are doing a great job on that, as the main sponsors of the last five years and that shows that they are really committed to camogie and that's how we're going to get it out there.
"I didn't think it would be that high. I was shocked about it. Even streaming the matches in the league, they're all over the county Facebook pages. That will help to get it out there because people might tune in then.
"My Dad was over the club senior team when I was three years old so I would be going to the pitch with him every day. Sometimes if it was lashing rain, Mam and Dad would have to tell me to stay at home and I'd be kicking up about it.
"That would be the main thing you know, going to the pitch every day and just seeing girls on the team, and just wanting to be like them. I think it is very important that girls are involved from a young age and that we get them interested."
Watch the Littlewoods Ireland Camogie League final between Kilkenny and Galway live on RTÉ2 and RTÉ Player on Sunday from 7.20pm