For 16 months, the only voices echoing through the barren stands of Croke Park have been that of the inner city seagulls.
This weekend, the cold hard seats of the Cusack stand will be warmed again by up to 3,000 supporters who have paid their penance away from GAA grounds for a long, long time.
For Kilkenny All-Star Grace Walsh's brother Padraig, the familiar frantic fight for match-day tickets amongst the Walshes has already begun.
"It'll be hard to get a ticket, there's 3,000 people allowed go but there'll be huge demand just to see a hurling match," Walsh told RTÉ Sport at the launch of the Littlewoods Ireland Camogie Leagues Finals & Hurling Championship this afternoon.
"The demand will be high, but that's great for the girls that they get to play in front of such a big crowd, and they fully deserve it. Galway and Kilkenny have had such a great rivalry in the last few years, they've had great games, it can only be great for the game to have a crowd on Sunday."
The Tullaroan family are synonymous with the game of hurling and camogie. Tommy Walsh walked away from his inter-county career in 2014 with a total of eight All-Irelands and nine All-Stars.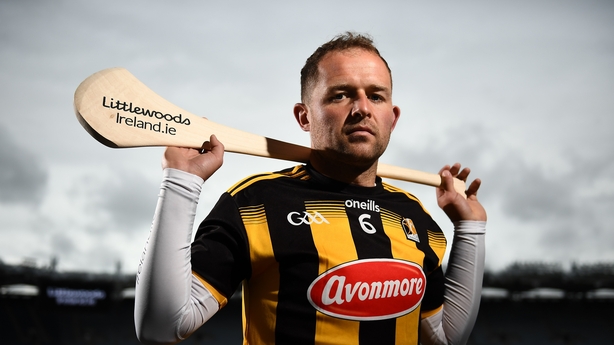 Padraig had no trouble living up to the high standard set and is currently one of the leaders in Brian Cody's side with two Celtic Crosses of his own and two All-Star awards.
So, it comes as no surprise to their family that their younger sister, Grace, has the same grá for the game, nabbing herself an All-Star and All-Ireland in a memorable winter championship last year.
Yet despite her equal accolades – and the equal skills of camogie players as a whole – it was revealed recently in a survey conducted by Littlewoods Ireland that 89% of the population couldn't name a current camogie player. This is something Padraig finds difficult to accept. To him, a hurler is a hurler.
"The girls put in as much effort as us, they train as hard as we do, so it's only right that they're starting to get the recognition for that and it's great to see all the promotion they're getting," said Walsh.
"When we were younger in Tullaroan, we didn't have a camogie team apart from the school's team. So all the girls would have played with us, and we'd never look at it any different, they'd hit us harder than the boys would! So yeah, it's just out of habit now, you just call it hurling."
Kilkenny saw off the challenge of Galway in the All-Ireland final under lights last December with cousins Grace and Miriam playing a key part in bringing silverware back to the Cats and the Walshes.
"You'd love to have been there to have seen them because they hurled so well. Obviously they won it at the end and you'd love to be there for them. We were all delighted that we got to see it on the telly at least and it was brilliant that they won it.
"It was great for them because they'd a tough few years where they got so close and they got beaten by a point for two or three years there and then they lost to Galway the last year. It was great they finally got over the line. They absolutely deserve it.
"We could see it first hand at home with Grace and Miriam and the effort they put in so just to see them get over the line was just brilliant. We were delighted for them."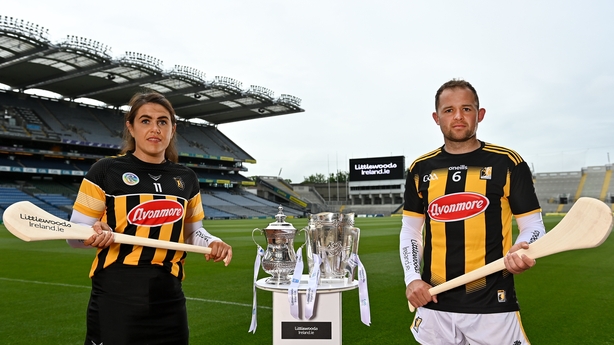 Last Saturday, Brian Cody's table-toppers travelled to Ennis to take on Clare in the final round of the Allianz Hurling League. On what was one of the warmest days of the year, Cusack Park welcomed a small crowd of spectators for the clash which saw a total of 50 scores racked up in a thrilling encounter. The surprising home win, the weather and the vocal spectators, one couldn't help to feel the excitement bubbling for the white heat of championship looming on the horizon.
"It was very enjoyable to just hear the roars when the tackles were going in and the balls were going over the bar. You definitely missed the crowd," said Walsh.
"In fairness, the coverage has been very good lately. Every game has been televised. Even with the camogie, you see with Littlewoods getting them all televised too. That's been great that you can still see all the matches. You'd definitely prefer to see the crowds at the matches though.
"Hopefully, everything will go well with the camogie on Sunday and that'll allow us to have crowds at all the games for championship.
"We won all our games up to that [Clare game] so one thing is, we were consistent. There's definitely plenty for us to improve on. You can see from the Clare game things were stepping up and we're getting closer to the championship.
"It's going to be a very competitive championship. You can see from all the league games in both divisions, every team has plenty of things that they're happy with and plenty that they wouldn't be happy with and everyone seems to be taking points off each other.
"We're probably lucky now with Covid that we can't use the dressing rooms at the moment because you don't want to concede goals any day, but four is a lot! We just have to improve on that now for the championship and get things right. We've plenty of positives to take from the league so we just have to drive on now for the next two weeks and improve on what we've done."
Whilst everyone else was focusing on the advantage-rule controversy, early-season shadowboxing and the apparent demise of free flowing hurling, Kilkenny managed to coast along under the radar to the top of Group B without too much fuss or fanfare. For Walsh, these issues were just background noise to what was a very enjoyable league campaign.
"You probably wouldn't really be listening to that kind of stuff. You're not going to change the way you play on the pitch just because of what somebody may be saying on Twitter," the Kilkenny All-Star defender said.
"Everyone's going out to do whatever they think they can do to win the game. I know there's a lot of negatives going around about hurling at the moment but you just have to get on with it. I think it's probably more to do with no crowds being at the games and I think that's why there might be more frees at the moment because it's a lot easier for the refs to hear the different tackles and slaps of the hurl and that kind of stuff.
"I think [the league games] were massive. We only had three weeks to prepare for them and then you'd matches for four or five weeks straight. We've championship now in two weeks so I think everyone took it very serious.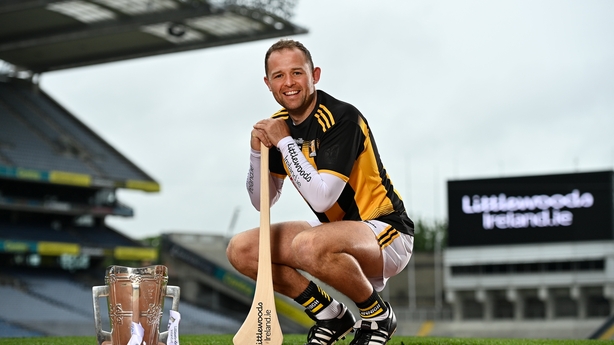 "I was delighted getting four or five weeks in a row getting matches and giving lads plenty of experience. It was definitely worthwhile. Of course, I'd have loved to play the league final but with the time at the moment it's very hard to fit it in."
One of the stories of the competition were the new kids on the block, Antrim, who finished fourth in the group after wins over Clare and Laois and a Wexford draw ,as well as an impressive display against Kilkenny in the second round. Walsh was one person who wasn't taken aback by the hunger and determination shown by Darren Gleeson's side and sees the introduction of more competitive teams as a huge positive for the game as a whole.
"I would have seen their club teams over the past few years on TG4 and I was surprised that they weren't up to senior. The standard of hurling up there is very high, so I wasn't surprised at all to see them go so well.
"They're going really well and I'd say they'll be very confident about the championship. They absolutely love the game up there, everyone knows that, it's great to see them come to fruition and having more teams getting competitive is good for the game.
"A lot of teams will be very confident going into championship and I think Antrim were very strong, they'll give it a good go in Leinster.
"The camogie was the same this year, you saw Dublin and Limerick putting it up to Kilkenny and then there was Tipperary the other day. The camogie is getting a lot more competitive again, so it just shows how hurling and camogie is improving in a lot of ways around the country."
The Littlewoods Ireland Camogie League Final between Kilkenny and Galway will be shown live on RTÉ Two on Sunday at 7.30pm