With just 21 clubs in the county and a small playing pool, Longford football manager Padraic Davis says that retaining their Division 3 status is a realistic gauge of where the county is at.
Last Sunday, Longford defeated Tipperary by seven points to hold their place in the division. This came after an opening day beating at the hands of Derry, a loss to Cavan and a draw with Fermanagh.
In their fourth game, however, they were the better and more economical team, consigning Tipp to Division 4 for the first time since 2014.
Indeed, despite a lack of huge resources, it has been 2015 since Longford were last in the bottom tier.
"I'm delighted that we have held out Division 3 status for another year – that's six years we have been here now," their manager says.
"I started playing for Longford in 1994 and prior to that when I was in secondary school, I still don't remember a time when we were six years in Division 3.
"But the expectation in all of these counties is at a ridiculous level," he maintains.
"We have only been in Division 2 proper once in 25 years.
"In 2011, under Glen Ryan I was a selector and Paul Barden was at the height of his powers and we went from Division 4 to 3 to 2 but then we went straight back down.
"Look at Westmeath and Laois, and the players they have, and yet they are back in Division 3 now too.
"So, for us to hold our place is great. Sometimes you have to be realistic about where you are."
With playing numbers much less than in most other counties - around 900 adult and 1500 underage players - Longford have had to maximise the talent that has come through the system.
They have regularly produced good, competitive teams and have experienced some highs in the past decade.
These included a Division 3 title in 2011 and the Division 3 crown a year later.
At minor level, they have showed up well, winning a Leinster Minor Championship in 2002, another one in 2010, featuring players like Paddy Collum, Robbie Smyth and Barry McKeown, and the Leinster Football League in 2014.
At senior standard, they were O'Byrne Cup winners in 2010 and 2020.
"We won those minors in 2002 and 2010 and you're just squeezing the life out of those lads," Davis says.
"You're trying to get everything you can out of them.
"It's difficult. Kerry won four All-Irelands on the trot but how many have they taken to the senior team? They have two stars obviously but after that they are struggling to get lads through too.
"So, in counties like ours the expectation is ridiculous.
"Before we played Cavan, I was in the hallway looking up at the walls with pictures of four Ulster Under-21 winning teams in a row. That's why they crossed the line at senior level to win the Ulster Championship.
"Huge expectation is wrong: we have to be realistic about where we are. Our level is Division 3 and I am delighted we retained that status."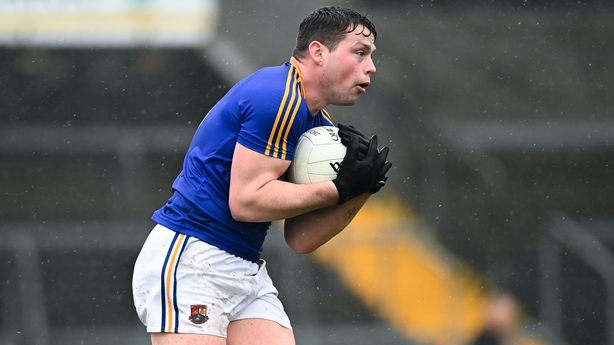 With Andrew Farrell (pictured) immense at full-back last Sunday, impressing along with Iarla O'Sullivan, Darren Gallagher and Dessie Smyth, Longford put in a massive shift to stay up.
"We have benefitted from being in with a couple of big boys," Davis says referring to their group placing amidst the likes of Derry and Cavan.
"We were really poor against Derry and we're not suited to playing that type of team in the conditions we had.
"We improved for the Cavan game and we got a good display against Fermanagh. I'm happy with how we did against Tipp.
"Derry are a Division 2-standard team and I think the big thing we learned between Division 2 teams and below is that the mistake count must come down against the better teams.
"If you consistently hand the ball back, they will kill you, they will starve you.
"Possession is key. You cannot be operating off 40% of the ball.
"You have to get somewhere close to break even."
Davis heralded the defensive display of Farrell who took a man-marking job on Conor Sweeney and delivered for his manager.
"I felt we had the match for the two (Tipp) lads," he says, referring to how they handled Sweeney and Michael Quinlivan.
"I honestly believe that Andrew Farrell is one of the best full-backs in the country.
"His progression has been extraordinary. I moved him from 3 to 11 in a championship match three years ago and it didn't work out, but his progression is excellent."
Davis says that Cavan and Tipp will see next season's campaign in Division 4 as a wasted year.
"Both teams have a bunch of lads who are simply too good for Division 4," he says
"Ok, people might say they are there, but Cavan and Tipp may look at the regionalised draw and say it worked against them. It's hugely disappointing for them."