Wicklow manager Davy Burke played football for Kildare at underage level but tore his cruciate aged 14.
The following year he tore it again.
Second time around he cracked his kneecap too and upon recovering from that, he had to wear a cast from his hip to his ankle. When he tried to return to play once more, the break had fixed but the cruciate hadn't and when he turned to fetch a ball, he knew there was trouble.
A plastic kneecap was inserted as a replacement but while those chronic knee injuries ended his playing days, they also sent him on the road to a coaching career.
And what a journey it has been so far. He might not scream it from the rooftops but beating Ulster champions Cavan to stay in Division 3 last Saturday at Pairc Tailteann, made possible by warrior displays from the players and astute tactics from Burke and his backroom of Mike Hassett, Dan Moore and Gary Jameson, is right up there with the young manager's achievements.
And there's a healthy list of those.
In 2018, Burke led Kildare to the All-Ireland Under-20 title, and from there he took the Maynooth Sigerson Cup team.
In 2019, he led Sarsfields to the Kildare senior football title and then took the Wicklow job last winter, getting promotion from Division 4. Retaining their third-tier status – with the Ulster and Munster champions both going down – is an incredible achievement.
"I have a marvellous bunch of players, it's as simple as that," he says.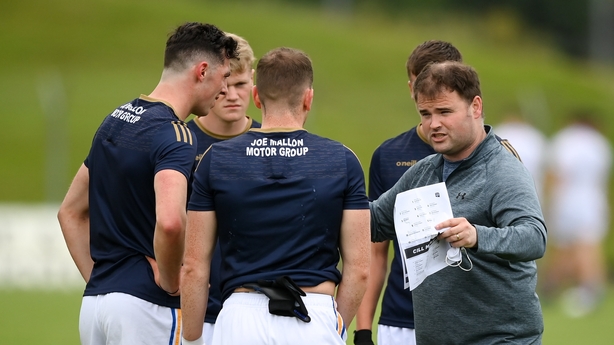 "The coaching set up is really good and we are young, by far the youngest team in the country I would say
"The enthusiasm that the lads have can be characterised by a meeting I had with Mark Jackson and Dean Healy last winter. After promotion we had been destroyed by Meath in the Championship and we met in November to see what the message for 2021 would be.
"The two lads said it had to be back-to-back promotions. I asked the lads if they were sure, that I had to go back to the rest of the panel with this message. But they said that's what they wanted. It showed how ambitious they are. They have always been hungry for information on tactics, transition, pressing but when we didn't achieve our goal, staying in Division 3 had to be the priority. How could we go down again to Division 4? How would you get out?"
Up to the Cavan game they had lost three games on the spin and struggled in the transition to break down opposing defences.Against the Ulster champions, however, they spread their attacking players down both wings, played clever triangles of football and in the second half used Seanie Furlong as a target-man.
Furling revelled in that role, scoring 2-3. Patrick O'Connor, an attacking threat throughout, added 1-2.
The Wicklow side put in their best display in years, based on relentless running and dispossession of their opponents.
When they attacked they made hay.
At the other end of the field, the sight of Niall Donnelly and others hobbling bravely at the end of the game with injury and cramp – and still taking the game to Cavan – showed their spirit despite their clear underdog status.
"That performance was coming," Burke argues.
"We are not far off. A very good Offaly team that I fancied for promotion only beat us by 4 points. Against Tipp, we made bad mistakes which cost us and against Limerick it was a drawn game with 10 minutes to go when we lost our talisman Dean Healy, the core of our team.
"But we are so young and so committed and I can't say enough about them. I'm fairly emotional to be honest with you."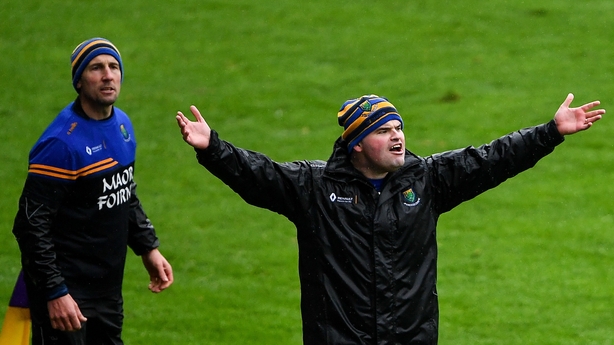 And so following the end of a short playing career, which saw Burke help out in the Confey GAA nursery, taking their women's football teams before graduating to assist Dublin ladies' manager Greg McGonigle in 2014 and 2015, a fine coaching career continues.
The formula in Wicklow looks good.
They like to keep things sharp, arriving on the training field between 6pm and 6.30pm for sessions.
Following prehab exercises, they are on the field for 7.15pm and finished, fed and watered by 9pm. The latest most players get back home is 10pm.
The Wicklow squad has clearly shown an ability to commit, learn and develop and they are being rewarded for it.
With a huge wind behind their sails, they will prepare for a Leinster Championship opener against neighbours Wexford on 27 June in Aughrim.