After looking at the scorelines of all hurling games the previous week, it got me thinking. If I was starting my career again, where would I play. And to be honest, the answer is a no brainer. Half-back.
Why? Because essentially, and within reason, you are marking space. If your man trails back along the field, you leave him off and drop back. You give a shout to a midfielder or your half-forward to keep dropping back, and you protect your 'space'.
I said within reason, because obviously at times your main job is to defend. Nobody epitomised more the modern role of a half-back than Diarmuid Byrnes last Saturday night. Within the space of two minutes, he ran up under the Mackey Stand and stuck one over from 65 yards.
He then caught a great puckout a minute later, before ending up on his own 21-yard line, blocking a clear goal scoring opportunity.
The role of as defender has completely changed in the last 5-10 years. Jackie Tyrrell wanted to say a prayer to St Anthony after the Galway v Waterford game, to see if he can find the art of defending, as it seems to be gone!
I might say a prayer to St Anthony tonight to see if he can find the "art of defending" seems to be gone from the game ?? pic.twitter.com/iPGwQ8ghg9

— Jackie Tyrrell (@MrJackieTee) June 6, 2021
See, when Jackie played, to now, there really is no comparison. Look at the games back from 2008-2010 for example. The style of hurling then was catch it, and hit it as long as you can. From a defender's perspective, sure wasn't that easy to defend?
Or at least easier. A 90-yard strike will generally always be a 50/50 ball.
In that era, hurling was a defender's dream, or at least the full-back line was anyway. Fast forward to recent years, and trust me, it has gone full circle. The full-backs have to deal with minimum 30/40 yards of space, and even if teams do play a sweeper, gone are the days where the opposition just fire it down on top of him.
The movement, the pace, the space, and the intelligence has never been at such a higher level. The reasons the scoring is so high these days is because of technology, statistics, video analysis, conditioning and, above all, the skill level.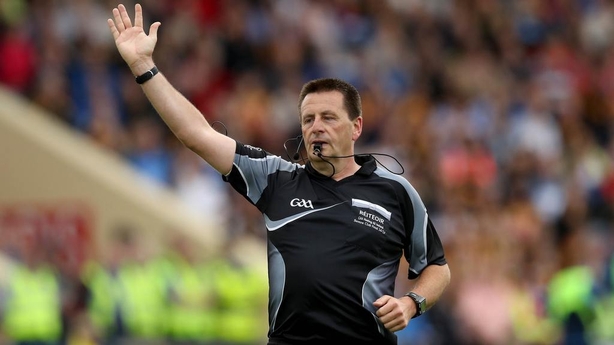 I loved Brian Gavin as a ref, as I did Barry Kelly, because they let the game go a lot more, it was up and down the field.
Of course it was, because that's how the game was played. Long ball, less tackling in the middle, fewer frees.
So only now am I realising that the referees in recent years have a much harder job to do, because of how the game is being played. To suggest that the reason the scoring is gone so high is because of the sliotar is just lazy analysis in my opinion.
Now there is a discussion of the size of the rim on the sliotar, and that it was way bigger back then, which ensured that a first touch wasn't always successful, or unless you hit the sweetspot it wouldn't go to the destination you were aiming for.
And to be fair, it warrants good discussion.
It's modern equipment rather than the rules that are having more of an effect on hurling at the moment, @ShefflinHenry tells the #RTEGAA podcast https://t.co/SyGOW3iCrj pic.twitter.com/W4WRyLIwHY

— RTÉ GAA (@RTEgaa) June 9, 2021
So do we want crisp hurling, with good scores, or loads of poor strikes and poor first touches? I know which I would prefer.
There are so many examples from 20 or 30 years ago of lads throwing the ball over from the same distances as players are now. The difference though is more players are doing it now more consistently because the skill level is higher.
I asked Donal Óg Cusack off air last Saturday night a question I always wanted to know the answer to: Are players more skilful now then back in the 2000's when he was playing?
"Shane Boi, the majority of players are 3-4 times more skilful now than when I was playing."
So that rubberstamped it in my mind then. Watching some of the skills on show these days is incredible. Seeing players striking the ball over on the run from 60 yards out, I mean that is far from easy.
Throw in fatigue, noise when fans back, bodies chasing you down. Why do we always look for the negative in things? First of all it was the rules, then it was the referees, then the sliotar, and now the high scoring, and we are only four weeks into matches.
Crowds return this weekend. Noise will give players that extra edge, it will ensure a greater intensity, which will lead to more mistakes, which will lead to more tackles which will lead to less scores.
I don't see a need for a big panic around everything we spot on individual weekends. The game of hurling is been played the same way as it was two or three years ago, and didn't we all love that?