Cork manager Ephie Fitzgerald was happy to get out of Dungarvan with the points after a Waterford mounted a second-half comeback in their Lidl National League clash on Sunday.
The Rebels looked to be heading for a comfortable victory in the Division 1B clash before goals from Emma Murray and Roisin Tobin brought the Déise back into the contest.
But Cork were able to see the game out and will take on Donegal in the league semi-final next weekend.
Speaking on RTÉ's Sunday Sport Fitzgerald said the end was closer than he would have liked.
"Well we'd expect to come out of here with a victory, but I think we made it difficult for ourselves," he said
"I think we were 12 points up at one stage in the second-half didn't score for the last quarter. We made a lot of changes - maybe that mitigated against our flow
"We seemed to lose shape and we gave away a sloppy goal and missed a few chances ourselves. We're happy to get out of there but they're things we can work on."
Although the victory was enough for Cork to progress to the semis as runners-up to Dublin, Fitzgerald voiced his frustration at the failure of referee Austin O'Connell to award his side a penalty.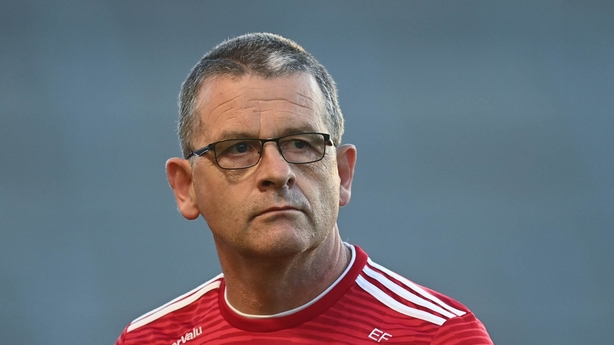 Katie Quirke was through on goal and looked to have been fouled but her effort was waved wide and a goal-kick followed.
For his reaction Fitzgerald was sent to the touchline but he maintained afterwards that the official was in the wrong.
"I'm in the game a long time and I've seen bad decisions in my time but that's up there with the best of them," he said.
"I'm very disgusted with the performance of the officials today. It's not up to the standard that these girls deserve. I was sent to the stand for saying his decision was a joke. I can't say that to him, that that particular decision was a joke.
"I'm probably looking at eight weeks [suspension] now and the man wouldn't talk to me. If we're not allowed to question referees in a respectful manner then what's the point?
"We put so much time and effort into preparing teams and making sure they're right and that they do things right - on and off the pitch - and then officials won't communicate.
"He said afterwards that he sent me off for calling him a joke which 100% I didn't do - himself personally a joke, which I didn't do. No [foul] language used, no derogatory stuff towards him
"I could be looking at getting eight weeks for that which is just mind-boggling - no talking afterwards and I couldn't even reason with the man."
Asked about the a high free count against his side and whether it was down to the ill-discipline of his players Fitzgerald responded, "no comment."