The GAA has issued an update to its clubs in the Republic of Ireland as the organisation prepares to welcome back supporters to its venues later this month.
The Government approved plans to allow fans attend a number of of test events in June across various sports, including Gaelic games, last week.
Paying spectators returned to venues in Northern Ireland at the weekend, with up to 500 home spectators permitted to attend Allianz Football League matches staged in Armagh, Tyrone, Fermanagh and Antrim.
A statement from headquarters on the return of fans in the South, read: "From June 7th, competitive and challenge games at all levels of club and inter county are permitted to take place. However, it is essential that we continue to proceed with caution and that the Return to Play Protocols linked here continue to be followed.
"In terms of attendances, 100 spectators will be permitted to attend GAA games (club and inter county) in the 26 Counties from Monday, June 7th. This number is in addition to players, team personnel, stewards or media attendees. Where a ground has a minimum accredited capacity of 5,000, a maximum of 200 spectators can attend.
"It is likely that from July 5th, up to 200 spectators may be permitted to attend games, and up to 500 may be permitted in grounds with a minimum capacity of 5,000. However this will depend on progress in broader society – if these increases are to be permitted, we will advise in advance of July 5th.
"Where attendances are permitted at games, the advice in the attached document, prepared by the National Health and Safety Committee needs to be followed. For underage games, where parents are attending in a child-protection capacity, they will count as part of the 100 spectators permitted to attend.
"All grounds should have appropriate dispersion measures in place at all entrances and exits and parents/guardians should be advised that congregation in large groups on or outside club grounds is not permitted."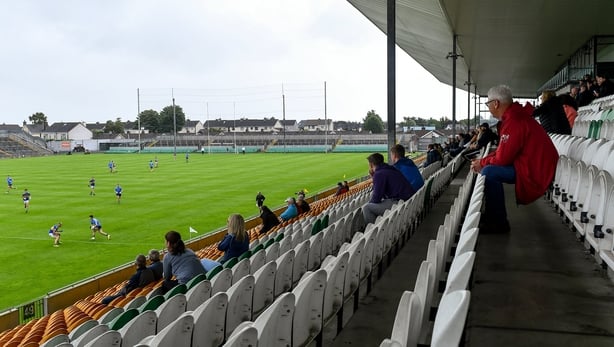 Speaking on RTÉ Radio's News at One, the GAA's head of communications, Alan Milton, did add that dressing rooms and gyms at venues will remain closed, but club bars with outdoor facilities can re-open and that family fun days and fundraising events will also be allowed to resume.
Mr Milton has said that while there is a very low rate of transmission of virus in the outdoors it does not absolve the GAA of its responsibility.
Before the club county finals come around, he said that all members and players are asked to behave responsibly and see that "we have a role to play in society" and do not want to do anything to besmirch the reputation of the GAA.