Aimee Mackin is one of the best footballers in the country. That's a fact.
Last year she single-handedly racked up 5-17 for the Orchard County, with her cracking goal against Dublin in the All-Ireland semi-final eventually being voted the Goal of the Year.
We need your consent to load this YouTube contentWe use YouTube to manage extra content that can set cookies on your device and collect data about your activity. Please review their details and accept them to load the content.Manage Preferences
The Mackin's mantelpiece continues to fill each season with accolades for the 2020 Player's Player of the Year and her talented siblings, Bláithín, Connaire and Ciaran. Yet like every high-profile inter-county player, Mackin is more focused on the team's success rather than her own.
"Last year was a good year for myself and Armagh, a class year. This year is a totally new slate and we'll be going in with the same ambitions as we did last year. We'll be looking to win every match," she told RTÉ Sport at the launch of the Glenvagh Homes Gaelic4Girls programme.
"Last year we just took each game as it came and it's going to be the same this year. In the league at the minute, we want to win each game and try to get to the league semi-finals. We've a match this weekend that we need to win.
"Personally, my goals are to improve with each game and I'm still young so I've a lot of improvements to make myself."
Armagh find themselves in a mini Ulster championship in group in Division 2B having the tough ask of facing neighbours Tyrone, Cavan and Monaghan.
With a one-point win against Tyrone in the first round and a one point loss against Monaghan at the weekend, Armagh have two ultra competitive matches under their belts heading into facing on-form Cavan this weekend where winning will be the only currency for Ronan Murphy's side.
"This weekend it's all to play for. It's a tough division to get out of because there's five or six teams playing senior championship," she said.
"Division 2 is very competitive. It's so unpredictable who's going to go into the semi-finals but we'll just focus on ourselves this week and try to make improvements from the game against Monaghan.
"We were disappointed yesterday not to get a victory. Monaghan are a strong team and we'll meet them again soon enough in the Ulster championship and then in the All-Ireland series. It's a hectic schedule but it's great to be back."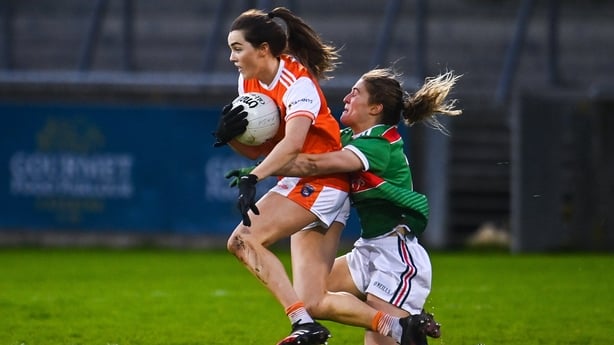 It's ice cream melting weather, there are so many matches on so many platforms at the weekends you'd need 72 hours in a day to fully catch up with everything and just last weekend, we saw spectators return to the stands across Northern Ireland in all their GAA glory.
The feel-good factor around is infectious and this is something Mackin is soaking up, just like the rest of us.
"It's great. It's important to get supporters in. We're not used to playing football without our families and friends there. It's nice to have them back.
"It's a step in the right direction. We missed it all last year. Hopefully it'll continue and we'll end up filling the stadiums eventually."
With the Division 1 and 2 Lidl National League finals set to be pilot events for the return of high volume crowds next month, the Gaelic4Girls brand ambassador believes this is a great way to build on the upward trajectory that ladies Gaelic football is currently on.
"It's great. I think it's just another stepping stone for ladies football as well as for Glenvagh to come on board for the Gaelic4Girls programme. It's these wee stepping stones that help to keep improving our sport and give us more coverage as well. It's up to us then to put on a bit of a show then when they come up to watch."
With the announcement of equal funding for male and female players last month as well as the recent amalgamation of the GPA and the WGPA, camogie and ladies Gaelic football are continuing to break down barriers and dispel any gender equalities within the sport.
"I think it's great to have the men from the GPA helping out. It's just great. You can't take enough steps going forward and there's plenty more to take. It's the small steps that make for a greater impact," said Mackin.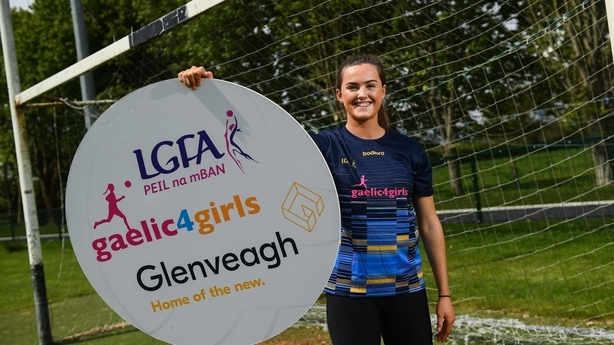 "We're getting there. We're closing the gap. As part of ladies football, as players, it's up to us to close the gap as well just by promoting it within our own communities and if every player does that I think we'll go on and close the gap even further.
"[Funding] is probably something we've been lacking compared to the men and you don't realise it until you see the actual figures. Hopefully it can help the development in each county.
"I know within my own county we're funding our own GAA pitch so it's our home as such and we're not asking clubs for pitches. The funding will help us develop even further both on the pitch and off the pitch and that can only help the game then."
With older brother Connaire starting for the Armagh seniors the last two weekends and brother Ciaran on the panel, sisters Bláithín and Aimee completed the quartet of Mackins representing their county at the weekend. It was undoubtedly a proud and busy day for the Shane O'Neills club household.
"It's a busy house. We don't know which football to be watching," laughed Mackin.
"We're all still living at home. We just do be by passing each other in the house because everyone is away training. The washing machine gets a good run!"