Jack O'Connor says that Kildare are looking forward to a "bonus" match against Meath in the Allianz Football League Division 2 semi-finals.
The Lilywhites were big winners over Laois on Sunday as they moved from third to first in their group.
They'll face old foes Meath the next day knowing that their last clash with the Royals was a day to forget as they lost by nine points, and conceded five goals.
But the winner of their game in two weeks will be returning to the top flight for 2022, with both counties having spent seasons in Division 1 over the last few years.
"The last time we played Meath we weren't too happy," Kerry native O'Connor said.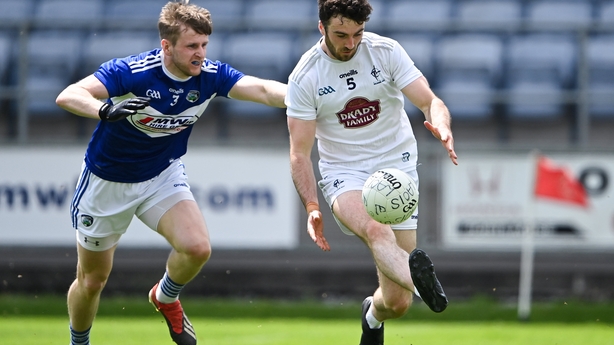 "It's a bonus to be playing a promotion game. Of course it would be great to get up [to Division 1] but the most important thing was to get a win and avoid the relegation game."
Kildare came into Sunday's clash at MW Hire O'Moore Park off the back of a home defeat against Clare at Newbridge.
O'Connor suggested that their home patch isn't their favourite venue to play in because it stifles the style of football that he wants his troops to play.
"We have a bit of a thing about Newbridge - we don't think the tightness of the pitch suits us," he admitted.
"We want to kick the ball. That's what I've been working on for the last two years since I came up here. Against a very defensive Clare team in Newbridge the last day it was hard to kick the ball - particularly into the wind.
"A fine pitch here in O'Moore Park and a sunny day. We targetted that, to get the ball in early and we kicked 2-18 which is a good score.
"Maybe we made it a big awkward on ourselves giving away that bad goal after 15 minutes of the second half but overall I'm delighted."