Offaly hit sensational form in the closing quarter against Tipperary in Tullamore to book their place in the Division 3 semi-finals of the Allianz Football League.
As the sides had their second-half water-break, there was nothing to suggest that Offaly would win by five points and with a degree of comfort. They did though, and now have a meeting with Fermanagh to look forward to with promotion on the line. Tipperary must beat Longford to avoid dropping into the bottom division.
The sides were tied at 1-11 each at the three-quarter stage and there was almost nothing between them. However, the home side had a compelling closing surge as they scored six points without reply before Tipp got an injury time score that was only of academic interest.
It was an afternoon of great tension and drama. If Tipp were to prevail, a three-point winning margin would have secured a semi-final berth regardless of what happened between Wicklow and Limerick. As it was, they didn't have to tune into Aughrim as Offaly went for the jugular in that closing quarter for a fully deserved win.
It was a bitterly disappointing result and performance by Tipperary. The Munster champions were in it for 60 minutes plus but were not truly convincing and now find themselves in that relegation play-off.
The introduction of veteran Offaly forward Niall McNamee was pivotal to their win – he was magnificent when he came in – as from his six he scored three points in those frantic closing minutes.
The first half was an eventful and very exciting affair. There was little separating the sides early on and they were level three times in the first 10 minutes before Offaly began to turn the screw.
The home side's work rate and tackling forced Tipperary into errors and Offaly's attack had them in trouble. A Cian Farrell goal after a great build up and points from Anton Sullivan and Bernard Allen had them in front by 1-05 to 0-03 at the water-break, and it was very much a deserved lead at this stage.
Tipp were much better in the second quarter. Clearly worried, they had introduced two subs at the water-break and one of those, Philip Ryan, settled them with two points, one from a mark.
They had the gap back to a point when they got a controversial penalty. Offaly defender Niall Darby was almost shouldered into his own net as he carried the ball in front of his goal-line and was then penalised for over-carrying in the 33rd minute. It was the type of incident that would normally result in a free out but the referee awarded a penalty which Conor Sweeney dispatched comfortably.
Cian Farrell's free left Tipp ahead by 1-08 to 1-07 at half time and it was very much in the melting pot.
It was very tight in the third quarter. The sides were level on three occasions and it looked set to go down to the wire.
Offaly, however, were brilliant when they had to be and this was their best performance under John Maughan. In addition to McNamee's three points, Paddy Dunican (free), Bill Carroll and David Dempsey got points as Offaly left Tipperary searching for answers.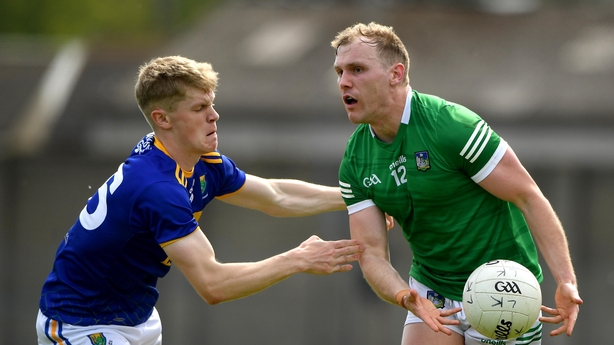 Limerick joined Offaly in the Division 3 promotion play-off following a fine 2-19 to 1-12 win over Wicklow in Aughrim.
Starting the day level on two points alongside Tipperary, the Treaty men knew their promotion hopes could come down to scoring difference but Tipp's defeat in Tullamore meant there was no need to get out the calculator.
The visitors were fastest out of the blocks but an Eoin Darcy goal levelled matters at 1-05 to 0-08 just before the half-hour mark.
However, Billy Lee's side responded with a flurry of points to lead 0-11 to 1-06 at the break.
Majors from Danny Neville and Hugh Bourke made it a comfortable second half for the Munster side, who will face Derry in the semi-final play-off.
Wicklow, meanwhile, will face Cavan in a relegation play-off.
Offaly: Paddy Dunican (0-3, 1 '45', 2f) ; David Dempsey (0-1), Eoin Rigney, Niall Darby; Colm Doyle, Carl Stewart, Jordan Hayes; Peter Cunningham, Eoin Carroll; Shane Horan, Cathal Mangan, Anton Sullivan (0-3); Bernard Allen (0-3), Cian Farrell (1-3, 2f), Ruari McNamee.
Subs: James Lawlor for Mangan (46 mins), Niall McNamee (0-3) for McNamee (49 mins), Bill Carroll (0-1) for Sullivan (49 mins), Joe Maher for Allen (59 mins), Cian Donohue for Hayes (59 mins), Aaron Leavy for Carroll (62 mins), Rory Egan for Doyle (72 mins).
Tipperary: Evan Comerford (0-1, 1f); Alan Campbell, Jimmy Feehan, Tadgh Fitzgerald; Emmet Moloney, Colm O'Shaughnessy, Paudie Feehan; Steven O'Brien (0-1), Conal Kennedy (0-1); Conor Bowe (0-2), Jack Kennedy (0-1, 1 '45'), Brian Fox; Colman Kennedy, Conor Sweeney (1-2, 1-0 pen, 1f), Sean O'Connor.
Subs: Philip Ryan (0-3, 1m) for O'Connor (18 mins), Kevin Fahey for Jimmy Feehan (18 mins), Padraic Looram (0-1) for Moloney (27 mins), Jason Lonergan for Fox (46 mins), Liam Boland for Colman Kennedy (52 mins), Bill Maher for Paudie Feehan (52 mins), Shane Foley for Jack Kennedy (59m).
Referee: James Bermingham (Cork).