The gym is a converted office space. Often, locals gather to watch their conditioning sessions in the public spaces of Centennial Park. Bondi beach makes do for recovery. The Sydney Swans keep it simple, just the way their strength and conditioning coach Mark Kilgallon likes it.
The Bishopstown native is in his sixth and final year with the AFL outfit. Next month, he leaves Australia. The squad are still coming to terms with the news.
"One of the most selfless people I've ever met," is how Wexford native Barry O'Connor describes Kilgallon. He is in his second year with the club. "Since I first set foot in Sydney, he made it clear that he would do anything for me and my team-mates without question. He goes about his work every day without fuss and desires no recognition.
"After a tough year for him personally, the resilience and character he showed to keep lifting everyone's spirits and making us all better athletes was nothing short of inspirational.
"He's left a lasting impression on every athlete that has been under his watch and he'll be greatly missed at the Swans."
Kilgallon did not just make a mark Down Under; he forged a path. From the day he started as a Sport and Exercise Sciences student in UL, the work experience requirement loomed large.
Some classmates stayed at home and worked in a fitness centre. Others stretched the definition of experience and occupied their time working in a deli. The Corkman had different aspirations.
A childhood memory of Saturday morning Aussie Rules viewing was embedded in his mind. The excitement, the crowds, the physicality. Fascinations. Lures.
Then the time came to see where the rubber met the road. So, he emailed every AFL club asking for a chance. One replied.
"This was the early days of internet. It was hard to get phone numbers," he says with a laugh.
"A guy called Glen Stewart emailed me back. He was the head of performance with the West Coast Eagles at the time. He is still there actually.
"Ever since they have had a really strong connection with UL. Eighteen or 19 students travelled over and have done that internship. I am now affectionately known as Irish number 1.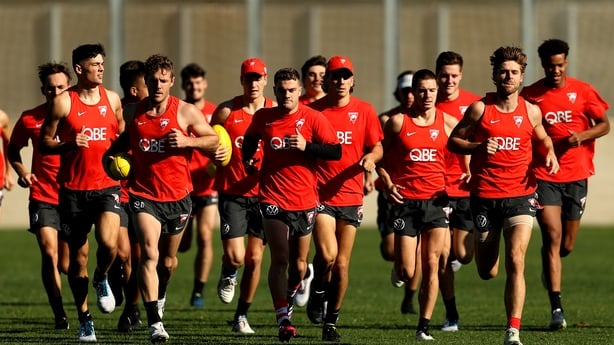 "Martin Kennedy who is with the IRFU now, he is someone who came out the following year. To show you how good a guy Glen is, this year they have a girl from Skibbereen interning. They are doing it all online.
"He does Zoom meetings, training and coaching her. That is how much the internship has meant to the Eagles. I am pretty proud it turned into something like that."
Kilgallon crammed in a lot between that stint in Australia and his current one. There was two years as an assistant coach at Harvard University, three in Qatar. A spell with the Sports Institute of Northern Ireland before moving on to become S&C coach with the Welsh Rugby National Academy. Olympic weightlifting, boxing, hockey, fencing and alpine skiing where just some of the other sports experienced.
Then he took an offer from Sydney. Within a few years, local papers were heralding him as the "mystery Irish strength coach who has Sydney Swans in top shape".
In recent years, Ireland has begun to garner a reputation in this regard. The level of strength and conditioning expertise in the country is sky high. That is not only true for coaches but players too.
"The lads who do come across, like Colin (O'Riordan) and Barry, they are outstanding athletes," he explains.
"I mean Colin came in and he was in the top 3 or 4 in the squad's aerobic test walking off the plane. This is an endurance sport and he was off the charts.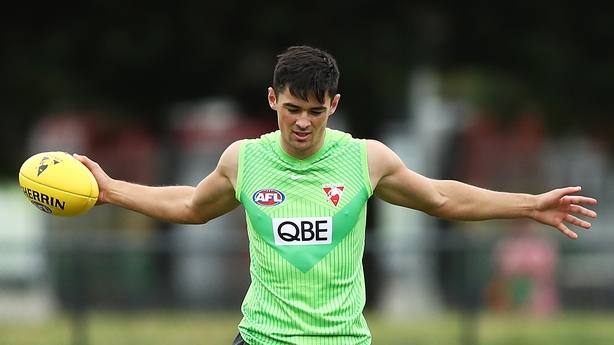 "Barry came in and guys were turning their head saying, 'look how explosive this guy is.' The difference is a bigger pool of players in Australia, so you get a few more athletic freaks. Lance Franklin, (Patrick) Dangerfield and the likes.
"The level of S&C back home is actually very high. Really talented people doing great work. You can see it when guys and girls go out on the field these days. That Dublin team are as well prepared as you will see. Athletically superb.
"Michael Johnston with UK athletics. Ryan Whitley at the Brisbane Broncos, Scotty Pollock Pollock has helped British swimming and cycling win buckets of Olympic medals. So many good Irish coaches around the world now. That is reflected in the standard of athlete back home."
Kilgallon regularly participates in seminars and presentations around Australia. There he sometimes uses the jar analogy when describing how to construct an effective strength program. When asked to completely fill a jar, you always start with the biggest rocks first, the smaller elements are added later if there is room. Good strength coaches should have a clear understanding of what their big rocks are; the most effective exercises at achieving the specific adaptation required for that athlete, team or sport.
In Sydney, the priority is ensuring players can play. Equipment and technology, gizmos and gadgets, they are all of secondary importance. You can't spend all your time on the insignificant things.
"We are upgrading our facilities in the next 18 months and they will eventually move to an incredible new facility, but we have one of the most basic set-ups now, probably the least fancy place in the league. But it is a place where the lads really can get stronger specifically for football and improve their ability to compete on the field.
"If you have a choice, invest in good people first. People who know what they are doing, who are passionate about making athletes better. Having a good person run a programme is so valuable.
"Our role is to optimise their performance on the field, not chase numbers in the gym. That is part of the evolution of a coach. When you start out you maybe are just chasing numbers. That is the starting point, overdoing it. Bit by bit you learn it should always be about their actual sports performance and it shifts your mindset."
Nowadays, it can feel like every team has a 'highly-regarded' strength and conditioning coach. The reality is that the profession is split into various factions and philosophies with varying degrees of quality.
"Bad S&C is just focusing on what happens in the gym," he stresses.
"I think we are gone beyond the days of 'just get them bigger' programmes"
"I think we are gone beyond the days of 'just get them bigger' programmes, making it up as the you go along, with no rhyme or reason. Now today bad S&C is not being tied into why you are there. Make these guys better and bridge the gap.
"In our industry there is almost a right wing and a left wing approach to training. On the right, you have the generalists. Training is aimed at getting stronger and more powerful on a few basic fundamental movement patterns with the assumption that it will automatically transfer across.
"On the left wing, you have the opposite. The exercises and strength qualities developed must all be highly specific to the movements and demands of the sport to actively create transfer. General training is seen as a waste of time. I guess most of us live somewhere in the middle. Building the general physical capacities but then trying to get them to transfer across in different ways. That is what it is about for me."
The playing group have made it clear Killgallon will be missed. There is no doubt he will also miss them. For six years they have been a close knit clan. In good times and in bad.
"I remember we beat the Giants a few years ago and it felt like a bit of a morgue in the performance team because one of our guys blew his hamstring with a minute to go. We had worked so hard to get him back but planned minutes sometimes go out the window with the game on the line. They take a risk and push him longer. Bang. It is crushing.
"You know how hard he has worked. The reward of trying to get up and win the four points, then it comes at a cost sometimes. I am up in the stands, but I don't ever enjoy games. Every hit, every smack, every time someone goes down, I'm thinking, 'No! what has he done?' You are so bloody worried for them.
Look, lots of people have been through similar. Watching funerals on YouTube and WhatsApp, it was surreal
"You just know what the rehab looks like. You know their personal situations."
His own personal circumstances mean he will soon say goodbye. Australia's border closures mean it is a bureaucratic nightmare to try and get out of the country. When his father passed away last year, he was unable to return for the funeral.
Kilgallon and his wife spent a lot of time contemplating their next move; finally, he made the tough decision to leave the country entirely. It was time to return home to his three pillars: family, friends, and the club.
"I've a five-year-old son and another who is a few weeks old. My father, Paddy, passed in October and I wasn't able to go home and be there to bury him.
"If my father hadn't passed, maybe things would be different. It was just very difficult. Look, lots of people have been through similar. Watching funerals on YouTube and WhatsApp, it was surreal.
"I just want to spend time with my family. Maybe get up to Bishopstown GAA. You never lose touch; mind I do wish we could win something.
"Wherever I have gone, in hotels with Wales or on the other side of the world, I've been listening to their games. You always carry that with you. I'll pop up to see the lads and get a session in. That'd be nice right now."
Listen to the RTÉ GAA Podcast at Apple Podcasts, Soundcloud, Spotify, or wherever you get your podcasts.