Pulling up trees in Division 3 North wouldn't usually attract too much notice.
But a couple of the scorelines have yelped out at people, namely the ones involving Derry. Rory Gallagher's side have registered a cumulative total of 5-34 in their two games thus far, conceding a miserly 0-14.
Longford, regular Ulster-slayers in the qualifiers and something of a bogey-team for Derry over the past decade (though Derry have had a lot of bogey teams in that time), were demolished 0-21 to 0-05 on the opening weekend.
Fermanagh had beaten the Ulster champions Cavan on the same weekend so they can't be dismissed as inveterate no-hopers but they were annihilated 5-13 to 0-09 in Owenbeg last Sunday.
It was striking on League Sunday, the ease and casualness with which Derry gobbled up their goal chances. Slaughtneil's Shane McGuigan filled his boots, plundering 2-05 in total.
Relive Derry's five goals from yesterday's #AllianzLeagues win over Fermanagh in Owenbeg. Ethan Doherty, Gareth McKinless, Niall Toner and Shane McGuigan (twice) on target 🎯 pic.twitter.com/aWOcydbhBK

— Derry GAA (@Doiregaa) May 23, 2021
Fermanagh boss Ryan McMenamin was evidently lost in admiration for the conditioning of the Derry boys.
"Derry are a very, very fit team. Very, very fit. A very, very fit team," he told the Irish News afterwards.
Reading between the lines, it's apparent he thinks them fit.
It's 2011 since Derry last mounted a proper tilt at the Ulster championship. Under the management of the bespectacled and venerable John Brennan, they trampled over Fermanagh and then thoroughly gutted Armagh to reach a first provincial decider since 2000.
Unfortunately for Derry, that was the year that Jim McGuinness and his 'system' emerged. Derry, then experimenting with a more traditional and attacking brand of football, were entirely helpless against the prophet of Glenties and his charges, and were soundly dispatched, 1-11 to 0-08.
Since then, their experience of the Ulster championship has been almost entirely miserable, mustering just one win in nine years - a one-point victory over Down in the 2015 quarter-final.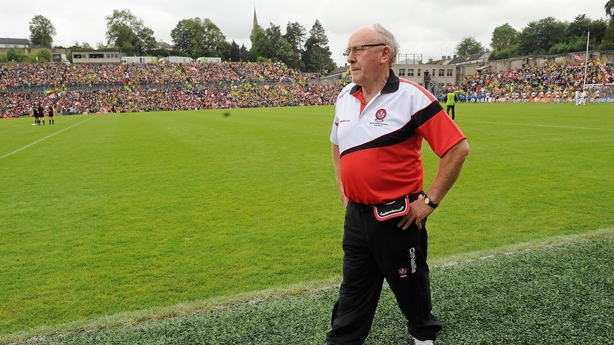 There was a depressing samey-ness to their seasons in the latter part of the last decade. A crap draw - though Ulster, as they're quick to remind you, tends to throw up a lot of crap draws - against one of the province's big hitters, the margin of defeat frequently ticking into double-digits by the end.
Joe Brolly's accompanying pronouncements have grown more comically fatalistic with each passing year. Last August, he approvingly quoted Kieran McKeever who suggested that Derry should think about withdrawing from the senior championship soon.
For the most part, they failed to raise much of a gallop in the qualifiers either. In 2016, they did beat Meath and Cavan in successive weekends but even then, Round 4 was the best they could do, perishing against an in-form Tipperary in Kingspan Breffni Park.
They did somehow reach the Division 1 final in 2014 and even led at half-time before a vicious third-quarter blitz from the Dubs saw the game ended as a contest well before the end.
Reaching the '14 League final was an incongruous achievement given where Derry were coming from, though they had a curious tradition of being disproportionately successful in the League. The 1990s team won four League titles between 1992 and 2000 - but only twice escaped the Ulster bear-pit in those years, the All-Ireland winning summer of 1993 and then again in 1998, when Geoffrey McGonigle set up Brolly for a late winner in a dismally low-scoring final against Donegal.
Needless to say, their 2014 League form didn't survive into championship. Two months later, they were eliminated in the first round of the qualifiers by Longford - in Celtic Park. Soon, even their league form would dessert them and they began an embarrassing slide down the divisions, infamously falling into Division 4 for 2019.
It's not as if the county has been devoid of talent in that time. Slaughtneil, after all, won three Ulster club titles in 2014, 2016 and 2017 and reached the All-Ireland final twice. Even before that, former All-Ireland champions Ballinderry scooped an Ulster club in 2013.
The Derry club scene, in fact, boasts more Ulster club champions than any other county. Seven clubs - Bellaghy, Ballerin, Ballinderry, Lavey, Dungiven, The Loup and Slaughtneil - have tasted provincial glory. Derry sits joint-top in the Ulster club roll of honour with Armagh, with Crossmaglen accounting for the vast bulk of the latter's titles.
It's questionable, of course, whether any of this has benefitted the Derry county team. On the one hand, a successful club scene should indicate the raw material is there. On the other, having a hall-of-fame club outfit go long in the championship every year can be an irritant for an inter-county boss. Up until the recent re-structure, it usually meant doing without several key players during the league.
As regards Slaughtneil - an extraordinary club - there's the added complication of their pre-eminence in hurling as well. The dual player, long viewed as an anachronism elsewhere, is alive and well in Slaughtneil.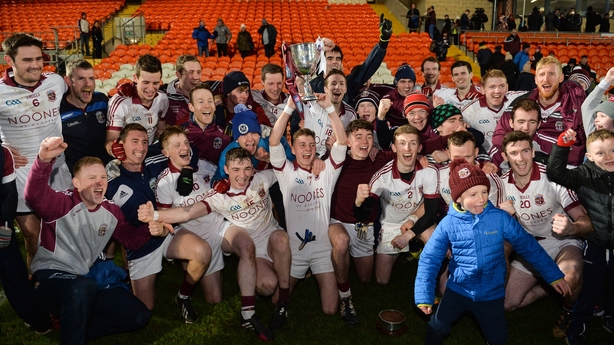 Then, there's the reputed fractiousness of the Derry club scene, regularly alluded to in hushed tones by those in the know. This is a well-worn, go-to explanation for an under-performing county set-up. It was previously used to account for the lack of success of the Offaly hurlers in the 70s (they must all hate each other in Offaly again) and the Galway hurlers up until recently (Interestingly, Galway's Liam MacCarthy success came a few years after the All-Ireland club titles dried up).
In this telling, the Derry inter-county set-up is, as David Mitchell once said of the BBC, a warring federation rather than a single cohesive entity.
During the glory years, All-Ireland-winning full-back Tony Scullion credited Eamonn Coleman with smoothing out any issues related to club disputes, a factor which was central to their 1993 success.
But after years of abject nothing-ness, is something stirring in Derry again?
"I think the biggest thing for a lot of teams as you go down the divisions is first of all, getting the people in the dressing room that you really want in the dressing room," observed Oisín McConville on this week's RTÉ GAA podcast.
"For the first time in a while they have that. They have buy-in. The Slaughtneil boys are all in. They've by-passed the hurling.
"I watched them against Armagh in the championship last year and they weren't a million miles away. They have refined a little bit. They have the stingiest defence - which you would expect - but they're putting the scores up.
"We've been talking about trying to marry those things. That is obviously a little bit easier in Division 3 - let's call a spade a spade.
"But the biggest thing is he (Gallagher) has everybody he wants and everyone is buying into what he's selling."
The most spectacular image from last weekend's league action was the sight of Conor Glass, recently back from a five-year stint with Hawthorn, leaping absurdly high to fetch a ball in midfield, a shot reminiscent of the late Sean Wight from the 1982 minor final, another who played Down Under.
Conor Glass. ✈️

📸 Margaret McLaughlin pic.twitter.com/FKlEHNs221

— Derry GAA (@Doiregaa) May 24, 2021
"Conor Glass makes a huge difference to the team," argues McConville
"He really found it difficult to find his feet when he came back last year... But I saw him win a Hogan Cup medal at 14 years of age. He's been a star since he was very, very young. He's a massive plus for them, coming back into their team."
Glass' return is one of the good things to happen to Derry football in recent times. One of the stars of last weekend was Ballinderry's Gareth McKinless at centre-back, a player who, at 27, has featured only intermittently for the county until now.
The successful underage sides of recent years - the 2017 minor All-Ireland finalists and 2018 U20 Ulster winners - have produced a couple of graduates, Padraig McGrogan and Conor Doherty, the latter especially impressive last week.
And there's the free-scoring McGuigan in the inside line.
McConville: "McGuigan is as good as any forward in the country. I know he doesn't get a lot of plaudits, playing in Division 3. I saw him playing four years ago against a packed Tyrone defence on his own and I think he finished with eight or nine points. That's another guy who's used to operating in those confined spaces. So, he's reveling in what he's seeing now, in the way football has turned."
We need your consent to load this YouTube contentWe use YouTube to manage extra content that can set cookies on your device and collect data about your activity. Please review their details and accept them to load the content.Manage Preferences
Cahair O'Kane wrote in his account of Sunday's demolition that Derry have gone from "dysfunctional to fully functioning" adding that they "have the cut of a team moving back towards the radar of Ulster football".
The lack of a back-door isn't helpful. Once again, Derry haven't received much luck when the names are pulled out on RTÉ. The overwhelming likelihood - with due respect to Down who've been training hard - is they'll collide with Donegal in the quarter-final.
The assumption is that this will put a full-stop on their 2021 season. Regardless, the medium-term prognosis for Derry football is beginning to look healthy for a change.