Peter Canavan says that a failure to make school teams when he was a teenager provided him with motivation in his hugely successful inter-county football career.
The two-timer All-Ireland winner failed to make his third year team at St Ciaran's High School in Ballygawley.
Speaking on the latest episode of RTÉ's We Become Heroes podcast Canavan calls it "one of the first setbacks" he had while playing Gaelic football.
Speaking with @mariecrowe on Tuesday's edition of We Become Heroes, Tyrone legend Peter Canavan explains how the motivation of not getting picked for the school team helped him to become a better, if not bigger, player. pic.twitter.com/WS9oMeIJ0k

— RTÉ GAA (@RTEgaa) May 24, 2021
But it gave him a determination to prove that he could make the team the following year.
"When I went to secondary school I wasn't the biggest, and I definitely wasn't the best footballer in my year," he told host Marie Crowe.
"But I made the teams with the exception of one year. It came to the third year team and I felt that I was good enough to get on it.
"I often tell the story to youngsters who are part of teams now and who are learning. I was very disappointed that I didn't make the first XV and I got the feeling that the manager didn't pick me because I was too small and he was playing bigger players.
"At the time I didn't take it too well," Canavan admits.
"You're serious about football. You want to make the school team. I recall at the time thinking that I couldn't make myself bigger but I could make myself better."
Canavan famously scored 11 points in the 1995 All-Ireland final but the Red Hand ended up on the wrong side of a one-point margin against Dublin.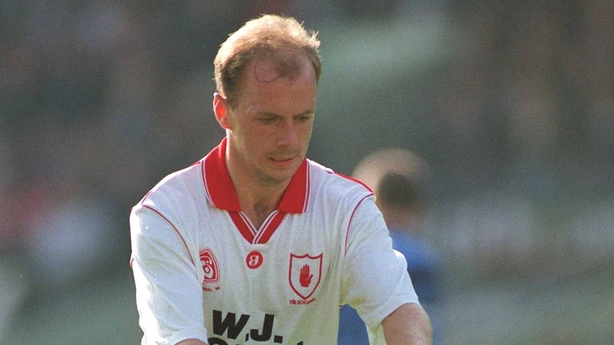 He began his inter-county career in a period when fellow Ulster sides were lifting the Sam Maguire for the first time, with victories for Donegal in 1992 and Derry the following year. On top of that Down claimed All-Irelands either side of those victories in 1991 and 1994.
But Tyrone couldn't continue the exceptional run of form of the northern counties as they fell short against Dr Pat O'Neill's Dubs.
When Armagh broke their duck in 2002 it seemed as if Canavan might become one of the great nearly men of Gaelic football.
They would go on to reach the final the following year however, and when they stopped the Orchard County doing back to back titles Canavan, as captain, was the man to lift the Sam Maguire.
Two years later he would claim his second Celtic Cross before hanging up his boots.
But he puts his success down to his will to improve after missing out on the secondary school team back in his teens.
"At that time I might have just been one-footed - I was kicking with my right. So when I missed out I said to myself that I was going to practice harder and be more determined and eventually get on the team.
"Luckily enough when I came around to the following year I was good enough, I had improved, and I didn't look back."
We Become Heroes is a podcast hosted by RTÉ Sport journalist Marie Crowe, featuring some of Ireland's biggest sports stars.
You can watch the interview with Peter Canavan above or listen on Apple Podcasts, Soundcloud, Spotify or wherever you get your podcasts.